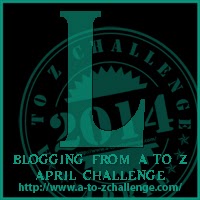 La Fi is the voice of The Thulukan Chronicles. La Fi's real name is Fiona Bartlett Thulukan and she tells the story of magic returning to Earth. We see her and Thulu's (her husband) roles change and expand through the course of the series.
La Fi was described by one reviewer as a reluctant heroine and I think this is apt. Throughout the three novelettes, as well as the novels, she prefers to fly under the radar in spite of her special gifts. La Fi is able to see and speak to the dead. She's also able to understand any language, whether she knows it or not. It's her connection to those who have not yet passed on that gives her a unique perspective on the world. As the world around her changes, it is her connection to the dead which actually serves as her anchor.
Her sense of humor tends to be dry and she has a paranoia about being locked up and studied in a lab somewhere. Throughout all the changes and turmoil around her, she maintains a very stoic view, showing an inner strength, that has yet to be shaken. However, that may (or may not) change in Book 3.  🙂
What will tomorrow's word be? Come back for the letter "M" in the challenge.
Be sure to check out the rest of the cool blogs in the challenge!  A to Z Challenge.