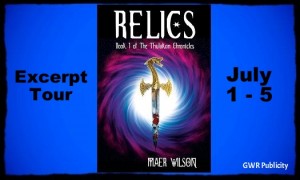 I'm in the middle of this fun Excerpt Tour and Giveaway for Relics and wanted to give a shout-out to Donna at GWR for a unique idea that is loads of fun!
The Way It Works
I have fifteen fabulous blog stops: three each day of a five day tour. Each stop has a small excerpt from Relics, and if you read them in order they combine as a scene from my book.
Each stop also has chances to win one of the prizes from my Giveaway. Plus you can read each excerpt and enter the Giveaway all the way up to July 12th! Be sure to enter and good luck to all!
Prizes!
4 Winners! You can win one of the following prizes:
1 – $20 Amazon Gift Card
1 – Signed Print Copy of Relics
1 – eBook Copy of Relics
1 – Signed Relics Bookmark
The complete list of each blog can be found HERE.