Everville: The City of Worms
You can get Everville: The City of Worms
 for FREE 11/14/13 through 11/18/13 at Amazon.
About Everville: The City of Worms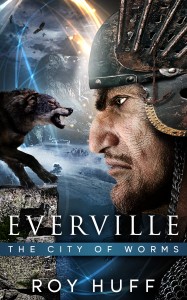 College freshman Owen Sage has just started to understand the darkness trying to overtake Everville and the earthly realm. With the help of The Keeper and the Fron army, Owen has managed to buy some time, but new problems have already emerged, new secrets need to be revealed, and the race against time to stop Them from conquering both dimensions has only just begun. The Keeper, Owen Sage, and his friends at Easton Falls University must now battle threats from within. To do it, they must reunite with familiar creatures and join forces with new ones as they navigate their journey to the truth that awaits them in Everville.
Read on for more about Roy and an excerpt from Everville: The City of Worms!
About Roy Huff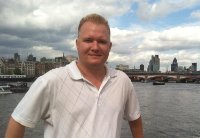 Roy Huff is the author of Amazon's #1 international bestselling epic fantasy novel, Everville: The First Pillar as well as the newly released Everville: The City of Worms. These are the first installments in the remarkable Everville series which combines elements of epic fantasy and young adult fiction in a form that nearly anyone will enjoy reading, young or old. He is a man of many interests including but not limited to science, traveling, movies, the outdoors, and of course writing teen and young adult fantasy fiction. He holds five degrees in four separate disciplines including liberal arts, history, secondary science education, and geoscience. Roy Huff's background includes work in art, history, education, business, real-estate, economics, geoscience, and satellite meteorology. He was born on the East Coast but has spent more than half his life in Hawaii, where he currently resides and writes his epic fantasy sagas.
Excerpt from Everville: The City of Worms
Meanwhile, in the brutal desert above the land of the giants, Oldrik, The Keeper who had betrayed Everville, paced back and forth as he pondered his options.
Elmer, one of Oldrik's three Fron followers, standing at attention said, "Oldrik, what do we do now?"
"Let me think," Oldrik replied.
"What are we going to do? What are we going to do?"
"I said let me think."
Elmer plopped down on the ground in frustration, only to snap back up a few moments later. The intense sunlight scorching the ground made it unbearable. "Ouch!" was the word that escaped his lips as the rest of his body shot into the air. The Fron winced as the searing hot dirt burned his rear end. Nickel-sized, fluidfilled blisters formed on the portions of Elmer's thighs that weren't covered by cloth.
Oldrik continued to pace a few minutes longer, ignoring Elmer's painful lapse in judgment, and then he spoke.
"The Keeper and Owen's stupidity will be Everville's undoing. We must journey to the Dark Forest and discuss the matter with Them," Oldrik said while thrusting his long wooden stick into the ground, searching for a hollow spot.
"Let's do it! Let's do it!" Elmer said as he limped along, unable to hide his injury.
"Yes. Let's do it!" said Calvin, the other of Oldrik's Fron followers. With those words, Oldrik's rod found a weak spot, and the ground engulfed them as they collapsed into the land of the giants.
You can get Everville: The City of Worms
 at Amazon from today, November 14 through November 18, 2013.
And you can find Roy at the following links: