Not all exorcists are created equal- especially those that are "marked".
When defrocked ex-priest, Jimmy Holiday, agrees to help an old friend with his sick daughter, Lucy, Jimmy doesn't expect the horrors that await him. Blackmoor, his friend's new residence, rests upon the outskirts of the town of Sorrow's Point. The mansion's history of magic, mayhem, and death makes it almost a living thing – a haunted mansion straight out of Flowers in the Attic. Jimmy must decide if Lucy is only ill, or if the haunting of the house and her apparent possession is real.
After the house appears to affect him as well; seeing colors of magic when rooms of the house are warded by a witch and his voice taking on a power he doesn't understand, Jimmy is met by a transient who tells him he has "the Mark". Whatever being "marked" means, Jimmy doesn't care. All he wants to do is help Lucy. Helping Lucy means performing the exorcism.
Jimmy knows the ceremony, but it's belief that matters. And if a demon is using a little girl as a meatsuit, his faith had better be strong enough to kick it back to Hell. Otherwise, he might damn them both.
About Danielle DeVor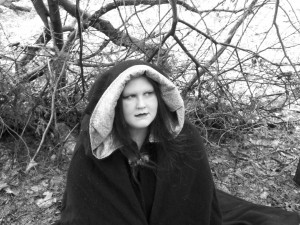 Danielle DeVor has been on a writing roll this year! With the release of Tail of the Devil and Constructing Marcus she already has two books out. You can find out about them at these links: Tail of the Devil and Constructing Marcus. But that's not enough for the intrepid author and she's now added Sorrow's Point to her list.
Since Danielle has been a guest here before, she has graciously provided me with some fun facts we didn't know before:
1. Loves horehound candy
2. Once wanted to be, in no particular order, a rock star, a ballerina, a lawyer, a special effects make-up artist, and a director.
3. Is allergic to hay but not horses
4. While loving everything horror, ironically, my favorite movie is The Breakfast Club.
You can find Sorrow's Point
at Amazon.
And you can follow Danielle at these links: