Now Available for FREE Download!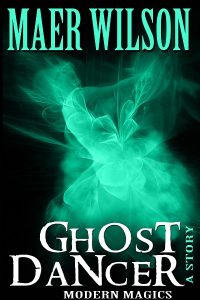 Ten-year-old Danika Samms was going to be a dancer. She was even going to be on TV for a big national contest. Until a serial killer put an end to her dreams. Now her ghost has come to Thulu and La Fi to save her dog from the killer. La Fi is a medium and Thulu is a finder and together they find justice for the dead.
The detectives take the case, but they find more than a lost pup. They discover a heartbreaking secret and a seasoned killer already on the prowl for his next victim. And this time their walk on the darker side of the paranormal puts their own lives at risk.
"Ghost Dancer" is the third novelette in the Modern Magics series.
Available for FREE download at these retailers:
 Reviews for "Ghost Dancer"
Wonderful ghost hunt story by Christoph Fsicher – Amazon Top 500 Reviewer – 5 out of 5 Stars
"Ghost Dancer" by Maer Wilson is another one of her beautiful ghost detective stories with Thulu and La Fi who are always busy with requests from the dead to sort out their problems. This time a ten year old girl, Danika, comes to look for her missing dog.
Turns out Danika was murdered by a serial killer and medium La Fi and her husband Thulu get on the search for the dog and then the killer.
Cute, charming and told with wit and warmth this is probably the best in this paranormal ghost hunter series yet. The girl and her dog make for a moving canvass but the story itself is straight forward crime investigation and it is good. The series is becoming something of an addiction for me and medium La Fi my favourite character with her caring and gentle manners and great sense of humour.
Colourful characters, a good plot and a dog and a child to pull on your heart strings, this novelette never gave me a chance to dislike it. Highly recommended.
Nat's Book Nook – 5 out of 5 Stars
Thulu and La Fi once again do not disappoint and neither does the magical Maer Wilson. This story is gripping from the start as they have to help a little girl and face a monster of a very different and scarier kind.
I have become so attached to Thulu and La Fi, that I think by now they are part of the family. This is a very short but highly enjoyable read to get your mind off things for a couple of hours.
I would like to read another epic story like Relics and Portals soon before I start getting withdrawal symptoms of my favorite bad guy/good guy Jones!