Magics, Book 3 of Modern Magics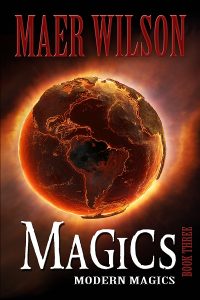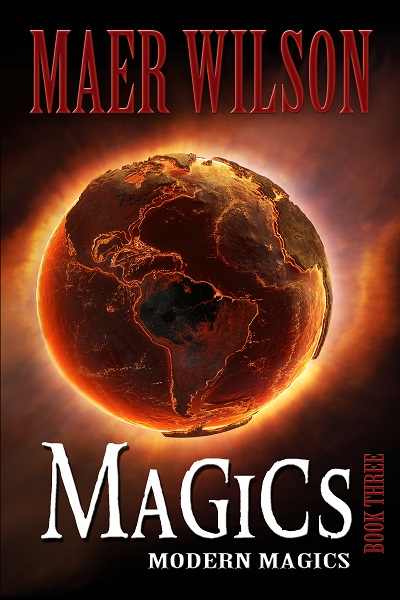 In Relics, the creatures of magic returned to Earth.
In Portals, magic itself returned.
In Magics, we'll wish it hadn't.
The laws of magic have become as real as the laws of physics, and humans with magical powers are becoming the norm.
But human magic is out of control – powerful, wild, unpredictable. Five ultra-powerful humans rise above the rest to begin a reign of terror, and entire cities fall. The elves and other Elder Races are desperate to find and stop these magical terrorists. But for the first time, the magic of the Elder Races is surpassed.
Thulu and La Fi join the hunt for the human supes causing the planet-wide massacres. With their own magic evolving and erratic, the race to catch the killers becomes far more difficult. They need to find them and stop the chaos before there is no world left to save.
Available at these retailers:
Reviews for Magics
M. Joseph Murphy, Author of the Activation series
"A thrilling urban fantasy ride where the scariest monsters just so happen to be human. Wilson goes into realms most urban fantasy authors fear to tread. Watch as the world burns. Be prepared to cry. Magic is coming to Earth and no one will be left unchanged. An emotional, jaw-dropping finale to an epic series."
They're Baaaacccck! – Louann Carroll, 5 out of 5 stars
My favorite paranormal detectives are back! Only this time Thulu and La Fi (and three year-old Carter) are facing the return of Magic on Earth. Even family and friends from the other side are concerned, including a grim faced demon. It isn't enough that Thulu and La Fi help ghosts resolve their issues, now they have to figure out how to work their magic against some pretty terrorizing creatures, many of them human. The world is falling to pieces and it is up to Thulu and La Fi to help put it right and to discover just who is behind the attacks. Entire cities are burning and saving the world is their only concern.
From demons to ghosts to elves and whatnot, hanging out with the two detectives as they solve their most recent case is a great way to spend a weekend. While the books are Young Adult, anyone can read them and find a ton of enjoyment.Wilson's writing flows and you can't help but fall in love with Thulu and La Fi, as they are charming and fully realized, almost to the point where you feel close enough to invite them over for dinner.