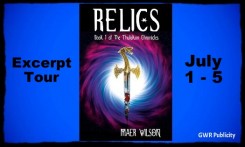 Excerpt Tour & Giveaway
A GWR Publicity Tour
I'm going back out on a new blog tour with a special giveaway on July 1 – 5. This one is different and features excerpts from Relics! Be sure to stop by each blog for another chance to win and a sneak peek at each excerpt!
You can win one of these four prizes:
1 – $20 Amazon Gift Card
1 – Signed Print Copy of Relics
1 – eBook Copy of Relics

1 – Signed Relics Bookmark
July 1
July 2
What Shall We Blog About Today?
July 3
The (Mis)Adventures of a Twenty-Something Year Old Girl
July 4 
Keeping Up with the Rheinlander's
July 5