"Ghost Dancer" and "Unwanted Ghost" are Free!
The 5 star novelette, "Ghost Dancer," is available for free download from your favorite retailer! "Ghost Dancer" has held a top 50 spot (and usually in the top 20!) in Amazon's Short Science Fiction & Fantasy Reads for over six months. This one-hour read is perfect for lunchtime and is a great introduction to Thulu and La Fi's adventures!
"Ghost Dancer"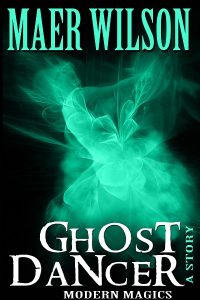 Ten-year-old Danika Samms was going to be a dancer. She was even going to be on TV for a big national contest. Until a serial killer put an end to her dreams. Now her ghost has come to Thulu and La Fi to save her dog from the killer. La Fi is a medium and Thulu is a finder and together they find justice for the dead.
The detectives take the case, but they find more than a lost pup. They discover a heartbreaking secret and a seasoned killer already on the prowl for his next victim. And this time their walk on the darker side of the paranormal puts their own lives at risk.
"Ghost Dancer" is the third novelette from Modern Magics.
Available for FREE Download at These Retailers




"Unwanted Ghost"
I'm also giving away a FREE copy of "Unwanted Ghost" to those who join Maer's Book Club.  I share my latest news throughout the year to club members only. Join today for your free copy of "Unwanted Ghost."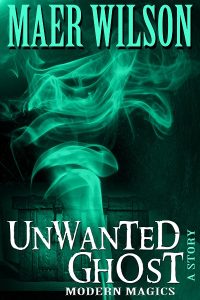 Thulu & La Fi have inherited an old, furnished Victorian. What they weren't expecting was that the furnishings included a ghost.
Usually the Thulukans are happy to take on supernatural clients for their detective agency. But there's something about Darla Redding that bothers La Fi – and with good reason. They discover that Darla has a much darker past than hinted at by her "normal" life. She's definitely not a ghost they want haunting them. So, if they want to be rid of their unwelcome house ghost, Thulu and La Fi need to solve her murder.
"Unwanted Ghost" is the second novelette in the Modern Magics series.
To get your free copy, simply join Maer's Book Club.