FREE eCopy of "Unwanted Ghost"
Love books? So do I!
Subscribe to my website and receive the latest news on my books, new releases for other authors and more. As a gift I'll send you a free copy of "Unwanted Ghost." So be sure to leave your email address. This novelette is one of the prequel stories in the Modern Magics series. It currently has 4.8/5.0 stars on Amazon.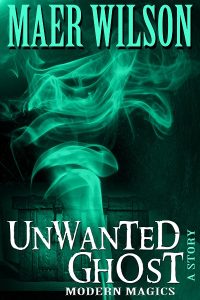 Thulu & La Fi have inherited an old, furnished Victorian. What they weren't expecting was that the furnishings included a ghost.
Usually the Thulukans are happy to take on supernatural clients for their detective agency. But there's something about Darla Redding that bothers La Fi – and with good reason. They discover that Darla has a much darker past than hinted at by her "normal" life. She's definitely not a ghost they want haunting them. So, if they want to be rid of their unwelcome house ghost, Thulu and La Fi need to solve her murder.
You can also find the entire Modern Magics series on my author page at these retailers:
Amazon – http://goo.gl/a84CIh
Barnes & Noble – http://goo.gl/jvA5QU
Kobo – https://goo.gl/UGslz7
iTunes – https://goo.gl/iVJ5e9
Smashwords  – https://goo.gl/VP1rTD
Goodreads – https://goo.gl/4KzVOf