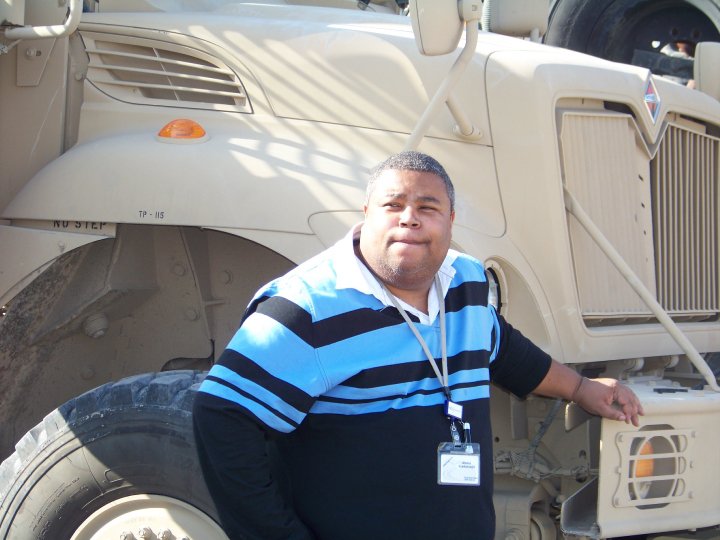 Imagine your own heart betraying you with every beat.
Imagine you're 46 and counting what's left of your life in months.
Imagine waiting for a life-saving heart transplant.
…And waiting.
Imagine you're told you need $120,000 to be saved.
Imagine time running out with every heartbeat.
Altoine Scarborough doesn't have to imagine it.
He's living his own deathwatch.
What would you do if this were your brother, or father, or friend? How often would you share the story on Facebook or Twitter?
Well, Al's friends are doing everything they can to help save his life. Not everyone has funds to donate, no matter how much they would like to. That's okay! Please support Al by sharing his story.
Here's what you can do to support the effort to save this good man.
LETTER TO ELLEN:
Ellen has a segment where you can nominate a Deserving Person in Need. We are asking as many people as possible to send the following letter to Ellen to nominate Al. We aren't even asking for money. Just for a larger platform to get the word out about Al's desperate situation in hopes that folks who do have the money to spare will see the situation and donate. We need Al to go viral!
Here's what to do:
Please go to this link. It's the page where you can nominate someone. 

The link to nominate Al as a Deserving Person in Need is: 

http://www.ellentv.com/be-on-the-show/433/

Fill in your own information about who you are, contact, etc.

There is a box to upload or link a picture.

Please use this URL in the box:

 http://maerwilson.com/wp-content/uploads/2015/12/Al-pic-2.jpg. You may need to download the picture and then upload to her site.
Please copy the letter below in its entirety:  
Altoine Scarborough is in desperate need of a heart transplant. At 46 years old, he's a good man with a big heart emotionally, but one that is not functioning properly physically. Friends are trying to raise the astronomical insurance co-pay ($120,000) for the transplant and other medical procedures. A GOFUNDME project is in place and he has a WE HEART AL page on Facebook. We have an anthology of stories donated by twelve published authors. All proceeds from the anthology, THE DARK DOZEN: Stories for Scarborough, will be donated to Al's fund.
Ellen has helped so many people, we are hoping she can help us get the word out about Al. We also hope folks will donate directly to Al's GoFundMe project, buy the anthology THE DARK DOZEN (Buy a Book, Save a Life), or even just help spread the word to their friends. Any support to help save this man's life will be deeply appreciated.
Al's GOFUNDME Page – https://www.gofundme.com/l1911s
Al's Facebook Page – WE HEART AL – https://www.facebook.com/We-Heart-Al-611995988938764/
Some backstory – "How My Chihuahua Almost Killed Al" –http://goo.gl/VgNDG7
Amazon – THE DARK DOZEN – http://goo.gl/H8lsPo
Then just click SEND!
GOFUNDME:
You can support Al directly by donating to his GOFUNDME page. Thanks so much to those who have been able to help in this way!
THE DARK DOZEN: STORIES FOR SCARBOROUGH: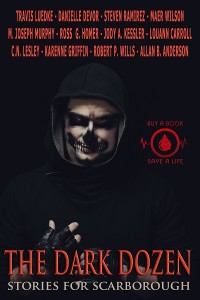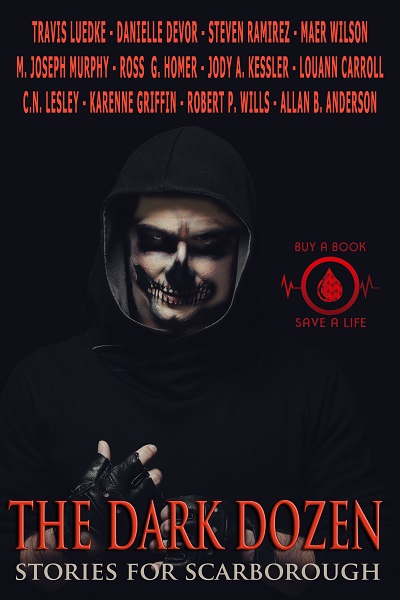 Twelve authors donated stories for a charity anthology to help raise funds for Al. Every penny of the royalties will be donated to Al's GOFUNDME page. This Horror/ Sci Fi anthology includes best-selling and award-winning authors.
Join Travis Luedke, C.N. Lesley, Danielle DeVor, Steven Ramirez, Jody A. Kessler, Louann Carroll, Ross G, Homer, M. Joseph Murphy, Robert P. Wills, Karenne Griffin, Allan B. Anderson and yours truly (Maer Wilson) for a trip into the Darkness.
Buy a Book, Save a Life
Get your copy today from Amazon!
FACEBOOK:
Please pass the word to your family, friends or anyone else who might help. You can share Al's story through his page:
TWITTER:
If you have a Twitter account, just click the arrows at the bottom of each of the boxes below to Retweet:
#BuyaBookSaveaLife Charity Horror / SF Anthology 12 dark stories by best-selling authors https://t.co/fA5YY9Ezi6 #BYNR #ASMSG

— Maer Wilson (@MaerWilson) December 8, 2015
or this one: