Please join me in welcoming the enticing Alythia Brown to the blog today. Her recent novel is the intriguing Dakota Captive, a very different Urban Fantasy.
About Alythia Brown
Alythia Brown was born and raised in the San Francisco Bay Area, where she now lives with her husband and their three small children. She found her inspiration to write Dakota Captive after traveling to North Dakota to return an authentic peace pipe to the Lakota Natives. The artifact had been picked up after the Massacre of Wounded Knee in 1890, and eventually ended up in the hands of one of her ancestors—who, in turn, told everyone it was a wagon spoke. Alythia is the author of two short stories, published in the Mertales anthology, and she aspires to publish many more books for children, teens, and young adults.
Read on for more about Alythia and her new novel!
About Dakota Captive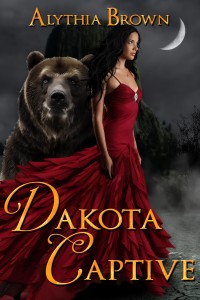 When the evil spirit of Jumlin returns with his army of Offspring, the Earth Spirits are summoned to protect the Lakota. Unbeknownst to Charli, these Earth Spirits are a sacred secret. So she probably shouldn't have spied from behind a rock when they shifted from their animal forms, she shouldn't have taken pictures, and she definitely shouldn't have gotten caught. Now a hostile prisoner, Charli is forced to walk a long journey to reach the one man who can erase the knowledge of the Earth Spirits' existence from her mind.
Naturally, Charli thinks all she needs to do is keep her big mouth shut, get her memory erased, and go home. But Jumlin's Offspring are stalking her. Since no one can explain this unusual behavior, it becomes imperative to enter the Other World–a place where the Lakota have lived traditionally and without foreign oppression (but not without menacing dragons). Aside from being kidnapped, whisked away to a foreign world, hunted, and forced to live amongst strangers, Charli must come to terms with a new nuisance: she's falling for one of her abductors.
Now let's shine the spotlight on Alythia!
Maer:  Thanks for joining us to tell us about your new book, Alythia. What is the funniest or oddest thing that has happened to you as an author?
Alythia:  I don't really have any funny or odd stories that pertain to me as an author, though I have my share of funny and odd stories that pertain to me as a person! I suppose the best story I have, as an author, is my personal journey of writing. From the moment I said screw it all! I could write a novel! to the time I cried when I realized I would never publish the first two novels I had spent years writing to the rush of receiving my first publishing contract, the path hasn't been dull or easy or pointless.
Maer:  Do you use beta readers and, if so, what qualities do you look for in a beta?
Alythia:  So far I have only had informal beta readers comb through my work. Mainly, the only quality I search for in a beta reader is someone who loves books. I respect the opinions of people who read in their spare time.
Maer:  Could you please give us a one line synopsis for your book?
Alythia:  Kidnapped for witnessing a sacred secret and whisked away to another world, Charli must navigate through her feelings for one of her abductors.
Maer: It sounds fascinating! Is this a stand-alone or part of a series?
Alythia:  Dakota Captive is book one of a trilogy to follow.
Maer:  That's great to hear, Alythia. Which character, other than Charli, is one of your favorites to write and why?
Alythia:  Heyókha is one of my favorites. He's an Earth Spirit who can shift into a coyote. His playful nature embodies the Lakota meaning of his name: sacred clown. Even though he's not Charli's love interest, the two have a special relationship because he seems to be the only one who understands her humor.
Maer:  If you had to pick a color to describe Charli what would that be and why?
Alythia:  Sea-green. Charli is half-Hawaiian. While she is in the captivity of the Earth Spirits, and trudging through the endless, dry prairies of North Dakota, she longs for the sea.
Maer:  Who are your favorite authors to read?
Alythia:  Some of my favorite authors include, but are not limited to, C.S. Lewis, J.R.R. Tolkien, J.K Rowling, Louisa May Alcott, Terry Brooks, Diana Gabaldon, Suzanne Collins…
Maer:  Great list! Can you share a bit about the project you're working on now?
Alythia:  I'm trying to resist the creative urge to start fifteen different projects with no direction! Therefore, I'm strictly sticking to working on the trilogy for Dakota Captive and one other fantasy novel. I think the latter will be darker than the Dakota Captive trilogy but the work is still up in the air.
Maer:  What do you do when you're not writing?
Alythia:  When I'm not writing, I'm busy being a mom, wife, dog owner, project coordinator for a digital marketing company, and volunteer. I like to sleep occasionally.
Maer:  Yeah, that sleep thing is a valuable commodity. What influenced you to write in your genre? Do you write in others?
Alythia:  One day, I will write something that isn't fantasy! But fantasy comes more naturally to me than other genres. I grew up playing make-believe in the creek with my sisters and listening to the classic fairy tales my grandmother kept in her bookshelves. Grandma would give me a hard butterscotch candy and we would read together for hours. To this day, I still taste butterscotch when I see the illustrations of Little Red Riding Hood.
Maer:  What music, if any, do you like to listen to while writing?
Alythia:  If I listen to anything with lyrics, I'll sing along and won't write! But, since music moves me so much, I listen to movie scores. The tone of the music needs to fit the scene. The most recent score that comes to mind is from The Pirates of the Caribbean: At World's End.
Maer:  I agree…music scores are the way to go! And I love that one too. 🙂 Alythis, thanks so much for joining me today and sharing some about your book. Do you have anything you'd like to add?
Alythia:  Thank you so much for having me today, Maer! And thank you, Readers, for following me on this new adventure. I hope you enjoy Dakota Captive and other works to follow! Please leave comments! I love to hear your thoughts!
Maer: My pleasure. I look forward to reading your book!
You can buy Dakota Captive
 at Amazon.
You can follow Alythia at the following links: