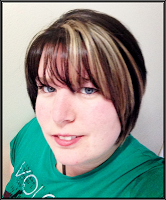 A warm welcome to my friend, Avery Olive, author of the cool, paranormal, Young Adult novel, A Stiff Kiss. 
About Avery Olive
Avery Olive doesn't kiss and tell. Except when it comes to writing about hot supernatural guys. She lives with her husband and son in Red Deer, Alberta, where she spends way too much time reading, writing and avoiding house work.
Currently, she's the author of A Stiff Kiss, a young adult novel with a morbid twist on a classic fairytale, in reverse, and Won't Let Go, involving an amnesic ghostboy who just won't move on.
What she is sure of is that writing will always give her the chance to escape and hopes to release many more novels in the future.
Read on for more about Avery and A Stiff Kiss!
About A Stiff Kiss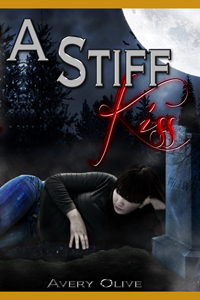 Who knew kissing a corpse would change everything?
Death always hits Xylia Morana too close to home, but she likes it that way. She hangs out with the terminally ill, attends random funerals, and every so often, when the weather is right, she sleeps in open graves.
But after Landon Phoenix, the high school hottie, dies in Xylia's arms, she sneaks into the morgue to say goodbye. How could she know stealing a kiss from his corpse would wake him up?
With Landon returned to the living and suddenly interested in Xylia, life has new meaning. But what Xylia doesn't realize is that by kissing Landon back to life, she's thrown Life and Death off balance. The underworld demands a body, and it might just have to be Xylia's this time.
Now let's shine the spotlight on Avery!
Maer:  Hi Avery, thanks for joining us to tell us about A Stiff Kiss. So, what is the funniest or oddest thing that has happened to you as an author?
Avery:  Honestly, to date, nothing. I know, it's crazy, I honestly thought I'd have these rabid fans breaking down my door, swooning because I'm this super amazing author! But, alas, I'm just not there yet. So, hopefully, soon I'll have something to add to this question in the future.
Maer:  LOL. Do you use beta readers and, if so, what qualities do you look for in a beta?
Avery:  I do use beta readers. But funny thing, I'm not sure how to answer this. Back when I first started writing, I used the Absolute Write Forums (an amazing resource everyone should be using) and I think I posted a blurb of the book I had finished at the time, crossed my fingers and hoped for the best. I was so green, I didn't know what to look for and tossed my novel to anyone that offered to read it. I had some bad ones, that didn't finish or insisted the story sucked. And some great ones, that really helped me. One beta reader made me cry, ripping apart my first chapter so bad I thought I would never write again. Only, I took that as a challenge, fixed the chapter (and the novel) emailed the beta reader again, begging for a second chance. To this day, a lot of years later, this person is my #1 beta and friend, and he reads all my work. I've also collected a few others that I've worked with from day one. I lucked out. It's like winning the lottery, I swear.
Maer:  That's a great example, Avery. What is a one line synopsis for your book?
Avery:  So, I've been learning more and more about Screenwriting. And a big part of that is writing loglines, which are sort of one liners about the movie. So I've been practicing those.
An emotionally troubled girl, with morbid hobbies, kisses a corpse back to life. A story about self-discovery, forgiveness and defying the odds.
There, how's that?
Maer:  Oooh, intriguing! Is this a stand-alone or part of a series?
Avery:  It's a stand alone. I know several people have asked me if I'll continue the story, showing what happens to the characters after the events of the first novel. But, you know what? I really think it's wrapped up nicely, and I wouldn't want to risk the closure they have just to write another book, I'm not sure I could pull off.
Maer:  Which character, other than Xylia is one of your favorites to write and why?
Avery:  Her name is Evelyn. In the novel, A Stiff Kiss, she's a little old lady in the Geriatrics ward of the hospital, recovering from a hip replacement. She's like a movie star. Even in the hospital she is rocking full makeup, perfect coifed hair, and no backless gowns for her… She's also the big gossiper. You know, if I could, I think I'd write a whole story on her. I just think she's seen and done so many things in her life, which makes her this super sweet, well rounded, funny old lady.
Maer:  If you had to pick a color to describe Xylia what would that be and why?
Avery:  Black. Black and more Black. Xylia, the MC, from A Stiff Kiss, has seen some terrible things in her life, which has really altered her personality, and not necessarily in a good way. She's a bit gothic, has an unhealthy fascination with the dead and the dying.
Maer:  Now how idd I know that was coming? Avery, who are your favorite authors to read?
Avery:  This is always a tough one. I'm really big in YA, since that's what I write. I love Cassandra Clare. Big fan of Sarah Dessen. Suzanne Collins… I don't know, there's too many. Basically, if it's YA, chances are I'll love it.
Maer:  Can you share a bit about the project you're working on now?
Avery:  My upcoming release, Won't Let Go, is about an amnesiac ghostboy who needs help solving the mystery of who he is and why he hasn't crossed over yet. The story has a few twists, and turns, and some romance, because, romance makes everything better.
Maer:  What do you do when you're not writing?
Avery:  When I'm not writing? I'm always writing. Okay, seriously. I'm a stay at home mom, so a lot of my time is devoted to him, the housework and well, life. I do a lot of readings, and a lot of TV watching.
Maer:  What influenced you to write in your genre? Do you write in others?
Avery:  I had actually just gotten myself reacquainted with the genre by reading Twilight, and a few other books, and thought, hey, I could write this… maybe, even better. And it just sort of took off from there. I really don't write anything else, not to say I couldn't, I just haven't tried.
Maer:  Fabulous! I love when people jump in and go after things. Congrats on that, Avery! What music, if any, do you like to listen to while writing?
Avery:  I go through spurts. Sometimes I can only write to music, and sometimes I can't have anything going on in the background. But, I'm a big fan of the rock. Anything from the 60's, 70's, 80's… Sometimes I swear I should have been born a good thirty years before I actually was. I'm stuck in the past.
Maer:   Avery, thanks so much for chatting with me today! Do you have anything you'd like to add?
Avery:  Hmm. Not really. Well, for those of you were are aspiring writers: Write every day, even if you don't want to do it. And read, a lot, like a lot, a lot. It's the best way to learn.
You can buy A Stiff Kiss
 at Amazon and Barnes & Noble.
You can follow Avery at these links:
A Stiff Kiss Facebook Fan Page