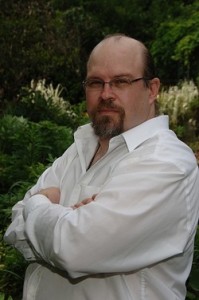 It's a pleasure welcome a fellow gamer and Urban Fantasy author Ben Reeder onto the blog today! Two of my own favorite things, right? Right!
About Ben Reeder
Ben Reeder was born to a military family in Hawai'i, and adopted by another military family. In his quest for adventure, fame and glory, he has done a lot of things, some of them even adventurous. Among his achievements, he's been in the military, worked as a radio DJ for a college station, worked on a poultry farm, worked with developmentally disabled adults, done security work and worked in a New Age bookstore, to name a few things. Currently he lives with his girlfriend in Springfield, Missouri, where he practices long abandoned skills such as archery and sword fighting and attempts to herd cats. His writing partner, Musaba, a lion laboring under a tragic curse that has transformed him into an orange cat, claims credit for all the good parts of what he writes.
Read on for more about Ben and his intriguing series The Demon's Apprentice!
About The Demon's Apprentice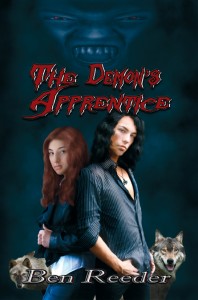 When 15 year old Chance Fortunato suddenly finds himself living with his long-lost mother and newfound little sister Deirdre, it's like living in a dream from which he doesn't want to wake up. What is all too real to him are the 8 years he's just spent enslaved to the demon Count, to whom his father traded him for power and riches—and the vicious battle he's just waged to win his freedom.
Chance doesn't get to enjoy his idyllic suburban life for long before the mystical underworld he's just escaped comes calling. As much as he wishes he could ignore it, Chance knows in his heart that he is the only one who can track down the murderer of his new friend and mentor, Sydney Chomsky.
Suspected by the police and hunted by the Wizards' Conclave, Chance discovers dark secrets in every corner of his new life and quickly learns he can't go it alone. Only an unlikely alliance with Alexis Cooper, head cheerleader and most popular girl in school, can help him survive the confrontation with an unexpected foe. To bring his mentor's killer to  justice, Chance will have to fight evil on its own terms, and discover whether that makes him a hero…or a monster.
Now let's shine the spotlight on Ben!
Maer:  Thanks for joining us to tell us about your new book. Where did the inspiration for your book come from?
Ben:  Oddly enough, it came from a role-playing game. The idea was to create a modern character with a mystical background who was also a reluctant or anti-hero. Everyone else had characters that were chosen, quite against their will, for greatness. Kind of like Buffy. Chance came about as a counter to that, the guy who wants to be a good guy but has all the skills of the villains. To get a sense of the character's background, I wrote a scene about his escape from the demon who owned him…and then I found that the story had a will of its own.
Maer:  I love when gaming plays a part in a book's creation. What is a one line synopsis for your book?
Ben:  For The Demon's Apprentice: Rogue warlock Chance Fortunato has to find who or whatever killed his mentor, figure out the dark secret of the coolest kids at his school while avoiding capture by the Conclave and do it all before curfew.
Maer:  Sounds awesome! Is this a stand-alone or part of a series?
Ben:  The Demon's Apprentice is the first in the series of the same name. The second book is Page of Swords. The third book is due out soon.
Maer:  Which character other than Chance is one of your favorites to write and why?
Ben:  If I had to choose one, I'd be hard pressed to choose between Dr. Corwyn and Lucas. Lucas wins out because he gets some of the best one liners in the books, being more geek savvy than Dr. C is. He's the sort of everyman character to Chance's outsider, the guy who has to explain to his danger prone best friend who Doctor Who or Buffy the Vampire Slayer is. Unlike Chance, he's not a very physical character, but he's still there at Chance's side when things get scary. Almost everything Chance has faced, Lucas has faced as well, with little more than a brave face and a smart remark to protect himself with. If I were to write a spinoff series with any of my characters, it would be Lucas.
Maer:  If you had to pick a color to describe Chance what would that be and why?
Ben:  I would have to go with orange, which is rather opposite his signature colors of black and red. At the heart of everything, The Demon's  Apprentice is about teens, about growing up, sometimes too soon, and sometimes not pleasantly. But through it all, these kids are growing and changing, and orange evokes that sense of vibrant energy in them all, but especially in Chance.
Maer:  Who are your favorite authors to read?
Ben:  Jim Butcher is my go-to guy for urban fantasy, followed closely by Kim Harrison. Anything with their names on it, take my money already!
Maer:  Can you share a bit about your current project?
Ben:  Why yes, yes I can.
Maer:  Great! Go ahead.
Ben:  Oh, you want me to actually share something about it/them (I have two).
Maer:  Yes, please. Share away!
Ben:  The main project I have right now is the next book in the Demon's Apprentice series, Charm School. Chance, after his actions in Page of Swords, is sent to the Franklin Academy to learn how to be a real mage. But things aren't what they seem there, and no sooner than he arrives in the Academy's hallowed halls, he's suspect in a series of attacks that leave their victims drained of vitality. This time, he's alone, far from home and in a very hostile environment. We also get to see what the rest of the magickal community is like and how they see the world. My other project is a dystopian paranormal story set after an apocalyptic war between humanity and demons. The main character, Rose, is forced to return to her old profession as a demon slayer/assassin when someone gets her husband possessed, forcing her to kill him in order to save his soul and her own life.
Maer:  So, Ben, what do you do when you're not writing?
Ben:  Writers are storytellers, so I'm almost always doing something related to finding or living new stories to tell. That's lofty writer-speak for gaming and playing with swords, bows and other old-fashioned things like it's important or something. I'm also an advocate of authors' rights, though I'm nowhere near the advocate Writer Beware or Preditors & Editors have become.
Still, I do my part to educate other writers about the publishing industry, which sometimes draws the ire of scammers and their supporters.
Maer:  I love that you're another gamer. Of course, I also love Urban Fantasy, since it's my own genre. What influenced you to write in it? Do you write in others?
Ben:  That is easy. As for the paranormal, a few years ago, my girlfriend handed me a book and told me "This guy writes like you do. I think you'll like this book." The book was Jim Butcher's Dead Beat. I read it and I heard my own voice. Once I tore through that book and every other book in the Dresden Files, I knew I had found my favorite genre. It also helped that I was working at a New Age bookstore at the time, so I had plenty of research material. I ended up writing in YA, as I like to say, by accident. Chance turned out to be fifteen so by default my work is YA. Truth is, what is classified as young adult any more is often as mature and complex as any book written for so-called grown ups.
I've worked in dystopian and I'm expanding into steampunk because they both explore rebellion against the status quo (the "punk" in steampunk), which seems to be a trend in my stories.
Maer:  What music, if any, do you like to listen to while writing?
Ben:  That depends largely on what I'm writing. I have a few themes that I will use when I write scenes for certain characters. For Chance and Shade's scenes together, I'll often listen to Paul Oakenfold's "More Than Human" to get in touch with their dark but hopeful mindset, but for Chance's more intense action scenes, I'll use harder sounds like Shinedown, Linkin Park or Joe Satriani to get my pulse going. When I'm looking more at the background of Chance's world, I've found that Pink and Lacuna Coil are better. For the steampunk work I'm doing, it's a lot easier: Abney Park and Steam-Powered Giraffe are my go-to signature sounds.
Maer:  Ben, it's been fascinating having you stop by today. Do you have anything you'd like to add?
Ben:  One thing that we as writers have a tremendous opportunity to do is let our readers and fans be heroes, not only through the characters we write, but through the very act of buying our books. All of my readers are my heroes because with every book in The Demon's Apprentice series that I sell, I contribute to the A21 campaign, which is dedicated to ending human trafficking in the 21st century. I encourage any author to find a charity or organization that speaks to your heart, or more importantly, to your readers, and make a contribution to them that is linked to your book sales.
Your fans not only get a great book, they become heroes in their own right, and that's just cool.
Maer: Thanks for an intriguing interview, Ben!
You can find The Demon's Apprentice
  and Page of Swords (The Demon's Apprentice)
 at Amazon.
You can stay up to date with Ben at the following links: