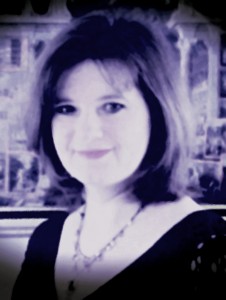 I always love finding new authors in the sci fi/fantasy genre and I'm quite excited about Ceri London's new book, Shimmer in the Dark: Rogue Genesis. I met Ceri through a writers' group I belong to and I'm happy to spotlight her and her debut novel today.
About Ceri London
Ceri London is married, a mother to two daughters, and lives in Sussex, UK. A piano tutor following a career in IT project management, she loves writing in her spare time. Shimmer in the Dark: Rogue Genesis is her debut science-fiction/fantasy novel.
Read on for more about Ceri and her new novel!
About Shimmer in the Dark: Rogue Genesis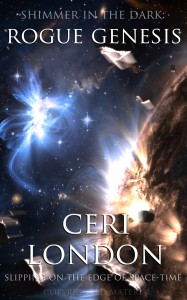 One man. Two worlds separated by a universe. Space-time warped by black holes. In the passing of seconds on Earth, Major Niall Kearey has witnessed the birth and death of generations on Astereal. His mind shortcuts light years to visit a fantastical world of floating sky cities populated by telepaths.
Astereal is in decline, the dueling forces of black holes threaten extinction. Ancient prophecy predicts their interstellar visitor brings salvation. As Niall faces the staggering truth—that his alien dream world is real—he and his family are targeted by secret societies, scheming politicians, and the US military.
Time is running out as Astereal races towards annihilation and temporal alignment with Earth. Power brokers vie for control of his capabilities. Niall must act, balancing the needs of Earth, his family, and the alien civilization he has come to know and love.
The fate of two worlds rests on his shoulders.
Now let's shine the spotlight on Ceri!
Maer:  Ceri, thanks so much for joining us to tell us about your new book. I love the premise of your novel. Where did the inspiration for Rogue Genesis come from?
Ceri:  There was no single inspiration; I just love stories that stretch the rules past breaking point. I can't resist epic-sized stories and especially enjoy sci-fi that ties back to our everyday world and makes you think, what if it's true?
My youngest daughter came to me the other day asking, do you know we only use one quarter of our brain? Yes, exactly. What is the full potential of the human brain? How far could it go? The subconscious is a powerful beast. Dreams can be incredibly vivid, providing levels of detail our conscious minds would struggle to reproduce. What if paranormal, supernatural events were our minds interpreting information beyond our normal well-developed senses? Okay, I could go on forever, but all good stories rest on What Ifs that transport the reader or listener outside of their everyday existence, and sometimes outside current scientific understanding.
Rogue Genesis is a story that transports my hero out of his everyday existence and across the universe to another world. He has to reconcile that with his ongoing life on Earth. Throw in a doomed civilization to save, a bit of good old human suspicion of anything different, and we get some impossibly large stakes.
Maer:  Awesome answer. I'm one who loves those "what ifs." So what is a one line synopsis for Rogue Genesis?
Ceri:  I got beta help with this one. Cost me sixty pages of editing. Here it is: One man's unique ability to bridge across the universe holds the key to saving an alien civilization, but his actions may have dire consequences for humanity.
Maer:  Yeah, those one-liners are tough! Is this a stand-alone or part of a series?
Ceri:  Rogue Genesis is the first in a four book series called Shimmer in the Dark, but is written as a standalone novel with a resolved plot and foreshadowing for the rest of the series. Readers won't be left with a cliffhanger, but they will want to know more.
Maer:  Which character other than Niall is one of your favorites to write and why?
Ceri:  Uathach, the High Brighid. She's made saving her people her whole purpose for existence. In many ways, Niall Kearey is the means by which she will achieve that end. She's sacrificed a personal life for duty and possesses an authority that can be intimidating. Her quest drives her, and when that fierce protectiveness leaks through she's all the more persuasive. Niall's relationship with Uathach alters during Rogue Genesis as he discovers the person inside his long-term mentor, while she witnesses the man who once thought her world some crazy dream assume the responsibility that she's carried for generations.
Maer:  If you had to pick a color to describe Niall what would that be and why?
Ceri:  An earthy brown. Niall has dark hair, brown eyes, and he's incredibly grounded considering what he can do. Reliable. Steady, but at his core there's a fire burning—his wife's a lucky woman.
Maer:  So, who are your favorite authors to read?
Ceri:  Looking back: Isaac Asimov, Frank Herbert, Clive Cussler, Anne McCaffrey, Patricia Cornwell, David Eddings, Stephen Donaldson and more. I go through phases of authors and I tend to read whole series at a time. However, I would find many of them hard to read now. In later years, holiday reading has become a lot more fast-paced: Michael Crichton, Dan Brown, but since self-publishing, I have discovered a host of indie-published books to enjoy and some are first-class.
Maer:  You have a lot of my own favorites in that list. And I totally agree with you on the excellent quality of many indie books. Can you share a bit about your current project?
Ceri:  My main project is the second book in my Shimmer in the Dark series. Blood Agent (a working title) deals with the fallout of Niall's choices in his attempts to save an alien civilization and also explores themes opened up in Rogue Genesis. Relationships and allegiances evolve and an enemy within is going to change everything.  Politics and sinister forces will test Niall's resolve to the limit as his family begins to disintegrate. All his amazing powers can't fix the one area of his life he cares about most.   
Maer:  What do you do when you're not writing?
Ceri:  I tutor piano, drive my husband crazy, and enjoy my children. I used to help my eldest daughter with her horse, but she does all that herself now. I miss mucking out at the yard and getting scared to death when the horses spook while too close for comfort. Okay, you caught me out; the truth is I miss the company and gossip. I also do voluntary work every now and again, read a lot, and plan to spend more time with friends and family. That last is like making a New Year's resolution: can't wait to transform my life for the better, but seemingly incapable of stopping other stuff getting in the way. More rock, less sand should be my motto.
Maer:  It sounds like you're having loads of fun! What influenced you to write in your genre? Do you write in others?
Ceri:  I love writing stories in the genre I love to read. I am trying my hand at a romantic (and slightly steamy) short story for an anthology, but set in the Shimmer world where I feel nice and safe. It won't be too racy, but neither will I make a point of advertising it to friends and family.
Maer:  Sounds like fun. What music, if any, do you like to listen to while writing?
Ceri:  Celtic music and Irish groups like Clannad inspire me, but I can't listen for too long as it's too distracting. Generally, I love classical or easy listening. I've just returned from a holiday in Menorca. Mahon has a musical festival and we came across three young local lads setting up to perform in a street on Saturday afternoon—two violinists and one cellist. While my family disappeared shopping, I sat on a bench and enjoyed a wonderful half hour listening to a medley of classical pieces, romantic ballads, the Beatles' Let It Be, and the theme music to Pirates of the Caribbean. It was a highlight of my holiday. These boys were really good and clearly enjoyed each other's accomplishments. It was fun to people watch, too—even more inspiring.
Maer:  Ceri, thanks for an awesome interview. Do you have anything you'd like to add?
Ceri:  Maer, a huge thank you for letting me talk about my book on your blog. It's been fun!
Maer:  It was definitely my pleasure. I'm looking forward to reading your new book.
You can find Rogue Genesis (Shimmer In The Dark)
 on Amazon, as well as at these retailers:
Amazon UK
Smashwords
Barnes & Noble
Kobo
You can follow Ceri London at the following links: