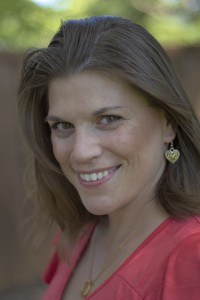 From the first time I saw the cover and title for this new book, Magicbound, I was intrigued. It's always so cool when I find out that I actually know the author of a book I want to read. This one was a double pleasure because ChristaCarol Jones is part of group of authors I hang out with and I hadn't remembered where I'd seen the book. What a fab surprise to find out it was written by a friend of mine! Please join me as I discover more about this new novel and the awesome author who wrote it.
 About ChristaCarol Jones
ChristaCarol is an avid daydreamer, wife to her best friend, mama to 3 amazing kids, a teacher-in-training, and a young adult author who loves fantasy, adventure, and strong leading ladies. She's danced, acted, sings in a praise band, sews, is learning to knit, and will try anything the least bit creative at least once! ChristaCarol's debut novel, Magicbound is available world wide on Amazon.
About Magicbound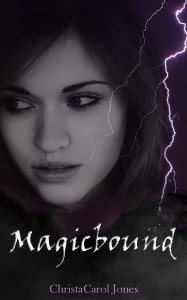 A sixteen-year-old girl bound to dark magic wants to be good but needs to be bad for her world to survive.Lusa's life already has issues when her mother's gone missing, there's a temple full of dead mages, and her malicious powers want to turn her into a murderous monster. Worst of all . . . she's fallen for the wrong boy. In constant battle with her magic's bloodlust, only Kaden has the ability to help keep her in check. But there's a bounty out for mages and he's a bounty hunter most likely in it for the reward and not for her. When a sorcerer's plot to wipe out all magic-users becomes a full blown war, Lusa is the only mage left to stand against him. To defeat him she must embrace her inner evil. Thing is, if she can't learn to master her powers instead of them continuously pulling the puppet strings, her soul and Kaden's life will be the price she ends up paying.
Now let's shine the spotlight on ChristaCarol!
Maer:  It is such a treat to have you here today, ChristaCarol. Thanks for joining us to tell us about your new book.
ChristaCarol:  Thanks for having me, Maer! It means so much to be here.
Maer:  Your premise is so very intresting, ChristaCarol. Where did the idea for your book come from?
ChristaCarol:  Well, that's a loaded question! It started back about 15 years ago when I was young, and use to RPG in online forums. At some point, I had created Lusa, my bad girl. She always seemed to stick around in my stories, so in 2000 I decided to write one around her. That is when Kaden was born, and their first story was my first draft of a real book. Of course, life happened, and I hadn't any idea what to do after finishing the book, so I let life distract me. I got married, had some kids, and went to college, all the while, honing my writing through continued online RPG (Role Playing Games through story telling). In 2008 I made the decision to get serious about my craft, met some amazing writers/authors, and thus, the story developed into an even better one. I would've had it out a lot sooner, but some unexpected challenges at home came up, leaving me to take a hiatus from writing and anything else for 2 years.
Maer:  What a fascinating story! Could you give us a one line synopsis for your book?
ChristaCarol:  Girl with dark magic wants to be good, but needs to be bad for her world to survive.
Maer:  What about the future for these characters? Is this a stand-alone or part of a series?
CC:  The book can stand alone, but it will become The Last Mage series (I am currently working on book 2).
Maer:  Which character other than Lusa is one of your favorites to write and why?
ChristaCarol:  I consider Lusa and Kaden pretty big characters, so if I had to pick another one other than them, it would be Glon. He is such a fun-loving, big and burly guy that brings a sense of optimism to Lusa, which is typically hard to do with a girl like her.
Maer:  If you had to pick a color to describe Lusa what would that be and why?
ChristaCarol:  Black. Her powers, the Dark Magics, are all consuming at times and very hard to control. She's lived with them all her life, so they've infiltrated her personality and natural character. As well, she's been cursed with a memory spell, thus leaving her "in the dark", so to speak, about past events–big events—that she may well have been responsible for.
Maer:  Who are your favorite authors to read?
ChristaCarol:  Aside from my Purgie friends and their amazing books, I love Maria V. Snyder, Rachel Vincent, Alyson Noel, Lauren Kate, Kristin Cashore, Libba Bray, Rick Riordan, Cassandra Clare…I mean, the list goes on!
Maer:  Great list! Can you share a bit about your current project?
ChristaCarol:  I have more than one. Most are in storage waiting for mommy's full attention. I have a completed work that I'm not sure I want the world to see yet (think Buffy the Vamp slayer, but a girl Hercules versus underworld demons instead). And then, of course, there is the sequel to Magicbound, tentatively called MagicRift. This will continue to follow Lusa's journey as she struggles with something that I cannot say without giving the ending of Magicbound away. All of the characters in Magicbound (that are still living, of course) will return, along with some new characters; and new places of the world of Izier will be explored.  
Maer:  ChristaCarol, what do you do when you're not writing?
ChristaCarol:  A million things, it seems. I have three kids, 8, 4.5, and 2. The 4 year old was diagnosed with leukemia 2 years ago (the reason for my hiatus), so they all keep me pretty busy. I am also a full time student at WGU finishing my degree in elementary education so I can teach kids how to become awesome writers early on! I also lead a mom's group, sing weekly in a praise band, and try various crafty/creative things like knitting and sewing. I don't get much sleep….
Maer:  Good grief, you are one busy lady! And you've persevered through some rough times, which is an inspiration, ChristaCarol. Turning back to your writing, what influenced you to write in your genre? Do you write in others?
ChristaCarol:  I love fantasy. As a child, I was an avid daydreamer (still am, when my mind is actually allowed to wander). I loved movies like Star Wars, The Never Ending Story, Labyrinth, Legend, The Dark Crystal, Star Wars, Star Wars, did I say Star Wars? I have to admit, I was a movie-geek before I became a book-geek (purely for time reasons…watching a movie was a lot faster than reading a book!) But once I was introduced to YA fantasy, whether it was paranormal, contemporary, urban, etc., I was hooked. I also love middle grade (Chronicles of Narnia, Harry Potter, etc.).
I do write in other genres. I've started a middle grade contemporary fantasy I have quite a liking to, a dystopian, and a YA contemporary fiction. I'm all over the place! But fantasy….the impossible becoming possible….that's where my heart truly lives.
Maer:  What music, if any, do you like to listen to while writing?
ChristaCarol:  I have a station on Pandora. I love bands like Muse, The Glitch Mob, Velvet Revolver, Fun, OneRepublic….but my station is Muse, and it plays THE BEST songs for when I write.
Maer:  Do you have anything you'd like to add?
ChristaCarol: I think I've said enough, lol
Maer:  Well, thanks for a fabulous interview and best of luck with your new novel.
To get your own copy of Magicbound (The Last Mage Series)
, you can find it on Amazon.
ChristaCarol's Giveaway!
Join in on the MagicBound GiveAway over at ChristaCarol's blog to have a chance at getting a free digital copy of MagicBound and/or $10 gift cards to Amazon!
Visit http://christacarol.blogspot.com for more details.
You can find ChristaCarol at the following links: