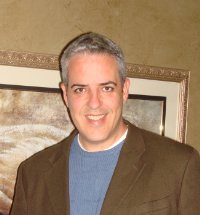 Today I'm joined by Christopher Shields, author of the Weald Fae Journal, a wonderful Young Adult Fantasy series. I recently finished The Steward, the first book of the series and loved it! I can't wait to read the next book, The Changeling. I'm lucky to count Chris as a friend. I mean he has dogs, so what's not to like, right? Let's find out more about this talented writer.
 About Christopher Shields
Christopher Shields lives in Northwest Arkansas with his family and three dogs. Following what he considers to be his calling, he is a professor of criminal justice at the University of Arkansas, in Fayetteville. He loves working with students during the day and writing at night. Chris also enjoys spending time with his circle of close friends, playing his sax, and indulging his life-long passion for the Arkansas Razorbacks.
Read on for more about Chris and his series!
 About The Steward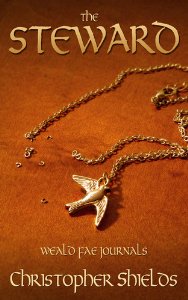 Maggie O'Shea expected the worst when her family relocated from the lively beaches of Boca Raton to the secluded forests of the Ozark Mountains. What she didn't expect was a new beginning – one full of Fae, magical powers, dangerous physical and mental trials, and two surprisingly gorgeous young men. These aren't the fairies you're familiar with, but dangerous superpowers embroiled in an enduring struggle among themselves over the fate of all humanity. Some want to protect us, and others would love nothing more than to see us, and especially fifteen-year-old Maggie, dead and buried. Now, torn between her new duties as Steward of the most sacred Fae land and her burgeoning love for Gavin, a powerful Fae, Maggie must fight to protect her family, her friends, herself, and the fate of the entire world.
Join Maggie as she learns that fairy lore is not as far from the truth as she had believed, but neither is it anything like the tales in books or movies. As she navigates the treacherous schemes of the Fae, Maggie must become a quick study if she hopes to protect the lives of many, and possibly all, people from the insidious plot the Unseelie Clan has planned for centuries.
THE STEWARD is the first book in the four part epic fantasy saga, Weald Fae Journals by Christopher Shields. Look for the second book, THE CHANGELING (Weald Fae Journals, Book 2), also available on Amazon. For more information about the Weald Fae Journals, including exclusive story and character content, please visit: www.wealdfaejournals.com
Now let's shine the spotlight on Chris! 
Maer:  Thanks so much for joining us today, Chris. What is the funniest or oddest thing that has happened to you as an author?
Chris:  The oddest thing, without doubt, is how much easier it was to get published in Academia than in fiction.   I wrote a book on prosecutorial and defense strategies in terrorism trials (my field of study) and had a publisher come to me.  No agents, no query letters, no slush piles.
Maer:  That's very interesting. I would have thought it would be tougher in Academia.  Do you use beta readers and, if so, what qualities do you look for in a beta?
Chris:  I do use beta readers.   I have several college-aged women and men who I rely on.  They are closest in age to my target audience.  I also have a few older folks I use as beta readers who may not fit in the YA demographic, but who are fans of the genre.
Maer:  I can relate to older readers who love the genre. It's one of my own faves. So, Chris, could you give us a one line synopsis for your book?
Chris:  Maggie O'Shea begins a remarkable journey—one full of Fae, magical powers, dangerous physical and mental trials, and two surprisingly gorgeous young men, one of whom is Fae.
Maer: We already know this is a series. How many books do you have planned?
Chris:  The Steward is part one of a four-part saga.  The second and third books are published and I'm currently finishing the fourth.
Maer:  Which character, other than Maggie, is one of your favorites to write and why?
Chris:  While that changes from book to book, in The Steward, it has to be Billy.  He's a jaded, sharp-witted, curt, and dismissive old Fae harboring a soft spot for the MC.  He and Maggie become friends and both are better off for it.  Billy was so much fun to write.
Maer:  I loved Billy. Such a fun character. If you had to pick a color to describe Maggie what would that be and why?
Chris:  Red.  I've always associated the color red with passion, courage, strength, and love.  Red is vibrant and temperamental.  I believe Maggie embodies all of those things.
Maer:  I can see that. Who are your favorite authors to read?
Chris:  Tolkien, Rice, Dumas, S. Collins, JK Rowling, King, Koontz.  There are many, but these are my favorite.
Maer:  Many of my own faves are on that list. Chris, can you share a bit about your current project?
Chris:  I actually have two projects, beyond my academic research.  First, I'm finishing up the last book in the Weald Fae Journals series.   I should have it done in the next month and ready for story editing, rewrites, and copy editing.    Second, I'm beginning work on a fictionalized biography based on one of my ancestors, Pete Byrne, a man of the law and a scoundrel who lived in the Oklahoma Territory.
Maer:  Those both sound like fascinating books. I'll be looking forward to reading them. Chris, what do you do when you're not writing?
Chris:  I'm a professor of Criminal Justice at the University of Arkansas, so that takes up a great deal of my time.   I love working with my students and I really enjoy my two primary research areas—terrorism and serial crime.   When not at the University or writing, I'm a pretty social person, so I spend time with my friends and family.  I also like to jam occasionally—I play sax.
Maer:  Definitely a busy guy. So, what influenced you to write in your genre? Do you write in others?
Chris:  I have always liked epic fantasy more than other genres.  So it felt like the natural choice when I started writing.   I don't write fiction in any other genre, but I have published a book, several book chapters, encyclopedia articles, and numerous peer review journal articles based on my research at the university.
Maer:  What music, if any, do you like to listen to while writing?
Chris:  I don't usually listen to music when I write, but if I'm writing a section that needs to have a certain "feel" emotionally, I will.
Maer:  Chris, it was such a pleasure to have you stop by today. Do you have anything you'd like to add?
Chris:  Only my genuine gratitude for you taking the time  to talk to me—thank you.
You can find THE STEWARD (Weald Fae Journals, Book 1)
 and the other books in the series at Amazon.
Want to find out more? Here are Chris's links: