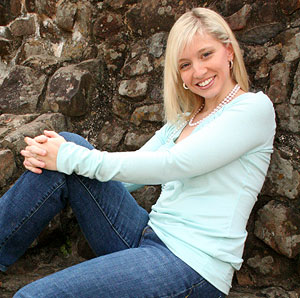 It's always a treat to chat with the talented and lovely Colby Marshall. A lady of many interests, Colby is another friend who has recently released her debut novel. She joins us today to talk about her recent release, Chain of Command.
Writer by day, ballroom dancer and choreographer by night, Colby has a tendency to turn every hobby she has into a job, thus ensuring that she is a perpetual workaholic.  In addition to her 9,502 regular jobs, she is also a contributing columnist for M Food and Culture magazine and is a proud member of International Thriller Writers and Sisters in Crime.  She is actively involved in local theatres as a choreographer as well as sometimes indulges her prima donna side by taking the stage as an actress.  She lives in Georgia with her family, two mutts, and an array of cats that, if she were a bit older, would qualify her immediately for crazy cat lady status.  Her debut thriller, Chain of Command is now available, and the second book in her McKenzie McClendon series, The Trade, is due for publication by Stairway Press in June 2013.
Read on for more about Colby's fascinating new thriller!
About Chain of Command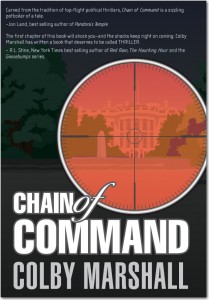 The road to the Oval Office is paved in blood…
The simultaneous assassinations of the President and Vice President catapults the Speaker of the House into the White House as the first female President of the United States. Evidence points to a former Navy SEAL as one of the assassins.
Relegated to writing sidebar stories instead of headlines, journalist McKenzie McClendon composes a scathing story about the Navy training killers.
Former Navy SEAL Noah Hutchins doesn't believe his partner could have committed the heinous crime. They'd endured the horrors of Afghanistan together. His buddy was a hero, not a murderer.
No one who knows the truth is safe…
Thrown together in a search for the truth—and a career-making story—McKenzie and Noah must unravel a dangerous web of lies that includes a radical foreign faction, a violent ultra-feminist group, and corrupt politicians willing to kill to keep their secrets.
And an assassin who is still on the loose.
His next targets are already in his crosshairs…
Now let's shine the spotlight on Colby!
Maer:  Thanks for joining us to tell us about your new book, Colby! I am looking froward to reading this one. Where did the inspiration for your book come from?
Colby:  Years ago during the 2008 presidential election, I had a conversation with friends about how, if I was a man, I wasn't sure if I would want a female running mate (At the time, Hillary Clinton had recently been a strong contender for the democratic nomination, and Sarah Palin was chosen as John McCain's Vice Presidential candidate.  My logic was that no matter which way you sliced it, trouble would ensue.  If the woman was the president, and I was the male VP,  I'd worry some group who didn't like the idea of a female president would bump her off, and I'd be forced into the presidency when really, all I'd signed up for was Vice President.  Worse would be if I was a man running with a woman as my vice presidential candidate. In this case, some crazy is bound to kill me, just because they're obsessed with putting the very first woman in the White House. At the time I wrote the book, the third person in line for the presidency—the Speaker of the House—was a woman (Nancy Pelosi). That sparked an idea for how, in a fictional world, the first female president might come to exist.
Maer:  Wow, that's a very intriguing premise. So, would you please give us a one line synopsis for your book?
Colby:  Chain of Command is about a reporter [who] discovers the simultaneous assassinations of the President and Vice President may have been a plot to rocket the very first woman—the Speaker of the House—into the presidency. (Well, technically, that's three lines but it's one sentence  😉 )
Maer:  It really does sound fascinating, Colby. Now, is this a stand-alone novel or part of a series?
Colby:  The second book in the McKenzie McClendon thriller series, The Trade, is due out from Stairway Press this June (2013).  The story is about a brilliant and ruthless surgeon who is providing infants for the black market baby trade. McKenzie needs an angle on this story to keep her job—and her home. When her ex informs her he thinks his wife and son may have been victims of the Cradle Robber, she launches a frantic search to find the killer and her ex's son. It's definitely more of a psychological thriller as to where Chain of Command was political, but all of your favorite characters are back (those who live through Chain of Command, that is!), including McKenzie, Noah, and Jig. It also showcases a few other new characters, as well.  But keep in mind, even though they are a series, neither is dependent on the other.  One could easily read one McKenzie book without being confused, as they are very stand-alone plotlines.
Maer:  Ah, the little tidbits you're dropping! I think I'm going to move this up my list. Waaay up. We all tend to love most of our characters. But if you had to choose a favorite character other than your MC who would it be and why?
Colby:  Oh, my.  This is so hard to choose.  Favorite character to write is a different question from my favorite character.  My favorite to write is probably the hero/main character's love interest, Navy SEAL Noah Hutchins.  He has a heart of gold, a will of iron, and a sarcastic mouth that would make Jon Stewart and Stephen Colbert jealous.  He's lots of fun to write, plus he's such a badass, I don't think there's anything he can't do (including but not limited to working himself into my next McKenzie book, The Trade, which I hadn't originally intended to give him a role in).  I also adore writing Jig, a mysterious ex-flame of Noah's who can dish out just as much as he can right back at him.
Maer:  Now, Colby, if you had to pick a color to describe your MC what would that be and why?
Colby:  It's funny you should ask that, because I actually have a condition called graphemeàcolor synesthesia—a real phenomenon certain people have that causes them to associate everything from days of the week, letters, number, people, etc. with the experience of colors.  So, I always see my characters as a certain color.  Unfortunately, it isn't always clear as to why this phenomenon causes certain colors to manifest around certain people, places, or events, so it's hard to speculate.  (In fact, my newest series on submission by my agent is about a forensic psychiatrist with the condition who uses this rare condition to hunt down criminals with the FBI's Behavioral Analysis Unit, so I have been exploring it more and more.)  During the first draft of Chain of Command , I associated McKenzie with a light yellow.  However, that has since changed firmly to red.  I have absolutely no idea why, but I suspect the red has to do with her type A personality and her ambition.
Maer:  Wow! That is a very interesting answer, Colby and yet another series from you to look froward to reading, I'm sure. It sounds like you have another fascinating premise to explore. Turning now to your own reading, who are your favorite authors?
Colby:  I grew up reading the Ramona Quimby books, then soon graduated to R.L. Stine and Christopher Pike.  From there, I found Mary Higgins Clark, and she was a gateway to my newer favorites: James Patterson, Lisa Gardner, Andrew Gross, C.J. Lyons, Tess Gerritsen, Jon Land, Michael Palmer.  I love Lisa Scottoline, Sandra Brown, and Karin Slaughter.  Outside the thriller genre, I adore Katrina Kittle (particularly The Kindness ofStrangers) and Jodi Picoult, as well as Gabrielle Zevin's Elsewhere.  I'd better stop, because I could go on and on and on!   
Maer:  Can you share a bit about your current project?
Colby:  Well, I told you a bit about the manuscript my agent has out editors, Colorblind.  I'm actually working on a sequel to Colorblind called Paint by Number, a story in which Dr. Jenna Ramey is back to investigate a mass killing at a grocery store only to find the evidence points to another serial killer who has been inactive for some time.  She must use her graphemeàcolor synesthesia as well as the talents of a young witness with a penchant for compulsively counting numbers to unlock the key to the man behind the massacre—an Alzheimer's patient who knows something important about the shooting, but he can never remember it long enough to pass along the information to those how could stop the vicious killer.
Maer:  I know you're active in all sorts of  hobbies. Would you please tell us what you do when you're not writing?
Colby:  I'm a competitive ballroom dancer and ballroom dance teacher, as well as a choreographer for local theatres and dance teams.  I use the very little spare time I have otherwise to spend with my fabulous husband and new six-month-old baby.
Maer:  Congratulations on your new human baby. In speaking of your literary babies, what influenced you to write in the thriller genre? Do you write in others?
Colby:  I love action and fast pacing.  I'm quite ADD, so it takes something fast paced to hold my attention span long enough to sit through entire chapters, so whatever I read has to be gripping.  The same goes for my writing.  If it didn't have that same snappy pacing, I would probably get bored with it and peter out mid-manuscript.  I have dabbled in women's fiction, but I think it will be a long time before one of those sees the light of day.  Speaking of, even those pieces have mystery elements, so I guess crime is just my thing!
Maer:  What music, if any, do you like to listen to while writing?
Colby:  I never listen to music while writing.  I do, however, always have a movie or television show playing in the background with the volume on low.  Usually, the movie fits the mood of the scene I'm writing.  Let's just say my DVD collection is chock full of Denzel Washington and Mark Wahlberg.
Colby, thanks for a fun and intriguing interview. You're a lady who is as fascinating as your subject matter!
You can purchase Chain of Command at Amazon on Kindle
 and Paperback
 and Barnes & Noble.
You can follow Colby at the following links: