Loving the paranormal and YA as I do, it's a pleasure to welcome Courtney Farrell to the blog with her new novel, Enhanced.
About Courtney Farrell
Courtney Farrell was once a molecular biologist, but her habit of daydreaming destroyed far too many experiments. As it turned out, writing down the movies behind her eyes was a lot more fun than lab work. Courtney is the author of fourteen nonfiction books for young people, mostly on social and environmental topics. She lives with her family on a Colorado ranch where they support a barn full of freeloading animals, including a fat draft horse and a bunch of crazy chickens. Enhanced is her first novel.
Read on for more about Courtney!
About Enhanced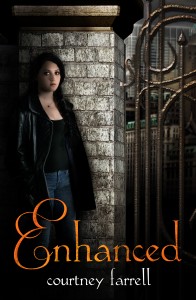 Michelle was born into the Institute's eugenics program, where doctors breed people like livestock. One powerful man decides which children grow up, and which disappear. Culls are dumped in the slum outside Institute walls, and those kids never come back. Michelle has survived every purge, and she's about to win a luxurious life as a breeder. When her brother and her boyfriend are both mysteriously culled, despite their high scores, she goes over the wall to find them. Alone in the ghetto, she's in trouble until handsome, streetwise Dillon stakes a claim to her. She's mortified because the Enhanced see Norms as little more than animals. But the doctor is using the missing boys in a twisted experiment, and she needs Dillon's help to stop him. Michelle must rescue the boys, but a plague is spreading, the doctor is after her, and Dillon isn't thrilled to help her find her lost boyfriend.
Now let's shine the spotlight on Courtney!
Maer:  Thanks for joining us to tell us about your new book, Courtney. What is the funniest or oddest thing that has happened to you as an author?
Courtney:  I had a bit of a surreal moment the other night, when my husband and I were both reading in bed. I was reading something by S. M. Stirling, and he was reading… my book, Enhanced! I kept stealing peeks over his shoulder to see what page he was on.
Maer:  Do you use beta readers and, if so, what qualities do you look for in a beta?
Courtney:  My beta readers are all authors, either published or soon to be published. They have great qualities, like superb attention to detail, but what I appreciate most is their candidness. I won't be offended if they tell me a scene didn't hook them, or that my main character isn't sympathetic enough, because at that point I can fix it! I'd rather hear honest criticism from a friend than get a rejection letter from a publisher.
Maer:  What is a one line synopsis for your book?
Courtney:  At the Institute, they breed the best and kill the rest, but Michelle isn't playing by their rules.
Maer:  Is this a stand-alone or part of a series?
Courtney:  Enhanced is going to be a series. I'm delighted to announce that the sequel, tentatively titled Run from Iron Torr, is now under contract with Crescent Moon Press. We're looking at a minimum of three books in the series, maybe more.
Maer:  Which character, other than your Michelle, is one of your favorites to write and why?
Courtney:  I wrote a set of red-headed triplets, ten years old, who appeared in Enhanced as supporting characters. They say the mouthy stuff that my kids say, including "face jokes" which are a unique form of torture for adults. Anything you say can be used against you in a face joke. At the amusement park, I didn't want to go on a ride, saying "it makes me dizzy and sick." One of my boys countered with, "Your face makes me dizzy and sick." When, in a desperate attempt to end the face joking, I begged, "I'm getting sick of your face jokes," what I got back was, "We're getting sick of your face." See, it never ends. So you'll find a few face jokes in Enhanced, but they were invented by my sons, Connor and Ian, who prove that being annoying is, in fact, an art form.
Maer:  🙂 If you had to pick a color to describe your Michelle what would that be and why?
Courtney:  Michelle's color is indigo, to match her eyes.
Maer:  So, who are your favorite authors to read?
Courtney:  Lately I've enjoyed Scales, by horror author Amity Green, the Otherkin series by YA author Nina Berry, and Dies the Fire, the alternative history series by S.M. Stirling.
Maer:  Can you share a bit about your current project?
Courtney:  I'm finishing a YA dystopian novel called Bait, about a bunch of street kids orphaned by a disease that killed most of the females on the planet. Women are now rare, and most of them live cloistered in harems. The main character, Jackie, is one of the last free girls. She leads, mothers, and feeds a gang of younger boys. These wild adolescents love and protect her, but the oldest ones have begun competing for her attention, and fights are getting nasty. While Jackie struggles to keep her crew together, she discovers that the disease they call the pox is actually sentient, and it wants her.
Maer:  Sounds fascinating! What do you do when you're not writing?
Courtney:  I like to hike with friends and our dogs. Beer with writer friends is always fun. And I really should start riding my horse again, since he's gained about two hundred pounds while I've been busy working.
Maer:  What influenced you to write in your genre? Do you write in others?
Courtney:  The YA genre interests me because the characters are old enough to get into trouble. They have raw intelligence but almost no experience, so they make mistakes. Characters who make bad decisions are more fun for me than ones who make the right choice every time. So far everything I've done is YA, but I'm probably going to move into New Adult sometime soon.
Maer:  It's a great genre. What music, if any, do you like to listen to while writing?
Courtney:  I do best with silence, so I can live in the world of my story.
Maer:  Thanks so much for stopping by today, Courtney. Do you have anything you'd like to add?
Courtney:  I hope readers absolutely love Enhanced!
Want to read Enhanced
? You can find it at Amazon.
You can find Courtney at the following links: