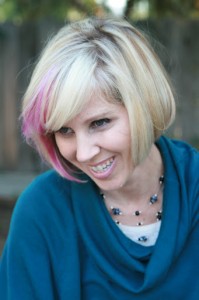 Today I get to feature Debra Driza and her fascinating YA novel Mila 2.0. I've been wanting to read this novel ever since I first heard about it and saw the gorgeous cover. I'm pleased that I'll finally be able to start it in the next week or so. I did read the prequel Mila 2.0 Origins: The Fire, which was awesome. Also the novel has been optioned by the creator of Grey's Anatomy for a TV show and a pilot has already been written. My fingers are crossed that we see Mila onscreen soon!
About Debra Driza
Debra is a member of the YA lit blogging group the Bookanistas and a former physical therapist who finds torturing her characters infinitely more enjoyable. She's particularly fond of sweets, all that is random, and teen TV, and is pretty sure she wasn't built in a computer science lab based on her inability to find her keys and master the common calender.
These days you can find her at her (messy) home in California, adding a variety of colors to her hair and wrangling one husband, two kids, and an assortment of Rhodesian Ridgebacks (all of which are varying degrees of naughty). MILA 2.0 is her first novel.
About Mila 2.0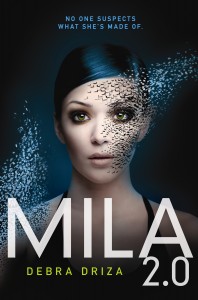 Mila 2.0 is the first book in an electrifying sci-fi thriller series about a teenage girl who discovers that she is an experiment in artificial intelligence.
Mila was never meant to learn the truth about her identity. She was a girl living with her mother in a small Minnesota town. She was supposed to forget her past —that she was built in a secret computer science lab and programmed to do things real people would never do.
Now she has no choice but to run—from the dangerous operatives who want her terminated because she knows too much and from a mysterious group that wants to capture her alive and unlock her advanced technology. However, what Mila's becoming is beyond anyone's imagination, including her own, and it just might save her life.
Mila 2.0 is Debra Driza's bold debut and the first book in a Bourne Identity–style trilogy that combines heart-pounding action with a riveting exploration of what it really means to be human. Fans of I Am Number Four will love Mila for who she is and what she longs to be—and a cliffhanger ending will leave them breathlessly awaiting the sequel.
Now let's shine the spotlight on Debra!
Maer:  Thanks for taking the time from your busy schedule to visit with us today Debra. You have so many exciting things going on. Could you give us a one line synopsis for your book?
Debra:  A normal teen girl discovers she's not normal at all when her scientist "mom" reveals she was stolen from a secret military lab and they're on the run from the government.
Maer:  I loved the prequel. Can we expect more from Mila or is this a stand-alone?
Debra:  MILA 2.0 is the first book in a trilogy!  Good thing, too, since Book One leaves several loose threads that still need answering (erm, mending?  Darning? Stitching? Crap, I never was all very good at sewing!)  🙂
Maer:  I'm so glad to hear that! Characters can be like an authors kids. Do you have a character other than Mila who is one of your favorites to write and why?
Debra:  I really loved writing Lucas. He's just so adorably dorky to me. Plus, I love that he seems so accepting of himself, just the way he is—which serves as a nice contrast to Mila. He also has a sense of personal integrity that's missing from a couple of other characters in the book.
Maer:If you had to pick a color to describe Mila what would that be and why?
Debra:  You know, I think it would be hard of me to picture Mila nowadays and not think "blue," because of the cover. Still, I think that color suits her, at least during the first half of the book, when she's grieving and trying to come to terms with her identity. Later, I might say red, to encompass some of the rage she feels, fire and blood, and just her general sense of determination.
Maer:  The cover is very intriguing and I like how Mila has two colors to show how she changes. Debra, who are your favorite authors to read?
Debra:  Oh gosh, there are so many, and it really depends on my mood!  This list changes constantly, but right now I can definitely say that I've re-read Stephanie Perkins, Melina Marchetta and Gregory MacDonald A LOT.
Maer:  Debra, I'm dying to know what's next. Can you share a bit about your current project?
Debra:  Erm, the project that isn't Mila?  Because that really only exists in my head at the moment. I will say that I plan to write a book involving dogs. MOAR. DOGS. 😀
Maer:  You cannot go wrong with dogs! So, what do you do when you're not writing?
Debra:  Sleep?  Does sleep count?  Apart from that, I homeschool my 9-yr-old, hang out with my kids and hubby, exercise, take care of the dogs, try to make sure we aren't wading in laundry, attempt to keep up with email and social media, and randomly burst into song.
Maer:  I'm learning that sleep most definitely counts! What influenced you to write in your genre? Do you write in others?
Debra:  Pure craziness. No, really. =D  My first attempt at a YA book was paranormal romance, and the second, urban fantasy. Most of my WIPs are contemporary, so yes, I definitely dabble in different genres!
Maer: What music, if any, do you like to listen to while writing?
Debra:  Usually none—the words tend to distract me. I need to look into using movie scores, like some of my friends do. But, I do create scenes in my head while I listen to music on my iPod and jog, and the type runs the gamut from pop to hip hop to heavy metal to electronica.
Maer:  I can attest to soundtracks – film, gaming and anything else with no words  Debra, thanks again for stopping by. I wish you the best of luck for your continued success! Do you have anything you'd like to add?
Debra:  Thank you so much for having me!
Maer:  It was definitely my pleasure!
You can buy MILA 2.0
  at Amazon and download Mila 2.0: Origins: The Fire for free on Kindle.
Want to stay informed about the novel, TV show and Debra's future work? You can find her at the following links: