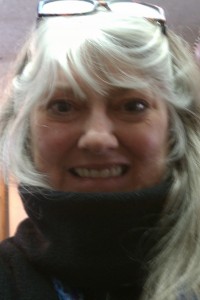 One of the things I truly enjoy about putting this column together is that I get a little behind-the-scenes info from authors. I'm always interested in those fun tidbits about books and the authors who write them. It's especially fun when I've had a chance to read the book and loved it. Diane M. Haynes' Rift Healer is absolutely delightful and getting the chance to chat with Diane is a real treat.
Diane grew up drawing, painting and sculpting. Writing was relegated to the occasional short story or reports written while working with disabled adults. Although she's written at least a dozen short stories over the years, most have been relegated to notebooks in a drawer.
She wrote Rift Healer between serving customers at her New Age shop during the months of April, May and June, 2009 and spent the next 18 months editing. Crescent Moon Press, the first publisher she submitted the book to, bought it.
Diane lives in Central MA. where she and her husband care for their Special Needs friend, Richard and two rescued Basset Hounds, Boris and Ruby, whose sad pasts do nothing to diminish their spirit or their willingness to be naughty.
About Rift Healer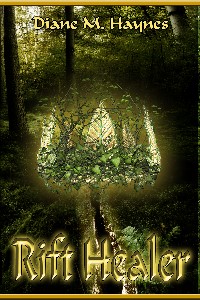 After a minor earthquake, the enchanted forest in Bidwell, MA, is infested with monster-spewing rifts.
Gisele's great nephew, the gifted Micah, and his distant cousin, Selena, arrive to assist. Together with Gisele's summer students, twins Haley and Lacey, they will try to help the magical forest.
Much to the consternation of the beautiful Selena, Micah identifies Haley as The One whom he'll share his future. But after witnessing a terrifying display of Micah's Gift, Haley cools to his advances and unexpectedly discovers her own Gift– she can heal the earth.
Monsters, mayhem, and teenage angst follow the small group as they confront evil in the forest and a dangerous prediction that 'one will fall'. Will they heal the rifts in time? Can they save the unicorns? And is Haley really destined to be with Micah?
Now let's shine the spotlight on Diane!
Maer:  Thanks so very much for joining us today, Diane.
Diane:  Thanks for having me, Maer.
Maer:  This is one of my favorite questions. Finding out where the ideas originally come from. Where did you get the inspiration for Rift Healer?
Diane:  My life changed after a most amazing dream when I woke seven months after my brother's death—on his birthday. The dream featured three kids in a meadow surrounded by softly colored orbs, which I knew to be fairies. When a pink orb landed on the cheek of one of the girls, I was enchanted and wrote a short story about it. I had written many short stories from my dreams but this one was special and I decided to honor my brother's memory by trying to expand the dream into a novel. I consider the dream to be a Spirit Gift from my brother and I dedicated Rift Healer to him.
Maer:  What a fascinating way to get ideas! Especially since I only rarely remember my own dreams. Could you please give us a one line synopsis for  Rift Healer?
Diane:  Teen-age warriors battle evil, flying crocodiles in an enchanted forest.
Maer: The characters and story in Rift Healer are just delightful. Can we expect to find out more about them?
Diane: Rift Healer is the first installment in the "Forest Magic" series. "Sirocco," a 55 page, 99 cent download on Amazon is the follow-up.
Maer:  Now that's what I like to hear! More books in the series! You have such a fun group of characters to work with, but if you had to choose only one, which character other than Haley is one of your favorites to write and why?
Diane:  Gisele Westerfield, the elderly herbalist, is my favorite character. So magical, but at the same time, she's a tough, no-nonsense New Englander.
Maer:  Yes, Gisele is loads of fun to read, too! If you had to pick a color to describe Gislele what would that be and why?
Diane:  For Gisele, I would choose a golden yellow—the same color as the sunflowers she grows and her beloved Toyota Corolla.
Maer: Definitely some fun choices and I' admit, I've spent more than a few hours in their company, too. Can you share a bit about your current project?
Diane:  I am immersed in 'Necromancer,' the third book in the series, which will focus on Micah.
Maer:  Can't wait to read it! Turning now to your own reading, who are your favorite authors?
Diane:  I love to be transported to another time or place. JK Rowling, Stephenie Meyer, Charlaine Harris and Annette Blair all do that for me.
Maer:  So what do you do when you're not writing?
Diane:  When I'm not writing, I love to make jewelry, paint with watercolors, play with my Basset Hounds, Ruby & Boris, and hang out on Facebook.
Maer:  Sounds like fun! What music, if any, do you like to listen to while writing?
Diane:  While writing Rift Healer and "Sirocco", I listened to a variety of musical styles, but mostly "Ring of Dragons" by Christopher Caouette, "The Green Man" by Richard Searles, and Twilight's soundtrack kept me company.
Maer. Thanks again for stopping by, Diane. Do you have anything you'd like to add?
Diane:  Yes! I'm proud to announce that Rift Healer is a 2013 Finalist in the "Gayle Wilson Award of Excellence"—voted on by readers, writers and librarians.
Congratulations, Diane! And having read it, I can certainly see why Rift Healer would be an honored book this year!
If you'd like to get Rift Healer
 for yourself, you can find it on Amazon and Barnes & Noble.
For more info on Diane's magical series, you can find her at the following links: