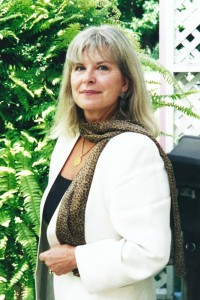 Today I'm chatting with Dianne Harman about her new novel Tea Party Teddy. Dianne's own life sounds as fascinating as any book, though, so let's find out more!
About Dianne Harman
Dianne Harman draws her stories and characters from a diverse business and personal background. She owned a national antique and art appraisal business for many years, leaving that industry and opening two yoga centers where she taught yoga and certified yoga instructors. Dianne has traveled extensively throughout the world, most recently dividing her time between Huntington Beach, California and Sacramento, California, where her husband is a Senator. A gourmet cook, she has entertained Governors, Congressmen and numerous other political figures in her homes. An avid reader, Dianne brings the richness of her life experiences to her novels, Blue Coyote Motel and Tea Party Teddy.
Read on for more about Dianne and her newest novel!
About Tea Party Teddy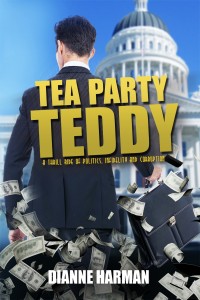 Tea Party Teddy is a love story that encompasses American political greed, sex, bribes, and intrigue. They all come together in the suspenseful story of a newly elected Legislator who ran his election campaign on a hateful illegal immigration platform.
When he gets to Sacramento his world slowly unravels as he succumbs to the power of his office. The ultimate irony occurs when his wife becomes romantically involved with the founder of the Republicans for Latinos.
As the wife of a former California State Senator, Dianne had 12 years of firsthand experience observing politicians, lobbyists, and consultants as they struggled to gain political advantage. The names have been changed to protect the not-so-innocent!
Now let's shine the spotlight on Dianne!
Maer:  Hi, Dianne. Thanks for joining us to tell us about your new book. Where did the inspiration for Tea Party Teddy come from?
Dianne:  My husband was a California State Senator and I spent 12 years in California's capital entertaining governors, congressmen, lobbyists, and all sorts of politicians. The book came about as a result to being seated next to the same bigoted, biased politician two nights in a row at political dinners.
Maer:  Could you give us a one line synopsis for your book?
Dianne:  "Discretion is a polite word for hypocrisy."
Maer:  Sounds intriguing. So, is this a stand-alone or part of a series?
Dianne:  This is book one in The Teddy Saga.
Maer:  Which character other than Teddy is one of your favorites to write and why?
Dianne:  Nina, the wife of Teddy, the politician. Although the book is not autobiographical, there are elements of me in Nina.
Maer:  I'm sure your past experiences have been very helpful. Now, if you had to pick a color to describe Teddy what would that be and why?
Dianne:  Red, for hatred.
Maer:  Hmmm…more intrigue. So, tell us Dianne, who are your favorite authors to read?
Dianne:  Whatever author I'm currently reading. I no longer feel the need to finish a book if I'm not thoroughly enjoying it!
Maer:  And what about your own writing? Can you share a bit about your current project?
Dianne:  I have two additional books being edited in the Blue Coyote Motel series and have finished the next one in the Teddy Saga. I'm writing the last one and I've also written a boomer book about older women and relationships.
Maer:  You are one busy lady! What do you do when you're not writing?
Dianne:  Read, cook, spend time with my family and my 90 pound boxer.
Maer:  Yay, another dog lover! What influenced you to write in your genre? Do you write in others?
Dianne:  I'm troubled by this whole genre thing. I write a book and then the characters tell me where it's going to go. I write somewhat of things I know, contemporary things, such as I did trek in Nepal, so that's in Blue Coyote Motel. I've been in the political world, so that's in there.
Maer:  Yep, write about what you know. What music, if any, do you like to listen to while writing?
Dianne:  None. Unless you consider the voices of nature to be music, which I do. I have a lot of different kinds of birds in my yard and I love their sounds.
Maer:  Dianne, thanks again for joining me today. Do you have anything you'd like to add?
Dianne:  Yes. If you have any desire to write, do it. The more you do it, the better you'll become. Everything you see and do has the potential for a story. Enjoy the process!
Maer:  Great advice for those who haven't yet taken the writing plunge! Jump on in folks the water is fine. 🙂
You can buy Tea Party Teddy (The Teddy Saga)
 at Amazon.
To stay up to date with Dianne, you can find her at the following links: