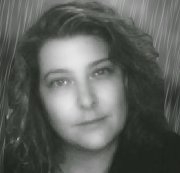 It's a pleasure to welcome Jenn Nixon, a fellow author from Crescent Moon Press, with her intriguing new novel, Mind: The Beginning. A sci fi thriller that sounds right up my alley, I can't wait to give this one a read.
About Jenn Nixon
Jenn's love of writing started the year she received her first diary and Nancy Drew novel. Throughout her teenage years, she kept a diary of her personal thoughts and feelings but graduated from Nancy Drew to other mystery suspense novels.
Jenn often adds a thriller and suspense element to anything she writes be it Romance, Science Fiction, or Fantasy. When not writing, she spends her time reading, observing pop culture, playing with her two dogs, and working on various charitable projects in her home state of New Jersey.
Please read on for more about Jenn and her new novel!
About Mind: The Beginning
After Dina Ranger loses telepathic contact with her brother, she breaks into his apartment and stumbles onto a special government unit responsible for monitoring the psychic population. She's offered a job where she can use her psionic gifts to help people.
Stranded on earth over a hundred years ago, Liam of Shria is searching for a metal needed to repair his ship when he finds Dina, a telepathic investigator, and narrowly saves her from an exploding alien pod. Together, they uncover a plot to rebuild an ancient weapon and discover the truth behind Dina's abilities while unlocking dangerous secrets about the alien presence on earth.
Can they stop a powerful weapon meant to enslave the human race? Can their relationship survive the secrets of the past or will it tear them apart?
Now let's shine the spotlight on Jenn!
Maer:  Congratulations on your new release. Thanks so much for joining us to tell us about it. What is the funniest or oddest thing that has happened to you as an author?
Jenn: Once while writing a very early (and bad) novel, my main character went to a Broadway play for the very first time. Less than a week after writing that scene a very good friend invited me to MY very first Broadway play. I saw the Producers with Mathew Broderick and Nathan Lane, what a hoot!
Maer:  What an excellent introduction to Broadway! Do you use beta readers and, if so, what qualities do you look for in a beta?
Jenn: My beta readers are usually reader friends, some of my family who love to read, and other writers from my networking groups. I look for two things, a reader's perspective on story, characters, plot, etc., and a semi-editor perspective from my writer friends.
Maer:  Could you give us a one-line synopsis for your book?
Jenn: Dina Ranger always knew she was different, but when she meets an unusual looking man named Liam, who saves her life with his own, strange abilities, she learns the truth about herself and uncovers a secret that may change the world.
Maer:  This book sounds fascinating. Is this a stand-alone or part of a series?
Jenn: MIND: The Beginning is a stand-alone with a proper conclusion. There is potential for a series if the demand is there!
Maer:  Awesome news! Which character, other than Dina, is one of your favorites to write and why?
Jenn: I loved writing about Bates, he's the buffer between the main characters and has a great sense of timing and humor.
Maer:  If you had to pick a color to describe Dina what would that be and why?
Jenn: Green, because of her eyes. The eyes in my story have special features so they were very prominent in the story.
Maer:  Sounds great! Who are your favorite authors to read?
Jenn: A couple of my must read authors are John Sandford and Lee Child. I've been reading both of them for over a decade and still enjoy their work. I've had many best-selling authors on my lists in the past but some have fallen off in recent years as I've made room for more writer friends and smaller press novels.
Maer:  I've done the same thing. Can you share a bit about your current project?
Jenn: MIND: The Beginning is a mix of everything I love in entertainment right now, Action, Science-Fiction, Suspense, a little bit of Mystery and Fantasy with a great Romance to round everything out.
Maer:  What do you do when you're not writing?
Jenn: Lately, I've been editing, which is almost as good as writing. If I'm not doing that, I'm working the day job, enjoying the last of the summer with friends, family, and my two dogs or binge watching some TV shows and movies.
Maer:  That sound busy and fun! What influenced you to write in your genre? Do you write in others?
Jenn: I love genre-mashing. My first few works were Romantic Suspense, next I wrote a Sci-fi/Fantasy Space Opera (coming out this October!!), after that came MIND, my Sci-Fi Romance, and I've recently delved into writing Erotic Romance. I'd like to try a Mystery/Thriller or maybe a Chic-Lit/Sci-Fi, do they still have Chic-Lit? 🙂
Maer:  What music, if any, do you like to listen to while writing?
Jenn: I am usually listening to music when I write. What, depends on the type of book and scene I'm writing. I tend to lean toward rock, pop, and alternative, and light-pop and love songs when the time is right. In general, though, I listen to just about everything, music is another passion of mine.
Maer:  Jenn, again thanks so much for joining us today. Do you have anything you'd like to add?
Jenn: Thank you for having me, I look forward to connecting with your readers!
Maer:  It was a treat to have you!
You an buy Mind: The Beginning
 at Amazon.
You can connect with Jenn at the following links:
Past Release: Romantic Suspense, Lucky's Charm