Justin R Macumber
is

Justin R Macumber is here today to caht about his brand new novel, Still Water. From what I hear, this horror novel is an incredible thrill ride!

Justin R. Macumber is the author of STILL WATER, HAYWIRE, and A MINOR MAGIC. When not hard at work on his next story he hosts the popular Dead Robots' Society podcast. He and his lovely wife live in the Dallas/Fort Worth metroplex along with a strange pack of dogs and cats they think of as their children. He's also a co-host on The Hollywood Outsider, a weekly podcast about movies and television.
Read on for more about Jusin and his new novel!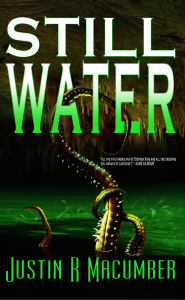 Coal is the hard, black heart of the mountain town of Stillwater, West Virginia. But, far beneath it lies something much darker, an evil beyond time, waiting to rise and bathe the world in blood and fire once more. When unwitting miners dig into its tomb, only Kyle – Stillwater's prodigal son – and paranormal investigator Maya stand between humanity and Hell. Time is short and evil runs deep in… STILL WATER.
Now let's shine the spotlight on Justin!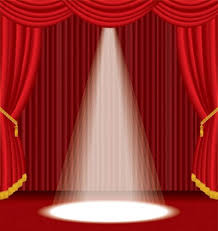 Maer:  Thanks for joining us to tell us about your new book., Justin. What is the funniest or oddest thing that has happened to you as an author?
Justin:  Wow, that's a hard question, and right off the bat too. Umm… Well, the woman who narrates my books for Audible let her young son read my YA urban fantasy novel A Minor Magic. AMM is a book for everyone, but when I wrote it I intended it to speak mostly to young women. I had grown so tired of books centered on young women being all about what boy she'll choose to fall in love with, who will save her, etc. So when I wrote AMM I made sure my young female lead was confident, powerful, and more concerned with saving the world than kissing boys. When my narrator said her son had read it I figure he wouldn't be into it. But he was. She said he loved it, and that made me smile straight through to my feet.
Maer:  Do you use beta readers and, if so, what qualities do you look for in a beta?
Justin:  I do. I look for people who are familiar with the genre, who are intelligent, and most importantly who are honest. I don't have time for politeness. Tell me what didn't work so that I can fix it. You save me nothing by being kind.
Maer:  Great answer! What is a one line synopsis for your book?
Justin:  Still Water is the story of a coal mining town that dug too deep and unleashed a great evil that wants to drown the world in blood and darkness, and about two people who are the only ones who can stop it.
Maer:  Is this a stand-alone or part of a series?
Justin:  Currently it's a stand-alone novel, but I have some ideas that could turn it into the first in a series. We'll have to see what people think of Still Water first though.
Maer:  Which character, other than Kyle, is one of your favorites to write and why?
Justin:  The villain in Still Water is an ancient dark god, but to give the readers someone a bit more understandable to hate I gave them Ash, a former miner who is now the Dark One's emissary. Ash is a very dark person, very nasty and entirely focused on raising his God. It was fun getting in his head and being so…nasty.
Maer:  Sounds deliciously wicked. If you had to pick a color to describe Kyle and Maya what would that be and why?
Justin:  The two main characters in Still Water are Kyle and Maya. Kyle is in the Army, so I always saw him as green, while Maya is a mixed race psychic, and she always seemed violet, sometimes leaning red and other times blue depending on what forces worked against her.
Maer:  Justin, who are your favorite authors to read?
Justin:  Stephen King is my idol, and his son Joe Hill isn't far behind. I also like Robert R. McCammon, Dean Koontz, Robert R. Heinlein, Tracy Hickman, and J.K. Rowling.
Maer:  Can you share a bit about the project you're working on now?
Justin:  Currently I'm working on a science fiction novel entitled Titans Rise. It is a prequel to my very first novel, Haywire. People really enjoyed that one, and many of them have been asking for more stories in that universe. I didn't have anything in mind so far as a sequel was concern since it ended with a fair bit of finality, but there were plenty of stories to tell about what happened prior to that book, so that's what I'm doing.
Maer:  What do you do when you're not writing?
Justin:  In my "me" time I watch movies and play video games, both of which feed directly into my subconscious and fuel my writing. When I'm with my wife we play with our dogs, garden, and occasionally binge on TV shows. Right now we're getting into Bates Motel.
Maer:  Ah…the old TV-binge. I know it well. 🙂 What influenced you to write in your genre? Do you write in others?
Justin: I wanted to write something that really had a chance at affecting readers on an emotional level, and the two best genres to do that with are romance and horror. I don't think I could write a romance novel worth a darn, but I figured horror was something I could definitely play with, especially since I'm such a big fan of it. I also love sci-fi and fantasy, and I dabble in those too. I want to be a writer who isn't defined by genre.
Maer:  Very cool. My own fave genres. What music, if any, do you like to listen to while writing?
Justin:  I listen to music constantly while writing. What I listen to, though, depends on the genre of what I'm writing and the mood I need for that particular scene or chapter. Mostly I listen to movie and video game scores, as those are filled with emotionally stirring pieces. Composers such as Kerry Muzzey, Michael Giacchino, Javier Navarrete, and Hans Zimmer fill my head with everything I need to get those words on the page.
Maer:  Justin, thanks again for stopping by. Do you have anything you'd like to add?
Justin:  I'd just like to say thanks to you for helping me get the word out for Still Water, and thanks to all those who took the time to stop and read this. It means a lot. So thank you all so much.
Maer:  It was my privilege. Best of luck with your new novel!
You can buy Still Water
 at Amazon, Barnes & Noble and Smashwords.
You can find Justin at these links: