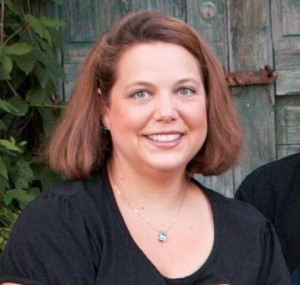 It's time for another author feature and this time it's the fabulous Kary Rader! Kary is an awesome person, fantastic writer and just loads of fun to interact with. How do I know this? Because she's another one of my fellow authors from Crescent Moon Press and I got to interact with her quite a bit as she geared up today's release of the Queen of Jastain. Now it's time to share her new book with you and I think you'll like it as much as I did!
Kary is a part-time Twitter sage, stay-at-home mother of three, and slave to the characters and worlds inside her head. Always creative, she's drawn to stories with fantastical worlds and creatures. With a little bit of magic and divine guidance, there isn't anything that can't be accomplished with words. It's the power of words that creates and destroys. Vanquishing evil and injustice while finding eternal love in the process is all in a day's work. With the help of her critique partners and master cartographer imaginary places come to life.
Let's find out more about Kary and Queen of Jastain!
About Queen of Jastain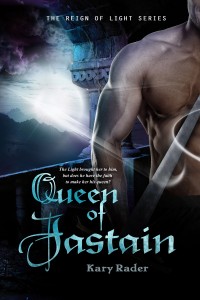 The Light brought her to him, but does he have the faith to make her his queen?
For twenty years, Avant plotted revenge against the dark king, but when a mysterious woman suddenly appears, everything changes. Although his prophetic Gift reveals she's the Seed of Light chosen to restore the Crown, his overwhelming attraction to the women threatens his long-held plan for revenge and two decades of fidelity.
Abby Randall is inexplicably transported from Dallas to the medieval land of Jastain. There she meets Avant, who claims she's the foretold champion of his people. While the hot guy has her hormones pumping, his crazy talk of defeating an evil king leaves questions to his sanity. Through his supernatural Gift, Avant transplants his memories into her, but neither are prepared for how their hearts intertwine.
Together they embark on their quest, but when Abby and Avant come face to face with destiny, will they sacrifice what matters most to provide a happily-ever-after for the people of Jastain?
Now let's shine the spotlight on Kary!
Maer:  Thanks for joining us today to tell us about your wonderful new book! And on release day, too! Woot!
Kary:  Yay! It's Release Day For Queen of Jastain. Thanks for having me today, Maer.
Maer:  It's my pleasure, Kary. I've already read Queen of Jastain since I was lucky enough to get an advanced copy. I must say it was loads of fun! Where did the inspiration for your book come from?
Kary:  My inspiration came in the from of the Bible story of David and Bathsheba, and the Lady Gaga song Bad Romance. I know. Crazy, right?
In my story, David and Bathsheba are the antagonists and the Uriah character, left for dead by those he loves most, is the hero. I wondered what would have happened if Uriah had lived in secret, plotting revenge against the king who stole his bride. And that is how the story formed.
The major themes of Queen of Jastain encompass revenge, love, and ultimate intimacy. Bad Romance encapsulated those themes from the perspective of Abby, the heroine, and provided me with an emotional tone to write toward.
Maer:  What is a one line synopsis for your book?
Kary:  The logline for Queen of Jastain is — A spoiled party girl and a wronged warrior hell-bent on revenge must lay down their own agendas to embrace their destinies and save their people.
The tagline is – The Light brought her to him, but does he have enough faith to make her his queen?
Maer:  So, is this a stand-alone or can we expect more books as part of a series?
Kary:  Yes. Actually this is the first book in the Reign of Light Series, but each story, of which there are three, chronicles a different couple on their journey to defeat the bad guys and fall in love.  Pirate Princess, Book Two is written. Empress of Isa Vis, Book Three is outlined, the first chapter done and opening poem written.
In fact, here is the opening poem for Empress of Isa Vis. I haven't shared it with anyone before now. Hope you enjoy.
Nigh is night when dark weapons flow
And bloom is in blossoms where none can grow
There springs forth a fount of Life
Giving drink to the weary and edge to the knife
Fallen mage now appears, her virtue lies slain
To give brutal witness to ancients' claim
Ruins are treasures and secrets are keen
Peace only comes when the Light names a Queen
Waves wash in torrents and mistresses fled
Those mend that were broken, that nobles thought dead
Harder than granite their mettle and worth
The fairer ones' treasure lies in their birth
Imperial mother, in a prophetess dress
A tavernman's daughter crowned the next empress
Maer:  Wow, Kary! Thanks for the sneak preview! Can't wait to read this one, too! Now going back to Queen of Jastain, which character other than Abby is one of your favorites to write and why?
Kary:  Petra is a secondary character in Queen of Jastain. The noble adopted son of the hero in Book One, he receives his much deserved happily ever after in Book Two, Pirate Princess. I call him my Mary Poppins character because he's "practically perfect in every way." He really does have very few flaws, and he's the only character I've ever written like that. Most of my characters have a lot of baggage to overcome, but not Petra, even though nothing has been easy for him. His name literally means "rock" in Greek. Translates as Peter. In Queen of Jastain and Pirate Princess, he is the solid rock that the other characters can cling to when all else goes haywire.
Maer: Petra is an awesome character, indeed. If you had to pick a color to describe Avant and Abby what would that be and why?
Kary:  This is easy because I actually do give my characters colors and associate certain traits to them. Avant, the hero, is sapphire blue. It's the color of his eyes and the valuable stone in his sword. He is a loyal protector which the color symbolizes. Abby the heroine has two colors: teal green like her eyes and the pool at the Falls of the Great High Places in the land of Jastain and white, like the diamond she carries to complete the Crown of Light. White because she has a pure heart and there is no falsehood in her. She is The Chosen One.
Maer:  Love that answer. Kary, who are your favorite authors to read?
Kary:  I love Lisa Kleypas and Karen Marie Moning. Recently I've been loading down on Sabrina Jeffries and Stephanie Laurens. They are all very skilled with their craft.
Maer:  Can you share a bit about your current project?
Kary:  My current project is a YA titled Broken, Book One in the Broken Tennessee Series.
The logline is—When a grieving, high school virgin inexplicably finds herself pregnant almost a year after her fiancé is killed, she must determine if the baby is a result of a miracle or her worst nightmare.  Tagline is—Some promises are made to be broken.
Maer:  Kary, that's an intriguing premise. I look forward to seeing that one shelves! Do you have anything you'd like to add?
Kary:  Just that I'd like to thank you for the interview and hope that everyone picks up a copy of Queen of Jastain.
Want to read Queen of Jastain
? You can find it on Kindle at Amazon.
To find Kary online at the following links:
Queen of Jastain on Goodreads
Kary is having a Giveaway!
Prize is a $10 Gift Card and a Charm necklace.