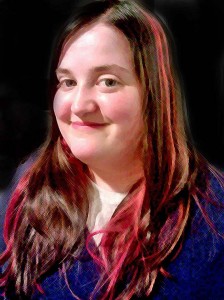 Upbeat, energetic and loads of fun! Today's guest is the very entertaining Konstanz Silverbow, talking about her new novel Only Half Alive.
About Konstanz Silverbow
Konstanz Silverbow has always been a dreamer . . . but not a writer. Being an author was something she was dragged into. But since that day, she hasn't stopped. It has become more than a hobby, it is a passion.
During the day Konstanz works, making jewelry, playing the violin, collecting dragons, and learning all she can about medieval weapons. But at night she creates made up worlds and places where those dragons come to life and the weapons are used in battle."
Young adult fantasy, paranormal with a dash of romance author, Konstanz Silverbow; Proud Creator of magical worlds, fictional creatures, ideal super heroes and sarcasm since 2007!
Read on for more about Konstanz!
About Only Half Alive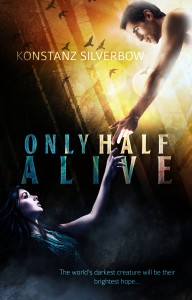 The world's darkest creature, will be their brightest hope.
While darkness haunts her, she craves the light. Christina is a demon, but she doesn't want to be. She is willing to sacrifice everything to change it. Only one person stands in her way, and he will stop at nothing to keep her the way she is.
The greatest battle of light vs dark threatens every living creature, a battle that could destroy all. And the demon in love will only have one chance to save everyone.
Now let's shine the spotlight on Konstanz!
Maer:  Konstanz, thanks for joining us to tell us about your new book! What is the funniest or oddest thing that has happened to you as an author?
Konstanz:  We're gonna go with funny. I was at a book signing in a little book store and saw one of my favorite authors (who I hadn't met yet) so I went up to introduce myself. She was talking to someone else so I patiently waited. But the wait wasn't long because she turned around, saw me and totally squealed. I began to say "Hi, I'm Konstanz" but she cut me off and said "Oh my goodness, I know who you are! I LOVE YOU!" It totally made my week! Total win!
Maer:  That is an awesome story! Do you use beta readers and, if so, what qualities do you look for in a beta?
Konstanz:  I use multiple beta readers. The biggest quality I look for is honesty. If someone tells me they loved everything about it when in reality they hated most of it, it doesn't do me any good because then I don't know what to work on, what needs improvement.
Maer:  Yes that's a necessary quality in a beta. What is a one line synopsis for your book?
Konstanz:  Christina is a demon willing to give it all if it means she can be anything else. But one person is willing to sacrifice everything if it means keeping her the way she is. 
Maer:  Is this a stand-alone or part of a series?
Konstanz:  Only Half Alive is a stand-alone. However, there are tie-ins between Only Half Alive and the Eclipsed trilogy (which will be coming out next year.) But no worries, you won't need to read one to read the other.
Maer:  Which character, other than Christina, is one of your favorites to write and why?
Konstanz:  I love writing secondary characters. I most definitely loved writing about Finn. As for why, his loyalty. His strength, his ability to make light of the situation.
Maer:  If you had to pick a color to describe Christina what would that be and why?
Konstanz:  In Only Half Alive, Christina says her favorite color is green. Personally I think the color I would use to describe her is blue. Where some would say that means she is depressed, I see it as she is strong like the ocean, free like the sky, bold when she needs to be, but also soft and caring.
Maer:  Yes, I think of blue that way as well. Who are your favorite authors to read?
Konstanz:  Ohh there are so many! Okay, authors I read constantly are Janette Rallison (and all of her pen names), Colleen Houck, Lisa Mangum, Brandon Sanderson, C Michelle Jefferies, Karen Hoover, Brandon Mull, and so many more that could take forever to list!
Maer:  Awesome list! Can you share a bit about the project you're working on now?
Konstanz:  I really, truly, wish I could! But at this point, there isn't much to share.
Maer:  What do you do when you're not writing?
Konstanz:  I work during the day, making jewelry. When I'm not at work and not writing I am reading, playing the violin, or doing research for more books!
Maer:  What influenced you to write in your genre? Do you write in others?
Konstanz:  Fantasy is my genre. Which is rather funny because Only Half Alive, my debut novel, is actually Paranormal. So yes, I do write more than one genre. As for why I write fantasy, it's because I LOVE being able to escape into another world completely. I love dragons (I collect them!) I love the usual medieval setting in fantasy books (I also collect medieval weapons) and I love the adventure! And they say to write the book you want to read.
Maer:  Yes, I've seen some pics from your awesome collection. Love them! Especially since I also collect dragons. What music, if any, do you like to listen to while writing?
Konstanz:  I do listen to music. A wide variety of songs! Each book gets its own playlist so what I listen to really depends on what I am writing at that moment. But I do LOVE and repeatedly listen to Josh Groban, Il Volo, OneRepublic, Zedd, Within Temptation, The Phantom of the Opera soundtrack, and Kelly Clarkson!
Maer:  You have an some music in there! Thanks so very much for joining us today, Konstannz. Do you have anything you'd like to add?
Konstanz:  If I could share one message with the entire world, just one thing that every single living person would hear, it would be this; Dreams do come true! It's not always easy, but it is always worth it. Never let anyone tell you that you aren't good enough, that you will never accomplish your dreams and goals. There is only one person who can stop you, and that's you!
Thank you so much for having me!
Maer:  It was my pleasure. 🙂
You can buy Only Half Alive
 at Amazon!
You can find Konstanz at the following links: