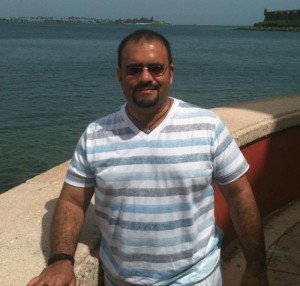 Please join me in welcoming Leonardo Ramirez to the blog today. It's always a pleasure to find new sci fi writer's and I'm looking forward to adding his books to my To Be Read list.
About Leonardo
Leonardo Ramirez is a husband, a father, a Karate instructor with a 2nd degree black belt, and a writer. His first graphic novel, Haven, is a supernatural Young Adult story centered on an ancient war between the Dante family and the nine circles of hell. His follow up is a self-published children's Steampunk book called The Jupiter Chronicles: The Secret of the Great Red Spot. It follows the adventure of two children as they are transported to the steam-powered cities of Jupiter, find their long-lost father, stop an attack from Mars, and witness the birth of Steampunk.
In Leonardo's own words:
"My heart and motive have always been for people who are hurting. These can be kids who have had to suffer through child abuse or neglect or an absent parent which can be equally torturous as was the case in The Jupiter Chronicles. It can also be young girls who have suffered an assault like Haven did in Haven of Dante. Young or old it doesn't matter. Those are the kids and adults I want to speak to because I've been there.
It's not just Science Fiction.
It's Science Fiction for the Human Condition."
Read on for more about Leonardo and his newest book, Haven of Dante!
About Haven of Dante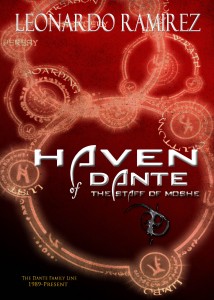 Haven Irena Dante, seventeen, struggles with a dysfunctional family. Her workaholic father is never there, but his absence is filled by a loving mother harboring the secret and mysterious past of their family. The Dantes are inheritors of a centuries old legacy stretching back to Dante Alighieri himself.
They fight to contain the nine circles of hell described in the classic literature "Dante's Inferno."
Today, the nine circles have infiltrated the world at every level, operating as a secret society known as "The Aristocracy." The only thing stopping The Aristocracy from world domination is the Dante family line.
And now its Haven's turn to carry that torch.
Combining literary fiction with fantasy, this action-packed young adult adventure races through dimensions of paranormal, science fiction, and the supernatural of the afterlife.
Join in Haven's adventure now!
Now let's shine the spotlight on Leonardo!
Maer:  Leonardo, thanks for joining us to tell us about Haven of Dante. What is the funniest or oddest thing that has happened to you as an author?
Leonardo:  I was at a convention for the release of the Haven graphic novel and was asked to be on a panel with a celebrity: the creator of "The Crow" James O'Barr (remember the movie that Brandon Lee died in?). They wanted a newbie next to an experienced person in the industry. I understand that they wanted a newbie and was honored but still felt weird sitting in front of a mass group of people next to this popular guy. The joking got to be so much that after a while we were interviewing each other and pretending we were the ones asking the questions.  It was fun and we hung out afterwards at my table. I wish that we had kept in touch because he's such a neat guy.
Maer:  Do you use beta readers and, if so, what qualities do you look for in a beta?
Leonardo:  Not in the forum sense. I typically ask educators to read my work since my wife is a librarian and a teacher. They're always able to spot something that I didn't think of one being that I'm not in that gifted profession. I've come to depend on them tremendously.
Maer:  What is a one line synopsis for your book?
Leonardo:  In order to stand against the Nine Circles, Haven of Dante must first face the demons within.
Maer:  Is this a stand-alone or part of a series?
Leonardo:  Given that there is a family line that precedes our main character it can be either or. The prologue tells of others who have stood in the way of the self-proclaimed "Aristocracy". So all of that to say, it can go on forever as long as there is a demand for it.
Maer:  Awesome! I can see a lot of potential for more stories. Which character, other than Haven, is one of your favorites to write and why?
Leonardo:  I would have to say the Gardener. He's a sharp guy but he bucks authority and pokes fun at it which I am prone to doing. . . in my head.
Maer:  If you had to pick a color to describe Haven what would that be and why?
Leonardo:  Blue to me depicts both hardship and courage. She's been dished some stone-hard porridge but has come out of it soaring as Superman would.
Maer:  Who are your favorite authors to read?
Leonardo:  C.S. Lewis. From the Narnia series to Screwtape, the man was versatile and thought outside of the box. I love that about him. I love Heinlein's Stranger in a Strange Land as well.
Maer:  Can you share a bit about your current project?
Leonardo:  Haven of Dante was previously a graphic novel published by Markosia Enterprises simply titled, Haven. Although it did well there is so much more story to tell and I felt that the medium could not contain it all so I moved to prose. There is a part of the GN that has as having been missing for two years. When she returns, she has no memory of this time. This book details where she was and what she was doing during those 2 years.
Maer:  What do you do when you're not writing?
Leonardo:  My first and foremost priority is my family. They're a blast to be around. My daughter and I love the same things (superheroes, cartoons and karate) so we always have a chance to be together. We're all students of the martial arts. My wife is blue belt, my daughter is a black belt and I just got promoted to 3rd degree black. I love to teach kids how to stay safe.
Maer:  What influenced you to write in your genre? Do you write in others?
Leonardo:  I grew up reading comics and with my daughter I still do. The first book of mine that was published traditionally was the graphic novel Haven based on the same character. I wanted to tell more in Haven of Dante. I also write Children's Steampunk. The first book in the series, The Jupiter Chronicles released last August and I'll be focusing on the 2nd book next. I've always been a kid at heart and always will be.
Maer:  Do you listen to music and if so what kind?
Leonardo:  Absolutely! And it also depends on the scene I'm working on as far as style of music. There is a scene in Haven of Dante that called for "A Funeral for Queen Mary" by Purcell. But during the fighting scenes, I cranked up some Anberlin and Demon Hunter. 
Maer:  Great pieces! Leonardo, thanks so much for joining us today. Do you have anything you'd like to add?
Leonardo:  I love to write. But there's a part of me that almost feels like I'm on a mission. My wife and I have been through so much in our lives. There was divorce, abuse of every kind and so much more that we've not just lived through but have overcome and made good choices for ourselves. I wrote The Jupiter Chronicles with divorce in mind and I wrote Haven of Dante with rape in mind. Not gratuitously but to be a source of encouragement to anyone who reads my books and makes a conscience decision that they can be a hero if they choose to be despite the cards that have been handed to them.
You can buy Haven of Dante: The Staff of Moshe
 at Amazon.
You can follow Leonardo at these inks: