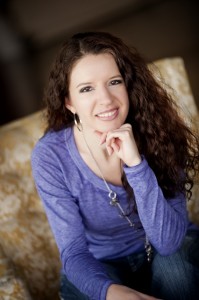 Having a book release is an exciting time and today I'm lucky to have the delightful Lindsey R. Loucks as my guest. I've been fortunate to get to know Lindsey the last couple months as we were preparing for our books to release and sharing debut author nerves. She loads of fun and her YA supernatural novel, The Grave Winner, is great summer read.
About Lindsey R. Loucks
Lindsey R. Loucks works as a school librarian in rural Kansas. When she's not discussing books with anyone who will listen, she's dreaming up her own stories. Eventually her brain gives out, and she'll play hide and seek with her cat, put herself in a chocolate induced coma, or watch scary movies alone in the dark to reenergize.
She's been with her significant other for almost two decades.
Read on for more about Lindsey and her fascinating new novel!
About The Grave Winner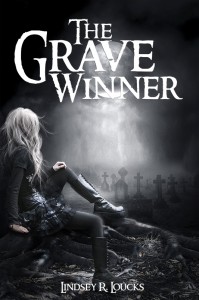 Leigh Baxton is terrified her mom will come back from the dead — just like the prom queen did.
While the town goes beehive over the news, Leigh bikes to the local cemetery and buries some of her mom's things in her grave to keep her there. When the hot and mysterious caretaker warns her not to give gifts to the dead, Leigh cranks up her punk music and keeps digging.
She should have listened.
Two dead sorceresses evicted the prom queen from her grave to bury someone who offered certain gifts. Bury them alive, that is, then resurrect them to create a trio of undead powerful enough to free the darkest sorceress ever from her prison inside the earth.
With help from the caretaker and the dead prom queen, Leigh must find out what's so special about the gifts she gave, and why the sorceresses are stalking her and her little sister. If she doesn't, she'll either lose another loved one or have to give the ultimate gift to the dead – herself.
Now let's shine the spotlight on Lindsey!
Maer:  Lindsey, thanks for joining us today. Please tell us about your new book.
Lindsey:  Thank you so much, Maer, for hosting me! My new book is called The Grave Winner, and it's a YA paranormal fantasy romance. That's quite a mouthful, isn't it? 🙂

Maer:  It's an awesome genre. And I love the title. And the book! The premise is very intriguing. Where did your inspiration come from?
Lindsey:  The title came to me while I was writing a YA sci-fi book. I wondered why on Earth anyone would win a grave. Would anyone want to win a grave? Then I eventually figured out that no, you most definitely don't want to win a grave.
Maer:  What is a one line synopsis for your book?
Lindsey:  Leigh Baxton is terrified her mom will come back from the dead—just like the prom queen did.
Maer:  This is such a great read, can we expect more about these characters or is this a stand-alone?
Lindsey:  This is book number one. I'm about half-way done writing book two.
Maer:  Which character other than Leigh is one of your favorites to write and why?
Lindsey:  That would have to be Leigh's best friend Jo. She's quirky, she's funny, and she's fiercely loyal.
Maer:  Yes, Jo, is a wonderful character. I can see where she would be fun to write. Now, Lindsey, if you had to pick a color to describe Leigh what would that be and why?
Lindsey:  Leigh would want me to choose black, but I'm going to go with a deep blue. Leigh has just lost her mom, which, as you can imagine, is devastating to a fifteen-year-old girl. Deep blue sums up her sadness.
Maer:  Who are your favorite authors to read?
Lindsey:  Thank goodness you said authors with an "s"! I love J.K. Rowling, Stephen King, Suzanne Collins, Carrie Ryan, and Shirley Jackson, just to name a few.
Maer: Awesome choices, with some of my own favorites in there. Can you share a bit about your current project?
Lindsey:  I'm going to crank out book two in The Grave Winner series this summer, and then hopefully get started on a ghost story in space idea that won't leave me alone.
Maer:  So, what do you do when you're not writing?
Lindsey:  I read, I think about writing, I watch TV, I think about writing, and make sure my cat's needs are met because he won't let me even think about writing if they aren't!
Maer:  LOL. I can understand that, being a pet parent myself. So, Lindsey, what influenced you to write in your genre? Do you write in others?
Lindsey:  I read a lot of YA because it's what appeals to me, so I guess I write what I like. I'm always on the look-out for something that will terrify me, whether it be a movie or a book because I loooove being scared, so that explains the paranormal part of my stories. As for the romance, I'm a sucker for a good love story. I'd like to dabble in contemporary romance for adults, but I'm a little afraid my characters won't know what to do if a ghost or a zombie doesn't show up!
Maer:  What music, if any, do you like to listen to while writing?
Lindsey:  None. I can't. I wish I could write to music because I love it so much, but nope. I have to have complete silence.
Maer:  Do you have anything you'd like to add?
Lindsey:  I'm addicted to carbohydrates. The first step is admitting it, so yes! Thanks so much for having me, Maer!
Lindsey, it was a pleasure it was to have you stop by, my friend, and we'll be looking forward to Book 2 in "The Grave Winner" series! Happy Book Birthday and I hope you have a fabulous launch!
You can pick up The Grave Winner
at Amazon.
Want to stay up to date with Lindsey? You can find her at the following links:
The Grave Winner on Goodreads.