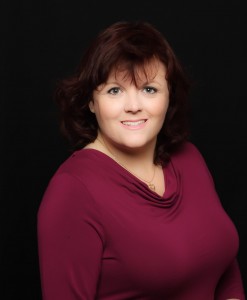 Today's guest is the delightful Loni Lynne! She's the author of a brand new Paranormal Romance, Wanted: One Ghost. The premise of this book sounds so wonderful, I can't wait to get the book and read it!
About Loni Lynne
Loni Lynne believes fate determines our lives and we are just along for the ride.  Holding on tight, she's managed an eclectic life of moving all over the country in her youth, seeing sights and places her dreams still take her to every now and again. Writing stories since she was thirteen and dreaming of actually writing a book since that time, fate took over, giving her a chance to find material and experiences to write about.
Upon graduating high school, she served her country in the United States Navy where she met her United States Army hero/husband in his hometown of Annapolis, Maryland. After being stationed in Hawaii for their first four years together, they returned to settle in Maryland where they still live, Happily Ever After with their two princesses, who prefer to play with dragons instead of running from them.
Four years ago, as a birthday gift, her husband gave her a portable hard drive, a membership to Romance Writers of America, and the challenge to have a completed manuscript by her next birthday.  She did it and then some.  Now, she can't stop writing.
Read on for more about Loni and Wanted: One Ghost!
About Wanted: One Ghost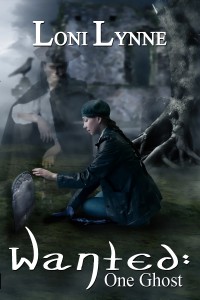 Wanted: One Ghost is a paranormal romance/ghost story about two individuals 'fated' to be together. James Addison is a 238 year old ghost, former founding father of Kings Mill, Maryland. He's roamed the historical streets trying to solve the mystery behind his death until historian, April Branford comes along and interacts with him, unbeknownst to her.
April has the gift of psychometry, the ability to touch artifacts and sense their past owners. What she doesn't know is she has the unique touch to also bring the past to life. When she accidentally touches James' tombstone the powers that be resurrects James from the past into the present.
Together they must solve his past, find the deed to the property he once owned and keep from losing the love that they find in a few short weeks. Neither one knows how long they have to love or where they will go. It's up to Fate to determine if their time is now.
Now let's shine the spotlight on Loni!
Maer:  Thanks for joining us today! Wanted: One Ghost sounds so intriguing. Where did you get the idea for it?
Loni:  My daughters and I went on a few ghost tours before I wrote the book and I couldn't help but think, what if the ghosts were listening in? What would they think or say? So I started playing around with some dialogue and situations based in my favorite historical era, the 1700's and based it in Maryland. The town I live in is quite historical with architecture dating from that time period so I had a lot of inspiration into style for my fictional town of Kings Mill, Maryland.
Maer: Could you give us a one line synopsis for your book?
Loni:  "April Branford always loved history. She never expected history to love her back." That was my pitch line when I started to pitch the story.
Maer:  Love that line! Is this a stand-alone or part of a series?
Loni:  Originally it was a stand-alone. But then I started thinking about one of the minor characters and knew she had a story to tell. Then another idea came to mind. So far, I have three stories for the series in which I am hoping to have.
Maer:  Which character other than April and James is one of your favorites to write and why?
Loni:  Grandma Dottie. She's feisty and a bit unique. She's not afraid to speak her mind—which isn't always a good thing. I loved her!
Maer:  If you had to pick a color to describe April and James what would they be and why?
Loni:  Wow! Interesting question. I'm not sure actually but something is pointing me to say, Green. I think because James is new to all the modern things April awakens him to. So I'd say he's a bit 'green' when it comes to the modern world and how to deal with a modern woman. As for April, I'd have to say blue—a soft subtle blue because she's kind of traditional, unassuming, just trying to figure out her unique situation and blue seems to strike that for me.
Maer:  So, tell us, Loni, who are your favorite authors to read?
Loni:  Another tough question as I read so many books based on individual stories. I will name a few that have influenced me into writing what I write now, Cindy Miles, Sherrilyn Kenyon, Lynsay Sands, Katie MacAlister just to name a few. Ghosts and vampires—I'm not sure the tie-in there but those are what I've been drawn to in the past.
Maer:  I can see the attraction. Can you share anything about your current project with us?
Loni:  It's still a work in progress, very much so as I've revised it a few times since I've been working on it. It's the second in the series, which I have called my, "Kings Mill Crossroads" series.  The working title for now is called Distilled Spirits and it's about the tavern server, Millie Taylor in which my MC, James Addison knew from his day. She still haunts the Old Town Tavern that is in danger of being demolished to make room for new commerce in Kings Mill, Maryland.
Maer:  What do you do when you're not writing?
Loni: I try to read, watch certain shows with my hubby and just spend quality family time. I love to power walk and sometimes even pick up my counted cross stitch if I have a few minutes.
Maer:  Now that sounds idyllic. What influenced you to write in your genre? And do you write in others?
Loni:  I think reading the authors I mentioned, influenced me. I love how they can create such unique characters and storylines. I wanted to write outside the box where anything was possible. Most of the stories I've written are paranormal romances.
I do write in other genres though. I have another story I'm working on which is a contemporary/category that takes place in the Navy.
Maer:  That's an interesting and different genre from your usual. What music, if any, do you like to listen to while writing?
Loni:  I don't normally listen to anything but I do have my CD player nearby and occasionally I will slip in Michael Bubble, Frank Sinatra, lite Jazz instrumental, or Big Band era music. I think I was born in the wrong era. *sigh*
Maer:  Do you have anything you'd like to add?
Loni:  I just want to say how delighted I am to have been here today. I am so excited about this journey and hope those who pick up Wanted: One Ghost enjoy it for the fun, romantic fantasy that it is. It's about finding where we need to be—if for no other reason than because Fate led us there.
Thank you, Maer for having me here today. I've really had a great time!
Maer:  Thank you for giving us a fun and fascinating look behind the scenes, Loni! I wish you the very best and much, much success!
To pick up a copy of Wanted: One Ghost
 go to Amazon or Barnes & Noble.
You can find Loni at the following links: