I had the pleasure of stopping by Lucy Pireel's last month and I'm thrilled she's stopped by to chat with me today about her collection of short stories, Red Gone Bad! Twisted fairy tales? Right up my alley!
About Lucy Pireel
Lucy Pireel loves to write and read. She does not limit herself to one genre, but writes what she thinks would work for a story. At times it means writing Science Fiction, or fairy tales, while some are pure erotica.
She is glad to have successfully self-published her first three books, while editing her full-length, paranormal, erotic novel at the same time. Of course she writes more too; there are always new ideas for stories playing through her head, ranging from flash to full length novels.
Lucy enjoys long walks in the great outdoors, or twist herself into a pretzel while doing yoga. All to unwind after a day of writing, or editing. At the moment she lives in the UK and enjoys the country and its people very much. She's very much a people person.
Read on for more about Lucy and Red Gone Bad!
 About Red Gone Bad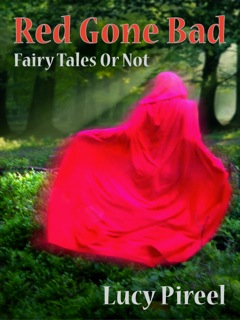 Once upon a time …
Little Red Riding Hood took matters in her own hands
And the miller's daughter struck a flawed deal with Rumpelstiltsken
In these–and two more–twisted fairy tales there are no happy endings and you'll find out those heroines are not what you might expect from them.
Parents, read them but let the children keep their dreams.
Now let's shine the spotlight on Lucy!
Maer:  Thanks for joining us to tell us about your collection of short stories, Lucy. Where did the inspiration for Red Gone Bad come from?
Lucy:  Ah, well I like fairy tales. A lot! 🙂 Just not the sappy kind they've turned into during the passing of time. Did you know those stories are originally rather gruesome?
Maer:  I did know that since I read the pre-Disney versions. It was a rather fascinating surprise and I can see why you'd be intrigued by them. Could you give us a one line synopsis for your collection?
Lucy:  Fairy tales how they're supposed to be.
Maer:  I love that! Do you have any plans for a follow-up to these stories?
Lucy:  I intend to do more twisting of fairy tales. So I could say the first of a series, but it might take a while before I have enough tales ready to fill another collection.
Maer:  I'll be looking forward to it! Which character from the collection is one of your favorites to write and why?
Lucy:  I like to show the darker side of a character, an unexpected part of them. And I have no favourites, I like them all, even the baddies. 🙂
Maer:  If you had to pick a color to describe your main characters what would that be and why?
Lucy:  Ah, let me think on that one. Definitely not pink, but also not black, even if I like the dark side. I think a greyish kind of blue, brown and green? 🙂 Yeah, yeah, that is not a colour. Hey, it's camo. That way they can blend in and go undetected until it is too late. Bwahahaha.
Maer:  LOL. Great choice and I bet it's perfect, too. Lucy, who are your favorite authors to read?
Lucy:  At the moment I am on a reading spree of indie authors. I quite like Linton Robinson's books, but reading Erika Spindle Napier's book Promises has captivated me too and I wouldn't mind reading more of hers, which goes for Chris Edwards too. Can't wait for his second book to finally be released.
From the traditional authors, the 'big' names, I am quite fond of Clive Barker, Anne Rice, Orson Scott Card, and a few more. There isn't really one author my all-time favorite.
Maer:  No, I doubt many of us could pick only one. Can you share a bit about your current project?
Lucy:  I'm in the process of getting my first full length novel ready for publication. At the moment it is under the care of John Cameron McClain for beta-reading. Then it's probably rewriting a few bits and pieces and editing.
It's a pararom. Werewolf falls for vampire and discovers to his shock that their species do not differ the way they thought they are.
Maer:  Hmmm…now that sounds interesting! What do you do when you're not writing?
Lucy:  Blogging, teaching yoga, book keeping, gardening and walking the dog.
Maer:  Busy lady! What influenced you to write in your genre? Do you write in others?
Lucy:  My son wanted stories in which the characters really encountered adventures, things had to happen and one thing led to another. Which led to fairy tales unsuitable for the youngest.
I do write other genres too. Erotica is a one of them. I have a novella out which is either liked or hated. (It has received four star and two star reviews.) I'm working on that pararom, and on a collection of horror/suspense stories. I've written and published sci-fi as well as zombie stories and I would like to one day write a literary fiction novel. The idea is there, but so are a gazillion others.
Maer:  What music, if any, do you like to listen to while writing?
Lucy:  I really prefer silence, but that is hard to come by in the house I live, unless I get up real early and get some writing done before the house wakes up. 🙂 On the other hand I've learned to write under any circumstances and silence isn't really needed anymore.
Maer:  Lucy, do you have anything you'd like to add?
Lucy:  Let me think … Eh, oh, yes 🙂 Wheeeeeheeeee! My erotic novella Bound is on a Goodreads list called 'Books to Read Instead of Fifty Shades' and it's on third. How funky is that?
And I would like to thank you for hosting me and let me shoot my mouth of in all directions.
Maer:  It was my pleasure. You're always fun to chat with, Lucy. I wish you the best of luck with your projects and look forward to seeing more of your work.
You can find Red Gone Bad
 at Amazon and Smashwords.
And you can find Lucy at her links below!