Fresh from being in the Top Twenty in several Amazon bestseller lists, LynDee Walker has stopped by to tell us about her debut novel, Front Page Fatality, (A Nichelle Clark Headlines in Heels Mystery.) I've had the privilege of knowing LynDee for over a year and I've gotten to beta read both of her Nichelle Clark novels. It's been fascinating to watch her dream come true and know that others enjoy her heroine as much as I have.
LynDee grew up in the land of stifling heat and amazing food most people call Texas, and wanted to be Lois Lane pretty much from the time she could say the words "press conference." An award-winning journalist, she traded cops and deadlines for burp cloths and onesies when her oldest child was born. Writing the Headlines in Heels mysteries gives her the best of both worlds. When not writing or reading, LynDee is usually wrangling children, eating barbecue or enchiladas, or trying to walk off said barbecue and enchiladas. She and her family live in Richmond, Virginia.
Read on to find out more about LynDee and her new book.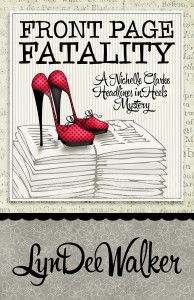 Crime reporter Nichelle Clarke's days can flip from macabre to comical with a beep of her police scanner. Then an ordinary accident story turns extraordinary when evidence goes missing, a prosecutor vanishes, and a sexy Mafia boss shows up with the headline tip of a lifetime. As Nichelle gets closer to the truth, her story gets more dangerous. Armed with a notebook, a hunch, and her favorite stilettos, Nichelle races to splash these shady dealings across the front page before this deadline becomes her last.
Now Lets shine the spotlight on LynDee and find out more about her and this fun new series!
Maer:  LynDee, thanks for stopping by to tell my readers about your new book.
LynDee:  Thanks so much for having me, Maer! I'm excited to be here.
Maer:  Where did the inspiration for your book come from?
LynDee:  From my career, really. I missed writing, and I missed the newsroom, so I wrote a story about a sassy reporter.
Maer:  Do you have a one line synopsis for your book?
LynDee:  Missing evidence, vanishing cops, and a sexy Mafia boss could mean the story of the year for Nichelle Clarke — as long as her Louboutins can outrun the bad guys and she lives to see deadline.
Maer:  I already know this, but could you tell my readers if this is a stand-alone or part of a series?
LynDee:  I am very excited to say it's the first in a new series! I recently signed contracts for two more Nichelle Clarke Headlines in Heels novels, as well as a novella that will go in an anthology with works from Larissa Reinhart and Terri L. Austin.
Maer:  Wow! Exciting news indeed for those of us who adore Nichelle. But you have some other fascinating characters, as well. Which character other than your MC is one of your favorites to write and why?
LynDee:  I love writing Grant Parker. He's a nice guy, but a bit of a smart aleck, and he has a rare confidence that makes it super fun to be inside his head.
Maer:  Yeah, I have to admit Grant is fun to read, too. Back to Nichelle. If you had to pick a color to describe your MC what would that be and why?
LynDee:  Oooh, great question! Red. Nichelle is smart and classy, and she fits in anywhere, but she's impossible to miss in a crowd.
Maer: I can see that. She is also loads of fun. Speaking of fun, when you get time to read, who are your favorite authors?
LynDee:  There are so many! I love Laura Levine and Harley Jane Kozak, Kathy Reichs, Stephen King, Joshilyn Jackson … I could go on for pages. But the thing that ties them all together is gripping stories with characters I adore. Or, sometimes in Mr. King's case, characters that scare the pants off me!
Maer:  Since this is just the beginning of at least a trilogy, can you share a bit about your current project?
LynDee:  I can! I'm just about to send the second Nichelle Clarke novel, BURIED LEADS (October 2013) off to my fantastic editor. In this one, Nichelle gets sucked into a political scandal. That may or may not involve her favorite sexy Mafia boss.
Maer:  Hmmmm… Intriguing! (It really is, too and I know because I read it!) So, LynDee, Tell us what you do when you're not writing?
LynDee:  I play with my kids, read, and cook. I like to work in my flowerbeds, but I'm not very good at it. I love Disney World and the beach, and I like to walk outside by the lake near our house.
Maer:  Sounds wonderful! And far different from Nichelle's world. What influenced you to write in your genre? Do you write in others?
LynDee:  I like to read funny mysteries with a hint of romance, so I think I just naturally gravitated toward that with the Nichelle books. I have another novel in my hard drive, women's fiction with a side of magical realism. But I haven't had time to do anything with it in a while.
Maer:  That sounds interesting. Especially since anything to do with magic piques my interest. What music, if any, do you like to listen to while writing?
LynDee:  Has to be 90s pop. I have no earthly idea why, because most of the rest of the time, I listen to country or classic rock, but I cannot write to anything but the 90s.
Maer: That's diverse and fun. LynDee, do you have anything you'd like to add?
LynDee:  That I am grateful every day for the wonderful team at Henery Press for getting behind Nichelle (and me)! I'm also thankful for each and every reader who has bought, enjoyed, and said nice things about FRONT PAGE FATALITY. This past month has been so much more than I ever dared to dream of, and I am truly amazed and so appreciative. I don't know if people really realize how much good reviews and positive word-of-mouth help new authors, especially with a first novel, so a big thank you to those who have shared that they enjoyed Nichelle's adventure.
Maer:  Yes, those reviews really do count, LynDee. So, dear readers, if you love a book, write a few words and post it on Amazon or goodreads. Authors truly do appreciate hearing from their readers!
LynDee, as always it'a pleasure to chat with you in any format. Thanks for stopping by!
Folks, you can find Front Page Fatality (A Nichelle Clarke Headlines in Heels Mystery)
 at Amazon, Barnes & Noble and Kobo
And if you want to stay updated on LynDee, you can find her at the following: