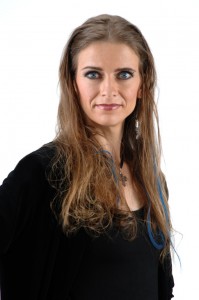 I do so enjoy my features with other authors. I get to meet new people and find out a little about their books. I also get to spotlight my author friends, which is particularly satisfying. Especially when  they are as cool as Lynn Rush. Okay, okay, so all of my author friends are pretty cool, but each one is special. And it's a joy to have Lynn in the spotlight because not only is she prolific and savvy, she is a generous and giving person to her fellow authors. And very patient with a newbie like me and my questions.
Read on for more about this fabulous author and her newest book!
About Lynn Rush
Driven to write, Lynn has penned over twenty-five novels. To date, six are published by Crescent Moon Press: The Wasteland and The Violet Night trilogies. Lynn Rush is a pen name that is a combination of two sources – Lynn, the first name of her mother-in-law, who passed away and Rush – since the author is a former inline speed skater and mountain biker. All of Rush's books are dedicated to Lynn, her namesake, and a portion of the proceeds benefits cancer research and treatment.
Rush holds a degree in psychology from Southwest Minnesota State University and a master's degree from the University of Iowa. Originally from Minneapolis, Rush currently enjoys living in the Arizona sunshine by road biking nearly 100 miles per week with her husband of 16 years and jogging with her loveable Shetland Sheep dog.
 About Violet Dawn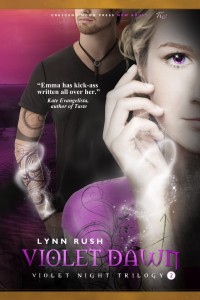 In the darkest place, the Light shines brightest.
Emma's love saved Jake from life as a vampire. But their happily ever after is threatened by a savage Vamp seeking retribution for destroying the Avenos Trinity of Evil.
A mysterious stranger enters the mix, coinciding with the first Vamp attack in months. Emma's new friendship, and the suspicion and deceit surrounding it, further drives a wedge between her and Jake.
To complicate things, Emma is bitten by a Vamp with abilities no one has ever seen before, and that bite has left its mark.
A mark that might tear Jake and Emma apart forever…
Now let's shine the spotlight on Lynn!
Maer:  Lynn, thanks for joining us to tell us about your new book. It's a pleasure to have you here. Let's get right to it. Where did the inspiration for your book come from?
Lynn:  I love vampires—specifically chicks that kick their butts! I'm a huge fan of Buffy, Charmed—you know, those kinds of shows which kick ass chicks—so I think a lot of my motivation for writing the Violet Night Trilogy came from that.
Maer:  Could you give us a one-line synopsis for your book?
Lynn:  Oh, man. I so can't do these. Can I just give the tagline? In the darkest place, the Light shines brightest. I love that tagline because the story is based in Light vs Dark (as most of my books are). 
Maer:  Fair enough. That works. I know I struggle with the one liners, too. How many more books can we expect? Is this a duology or are there more books planned?
Lynn:  Trilogy. Violet Dawn is the second book in the trilogy. Book three should release this summer some time.  🙂
Maer:  Which character other than Ava is one of your favorites to write and why?
Lynn:  I love Ava, Emma's BFF. She's snarky yet loyal. She changes a lot during the trilogy too, so it's fun to see.
Maer:  Now, Lynn, if you had to pick a color to describe Ava what would that be and why?
Lynn:  Purple.  It matches her eyes. And they're purple for a reason, too, so that's fun. 
Maer:  You know, I think I might have been able to guess that one. So, who are your favorite authors to read?
Lynn:  Rebecca Zanetti, Cynthia Eden, Gena Showalter, Jeaniene Frost.
Maer:  You are so very busy. The Violet night trilogy, the Touch of Frost trilogy and The  What's next? Can you share a bit about your current project?
Lynn:  I've got a story, Forged by Fate. It's book one in the "Bound by Hades" trilogy. It's about a nine hundred and eleven year old Gatekeeper to Hades and his genius eighteen-year-old Mate. Anything supernatural/paranormal doesn't quite compute with this genius, so it's fun to work through that. It's out on submission right now, so cross your fingers. All three books are done, so I'll just work on editing books two and three for a while until another story hits me and I can start writing again.
Maer:  Wow! Yet another series! Lynn, your ability to produce quality books ins such quantity is amazing. Does so much writing leave time for anything else? What do you do when you're not writing?
Lynn:  Usually I'm super active. Biking, running, things like that.  But I'm still recovering from major abdominal surgery. It's wiped me out, but I just recently got the clear to go from my doc, so I've got my sights on training for my first marathon! Aiming for this fall, so wish me luck. I've never run a full marathon!!
Maer:  best of luck and we're glad you're surgery went well. What influenced you to write in your genre? Do you write in others?
Lynn:  New Adult is relatively new on the scene. It's the category that bridges the gap between YA and Adult fiction. I've always written for that age range, but I've always been told my characters were aged wrong. Who knew it'd be such a rage years later. I've got one YA trilogy done (self-pubbing that this August/September) but the rest are all New Adult and they're all paranormal. I LOVE my vampires, angels, and demons!
Maer:  What music, if any, do you like to listen to while writing?
Lynn:  Skillet is my favorite. Love their words and hard rock. P!nk is another go-to for music while writing. I like the harder stuff. Makes the action scenes easier to write!  🙂
Maer:  I might have guessed that one, too. but only because I've seen you post videos on Facebook. Lynn, do you have anything you'd like to add?
Lynn:  Thanks for having me here today. And thanks for everything you do to support your fellow authors!!
Maer:  It's my pleasure. I look forward to you next book!
To catch the newest addition to the Violet Night series, you can buy Violet Dawn (Violet Night Trilogy)
 at Amazon.
You can connect with Lynn online at the following links:
Catch the Rush™: www.LynnRush.com
Facebook: www.facebook.com/LynnRushWrites
Twitter: www.twitter.com/LynnRush
Pinterest: http://pinterest.com/lynnrushwrites/
Newsletter: http://eepurl.com/f55fL