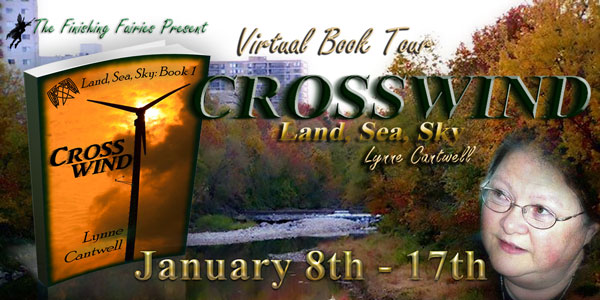 Lynne Cantwell
As part of this ultra cool tour, today's special guest is Lynne Cantwell. Lynne is celebrating the release of a new series, Land, Sea, Sky. It's exciting to see this new series from the author of the popular series, The Pipe Woman Chronicles.
Lynne Cantwell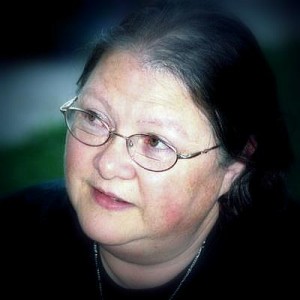 Lynne Cantwell has been writing fiction since the second grade, when the kid who sat in front of her showed her a book he had written, and she thought, "I could do that." The result was Susie and the Talking Doll, a picture book, illustrated by the author, about a girl who owned a doll that not only could talk, but could carry on conversations. The book had dialogue but no paragraph breaks. Today, after a twenty-year career in broadcast journalism and a master's degree in fiction writing from Johns Hopkins University (or perhaps despite the master's degree), Lynne is still writing fantasy. In addition, she is a contributing author at Indies Unlimited.
Read on for more about Lynne Cantwell and her Crosswind!

Crosswind (Land, Sea, Sky: Book 1)
Life on Earth is much improved since the pagan gods' return. As conflict eases around the world, attention — and money — has turned to more humanitarian goals: improving the lives of the First Nations peoples and others who were repressed for thousands of years.
But the former ruling class – the military, religious, and corporate leaders who profited under the old system — are about to stage a last-ditch effort to bring their good times back.
The gods refuse to start a new war against those men, because that would make them no better than Their opponents. Instead, They have drafted three humans to help Them. Together, Tess, Sue and Darrell must find a way past their own flaws to ensure the gods' peace will not be destroyed.
Now let's shine the spotlight on Lynne!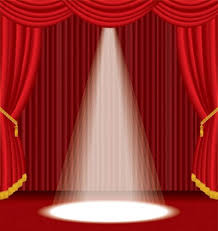 Maer:  Lynne, thanks so much for stopping by to talk about your new release.
Lynne:  Thanks for having me!
Maer:  What is the funniest or oddest thing that has happened to you as an author?
Lynne:  I don't know whether to classify this as funny, odd, or sad: I attended the World Fantasy Convention in San Diego a couple of years ago, when Neil Gaiman was the special guest. He's a huge name in fantasy, of course, with bestselling books and movie adaptations of his work, and he got the rock star treatment – he took the service entrances to his appearances so he wouldn't get mobbed, and the line for his book signing was so long that they had to add a second session the following day. When I got back to work, I told one of the attorneys I work for that Neil Gaiman had signed one of his books for me, and she didn't know who he was. My day job is a different world.
Maer:  Ah yes, the difference is huge at times. So, do you use beta readers and, if so, what qualities do you look for in a beta?
Lynne:  I like to say that I grow my own beta readers. My daughter Kat, who reads for me, has a bachelor's degree in creative writing from Hollins University. My editor is a friend of Kat's, Suzu Strayer. Suzu is pursuing a Ph.D. in children's literature from Ohio State University. But I don't just look for academic credentials; I also look for familiarity with the genre, as well as the ability to catch my stupid mistakes. It seems to be working – I've gotten a number of compliments from reviewers who say my books are free of errors.
Maer:  What is a one line synopsis for your book?
Lynne:  The pagan gods have come back (with Jesus!), and They've drafted three humans to help Them fight the greedy, power-hungry men who had previously ruined the Earth.
Maer:  Obviously this is part of a series. How many book do you have planned for it?
Lynne:  Crosswind is the first in the "Land, Sea, Sky" trilogy, which itself is a follow-up series to my five-book Pipe Woman Chronicles. (I bet you thought you were asking an easy question, didn't you?) To anticipate your next question, no, it is not necessary to have read the earlier series to understand what's going on in Crosswind.
Maer:  How exciting! Lynne, which character, other than your Main Character, is one of your favorites to write and why?
Lynne:  Nanabush. He's an Everyman, but He's also a bit of a Trickster God, and He has a lot of fun trying to get Darrell to unbend. Really, all the gods and goddesses are fun to write. The scenes with Nanabush, Morrigan and Gaia are some of my favorite ones in the book.
Maer:  If you had to pick a color to describe your Main Character what would that be and why?
Lynne:  "Land, Sea, Sky" has three main characters, so I'll answer for each of them, if I may.
Maer: Please do!
Lynne:  Tess's color would be a cool blue on the outside and a quaking yellow inside. She suffers from occasional panic attacks, and copes by pulling on her imaginary Network Correspondent Woman mask. She's also scared to death of Morrigan, the Irish goddess of war, who drafted her.
Darrell's color would be an angry red. He's still mad, ten years later, that Nanabush pulled him away from his life as a Potawatomi medicine man and told him he had to join the Navy.
Sue's color would be an earthy brown, tinged with green. For all that she's jealous of Tess's ease in attracting men, Sue is capable and confident. She's also the Right Hand of the Earth goddess Gaia.
Maer: Even the colors make me want to read this series. 🙂 Who are your favorite authors to read?
Lynne:  My favorite fantasy author is Stephen R. Donaldson, who wrote The Chronicles of Thomas Covenant the Unbeliever. I also enjoy reading books by Graham Joyce, who writes psychological fantasy and horror; Patricia McKillip, who writes amazingly lyrical fantasy; and Kent Haruf, a literary fiction author whose spare prose is amazing in a different way. My favorite urban fantasy authors are C.E. Murphy and Carrie Vaughn. And I should give a shout-out to my favorite indie authors – Laurie Boris, Hugh Howey, Chris James and Martin Crosbie.
Maer:  Great list. Can you share a bit about the project you're working on now?
Lynne:  Sure! Undertow is the second "Land, Sea, Sky" novel. It was my NaNoWriMo this year, so right now it's "ripening" – which is to say, I've set it aside for a few weeks, in an effort to edit it with fresh eyes. Usually, I'll do a couple of editing passes, several weeks apart, before sending the book to Suzu and Kat. Then I'll incorporate their edits and do one more pass before publication.
Maer:  What do you do when you're not writing?
Lynne:  I spent December knitting holiday gifts and baking cookies. I also enjoy sleeping, but I don't really get to do enough of it.
Maer:  I understand that not sleeping thing. What influenced you to write in your genre? Do you write in others?
Lynne:  I've been reading fantasy fiction for decades, so it seemed like a good fit when I started writing again after a several-decade hiatus. When I was in grad school, I tried to write realistic, literary fiction, but I'm not terribly good at it. I seem to require a little magic in my work.
Maer:  Well, everyone needs a little magic. What music, if any, do you like to listen to while writing?
Lynne:  I spent too many years writing on deadline in a noisy newsroom. Now, I prefer silence, if I can get it.
Maer:  Lynne, thanks again for joining me today. I look forward to reading your books! Do you have anything you'd like to add?
Lynne:  I can't think of anything. Thanks for letting me play on your blog – this was fun!
Maer:  It was my pleasure.
Celebrate with Lynne and enter the Giveaway!
You can find Crosswind (Land, Sea, Sky)
 at Amazon.
Want to follow Lynne? Check out these links!
TWITTER | FACEBOOK | BLOG | GOODREADS | AMAZON
This tour was brought to you by