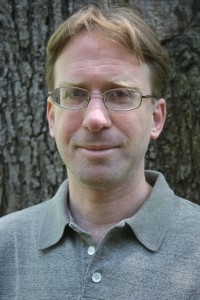 It's always a pleasure to host a friend from Purgatory. Today's guest is Michael Landweber chatting about his must released book, We: A Novel. I love the title and the premise, so let's find out more!
About Michael Landweber
Michael Landweber grew up in Madison, WI, went to school in Princeton, NJ and Ann Arbor, MI, met his wife in Tokyo and currently lives with her and their two children in Washington, DC. He has worked at The Japan Times, the Associated Press, the U.S. Department of State, Partnership for a Secure America and the Small Business Administration.
Read on for more about Michael and We: A Novel!
About We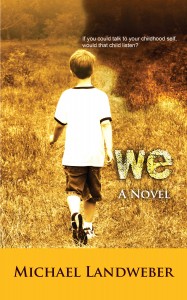 After an accident, forty-year-old Ben Arnold regains consciousness in the kitchen of the house he grew up in. Only he feels different, lighter somehow. Something is horribly wrong. Ben is swept into the arms of his mother, who he hasn't seen in twenty years. She calls him by his childhood nickname, Binky. He sees a younger, unbroken version of his father. His estranged brother is there, reverted back to his awkward teenage self. Finally, adding horror to his confusion, he glimpses his older sister Sara as she runs out the door to meet her boyfriend. Sara, whose absence he has felt every day since her death. Ben is a mere hitchhiker, a parasite in the brain of seven-year-old Binky, and his younger self is not happy to have him there. It is three days before his sister will be attacked. Ben knows he has to save Sara but first he must gain Binky's trust. Even if he can get Binky to say the right words, to do the right thing, who will believe that a young boy can foretell the future?
Now let's shine the spotlight on Michael!
Maer:  Micheal, thanks for joining us to tell us about We. What is the funniest or oddest thing that has happened to you as an author?
Michael:  Well, first of all, I'm still kind of jazzed to be called an author, given that my debut novel just came out yesterday.  So, not a lot of funny or odd things have happened to me as an author yet.  But I did have a funny moment as a writer not that long ago.  My wife was reading a draft of my latest project and pointed out that I had given two pivotal characters the same names as in my novel, We.  Sarah and Roger.  I had not realized at all that I had done that until she mentioned it.  OK, maybe that's more odd than funny.  And maybe I should be a little concerned about my long-term memory.
Maer:  Very interesting. Do you use beta readers and, if so, what qualities do you look for in a beta?
Michael:  I don't have a specific group of beta readers.  My wife is the only person who reads everything I write before it is published.  However, I do try to find readers with particular expertise when I have a new project.  For example, in this book, I needed someone to tell me if my take on the psychology made any sense.  When I do have beta readers, I'm looking for folks who will read critically and be brutally honest with me.
Maer:  What is a one line synopsis for your book?
Michael:  A man trapped in his own 7-year-old brain tries to prevent a tragic event in his family.
Maer:  The premise for this is fascinating! Is this a stand-alone or part of a series?
Michael:  This is a stand-alone novel.  Although I could envision many different variations on the main idea of going back to talk to your younger self, I don't think I'll ever write any of them.
Maer:  Which character, other than Ben, is one of your favorites to write and why?
Michael:  One of the fun things about writing this novel is that Ben interacts with his younger self.  Writing the dialogue between them was enjoyable, particularly when the younger self is giving the adult self a hard time.
But other than that, my favorites were Ben's brother and sister.  The brother is this socially awkward freshman who will go on to be a tech millionaire.  But we're catching him at his high school geekiest.  And the sister is the most important character in the book.  She is the person the MC has to save.  As a senior in high school, she is everything he wishes he could be – carefree, confident and full of life.
Maer:  If you had to pick a color to describe Ben what would that be and why?
Michael:  I think he starts off as a sickly yellow – kind of scared and unhappy.  But he ends up a soothing blue-green.  How's that for a really strange spoiler.
Maer:  Intriguing, for sure. 🙂 Who are your favorite authors to read?
Michael:  I love writers who write literary fiction with a little genre mixed in.  Authors like Kazuo Ishiguro, Kevin Brockmeier and Aimee Bender.  Recent books that I've enjoyed include Ready Player One by Ernest Cline and The Dog Stars by Peter Heller.
Maer:  Can you share a bit about your current project?
Michael:  I have a couple of things in process.  One involves time freezing.  Another is about ghosts.  And then I have an idea based on a short story I wrote that is about people who find themselves with new abilities and questionable destinies.
Maer:  What do you do when you're not writing?
Michael:  Well, I do have a full time job.  And I've got a wife and two kids, so hanging with them takes up most of the non-work time.  I'm also a pop culture junkie.  I started writing reviews for a site called Pop Matters partly as an excuse to keep up with watching movies and TV shows.  I have been known to binge watch – for example, I watched the entire run of Breaking Bad over the last month or so. There are a number of random things I enjoy doing when I get the chance, such as bowling, skiing and playing the drums. Of course, I also read as much as possible.
Maer:  What influenced you to write in your genre? Do you write in others?
Michael:  I'm not sure that literary fiction is a genre.  It is more of a catch-all for work that doesn't fit a genre.  And I suppose that I fit in there because most of my focus is on family dynamics.  However, while the story often revolves around troubled families, my ideas are almost all big genre-based what-if questions.  I used to write more science fiction.  But I found that I was less interested in getting the science plausibly right than I was in the dynamics of the characters and relationships.  I truly admire SF writers that not only tell compelling stories, but also can explain how time travel might actually work in reality.  I just don't happen to be one of those writers.  I'm more focused on how a character reacts to a completely unexplainable situation than actually trying to explain how the situation came about in the first place.  Hmm, that might be a good distinction between SF and literary fiction right there.
Maer:  Yes, Sci Fi is tempting, but I get what you say about the science part of it. 🙂 What music, if any, do you like to listen to while writing?
Michael:  I'll just put the Ipod on full random and let it rip.  My giant playlist is a little like the programming for a Jack radio station – a lot of random music from the '80, '90s and today.  My tastes tend a little more alternative, but there is plenty of rock and pop in there.
Maer:  Thanks so much for sharing your debut novel with us. Do you have anything you'd like to add?
Michael:  Thanks for having me on your wonderful blog.  It's always fun to chat about writing with other writers.
Maer:  It was my pleasure, Mike. I look forward to reading We: A Novel. Best of luck with your new release!
You can buy We: A Novel
 at Amazon.
You can follow Michael at the following links: