Today's author treat is the truly awesome R.M. Clark. I've known R.M. for a couple years now and he's a talented and engaging writer. He's also smart, helpful and generous with his time. I thoroughly enjoyed Dizzy Miss Lizzie and I'm so looking forward to reading Center Point! I've been hearing some really good things about it.
About R.M. Clark
R.M. Clark is a writer and dedicated civil servant. He has written several middle grade books, including Dizzy Miss Lizzie. He lives in southeastern Massachusetts with his wife, two sons and crazy critters. Center Point is his debut "grown up" novel.
Read on for more about R.M. and Center Point!
About Center Point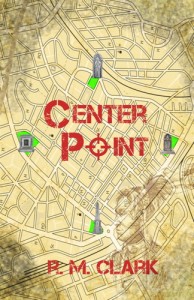 A list of names, an old map, and a drawing of a Native American warrior named Kokamet: these are the items "professional student" Dennis Kozma receives on his twenty-fifth birthday from his father, who died fifteen years ago. Unfortunately, Dennis' memory is tainted by accusations that his father defrauded their town before his death.
The map leads Dennis to the graves of the men on the list…members of a secret society awaiting the return of Kokamet. While unravelling the mystery of this society, Dennis discovers a shocking conspiracy: town officials covered up a dark secret and framed his father.
As he strives to clear his father's name, before the long-awaited arrival of Kokamet changes his quiet New England town forever, Dennis comes to two startling and fateful realizations–nothing is what it seems and all clues lead to the…Center Point.
 Now let's shine the spotlight on R.M.
Maer:  It such a joy to have you on the blog today, R.M. Thanks for joining us to tell us about your new book. What is the funniest or oddest thing that has happened to you as an author?
RM:  We'll go with oddest. I was thrilled when my debut middle grade mystery Dizzy Miss Lizzie was picked up by a small publisher in 2011. Everything went great from the initial print run, to the book launch, to the good reviews to the second print run. And then the publisher flat-out disappeared from the scene. All of her authors were left without royalties, without returned rights, and worst of all, without a clue about what happened to her. My book is still available for download but I'll never see a penny from it unless I hire a lawyer. Fortunately, that was book number three and I've written six more since then, so I'm over it. Live and learn.
Maer:  Those kind of stories are true horror stories for an author. I can only imagine what that felt like. Dizzy Miss Lizzie is a good book, too. Do you use beta readers and, if so, what qualities do you look for in a beta?
RM:  I love my beta readers! I have a front-line reader who has the unfortunate task of reading the initial draft. Another reader is great at grammar, sentence structure and cohesion. Still others are writers who know plot and voice. I ask only for honest feedback and, boy, do I get it! I thank all of them in the acknowledgement pages and I'll thank them again right now: thank you beta readers!
Maer:  What is a one line synopsis for your book?
RM:  A young man must find the connection between his late father's troubled past, a Revolutionary War battle and a legendary Native American.
Maer:  Is this a stand-alone or part of a series?
RM:  It's a stand-alone, but definitely ripe for a follow-on if I ever get motivated enough. We'll see how folks react to the first one before I chase a sequel. Dennis is ready, though! He's still in my head asking for another adventure.
Maer:  Awesome! I love when characters do that. 🙂 Which character, other than Dennis, is one of your favorites to write and why?
RM:  That would have to Russell Kozma, Dennis' uncle and the brother of his late father. He can be a bit crude, but he helps Dennis on his quest to figure out why certain town officials changed zoning laws and why sink holes mysteriously appeared in town and why a Revolutionary War battle suddenly matters and why a nonagenarian town librarian may hold the key to a 300-year old town secret.
Maer:  If you had to pick a color to describe Dennis what would that be and why?
RM:  Definitely light gray. Dennis Kozma begins his journey never having to make the tough decision, never venturing into the "white lane" or the "black lane" of life. However, that all changes when he is introduced to the Native American legend of Komaket. Dennis' color upgrades to a cool, metallic gray by book's end when he finds enlightenment after solving the mystery of the Center Point.
Maer:  Who are your favorite authors to read?
RM:  John Grisham, David Baldacci, Michael Crichton and Joseph Wambaugh. They are truly masters.
Maer:  Oh, yes they are! Some of my own faves are on that list. Can you share a bit about the project you're working on now?
RM:  My tenth novel is a middle grade mystery about Devin, a sixth grader who aspires to be a magician but is really bad at performing magic live. Then after a magic trick gone terribly wrong, he finds his body is being shared by a 19th century magician named Erich, who turns out to be a young Harry Houdini. Devin's magic is better but he has to find a way to get Erich out of his head and back to his time.
Maer:  That sounds fascinating! What do you do when you're not writing?
RM:  I try to read as much as I can, of course. I'm a big Red Sox fan and, due to recent events, I'm a very happy right now! My family spends much of our Sundays geocaching throughout New England.
Maer:  What influenced you to write in your genre? Do you write in others?
RM:  Center Point is my first and only adult mystery out of the nine novels I've completed and not trunked (the others are middle grade mysteries). I've always liked the premise that "something weird has happened and I need to figure out why." Full disclosure: I usually don't know where the story will take me and I rarely know how it will end until, well, the end. I guess that makes me a pantser! I love going on the journey.
Maer:  It does indeed make you a pantser. 🙂 I'm one, too. What music, if any, do you like to listen to while writing?
RM:  I never turn on music when I write, but it doesn't bother me much if some is playing.
Maer:  Thanks again for stopping by to share your newest book with us. Do you have anything you'd like to add?
RM:  Thank you for taking the time to have me on your blog. It's wonderful that you give writers a platform to share their stories through this site and through your podcasts. Great stuff! Oh, and Center Point will arrive November 22 from Writers Amuse Me Publishing (www.writersamuseme.com) and the usual on-line outlets in both print and digital.
Maer:  It's my pleasure, my friend. Thanks for your kind words and a great interview!
You can buy Center Point
 at Amazon.
You can find RM at the following links: