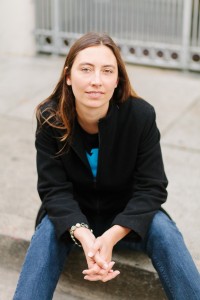 Once again I get to spotlight a friend of mine. This time it's Ramsey Hootman, fresh from her debut with Courting Greta. Ramsey is loads of fun, witty and a supportive friend. I'm so very pleased to be able to feature her new novel.
About Ramsey Hootman
Ramsey grew up in the northern California town of Healdsburg, where her debut novel Courting Greta takes place. A former travel writer, she lives in the San Francisco Bay Area.
Read on for more about Ramsey and the intriguing Courting Greta.
About Courting Greta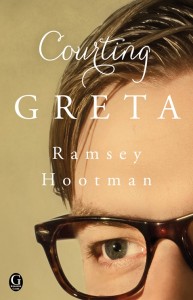 Samuel Cooke knows most women wouldn't give him a second glance even if he were the last man on earth. He's the cripple with the crutches, the nerdy computer genius every female past puberty feels compelled to mother. So when he leaves his lucrative career to teach programming to high schoolers, romance definitely isn't on his radar.
Perhaps that's why Greta Cassamajor catches him off guard. The sarcastic gym coach with zero sense of humor is no beauty – not even on the inside. But an inexplicably kind act toward Samuel makes him realize she is interesting.
Samuel is certain she won't accept his invitation to dinner – so when she does, he's out of his depth. All he knows is that he'll do whatever it takes to keep her as long as he can. Pretending he's got his class under control? Easy. Being vulnerable enough to admit why he ditched his programming career for teaching? Um, no. That would require honesty. And if there's one thing Samuel can't live without, it's the lies he tells himself.
In this poignant, witty debut, Ramsey Hootman upends traditional romance tropes to weave a charming tale of perseverance, trust, and slightly conditional love.
 Now let's shine the spotlight on Ramsey!
Maer:  Ramsey, it's a pleasure to have you on the blog today. Where did the inspiration for your book come from?
Ramsey:  First, a sudden mental image of a small guy in a black wool coat, reclining on the deck of a ship in the fog. That was Samuel, my protagonist, and the tableau became the first scene in a short story set about ten years after Courting Greta. In the story, his wife is only mentioned in passing; later, I started to wonder exactly who she might be. The person that immediately came to mind was my junior high gym coach, a woman who scared the living daylights out of me. The contrast was so interesting I decided it needed to be explored from the beginning.
Maer:  It's a fascinating premise and I cant wait to read this! Could you please give us a one line synopsis for your book?
Ramsey:  A reclusive programmer with spina bifida tries his hand at teaching high school and unexpectedly falls for the scary-butch girls' basketball coach.
Maer:  Is this a stand-alone or part of a series?
Ramsey:  Stand-alone… although I definitely have a sequel in mind if anyone's interested!
Maer:  Somehow I suspect you will have plenty of folks interested. Which character other than Samuel is one of your favorites to write and why?
Ramsey:  Greta, hands down. She's Samuel's polar opposite; while he's very verbal and snarky, she expresses herself in action. Since words are my stock in trade, writing someone who doesn't express herself verbally is a real challenge. Samuel was fairly easy to figure out, mostly because my personality is similar to his in many ways, but when it came to Greta I found myself writing and rewriting until I found something that clicked. Writing her was, in essence, my attempt to really get inside a type of person I've never understood at all.
Maer:  If you had to pick a color to describe Samuel what would that be and why?
Ramsey:  Purple – often perceived as effeminate, but can be bold and intellectual when worn with confidence and panache.
Maer:  It's become popular with a lot of guys, so I can see that. Who are your favorite authors to read?
Ramsey:  I tend to find an author I like, blow through everything they've written, and then move on. My all-time favorite is Ray Bradbury. Currently, I'm anticipating new releases from Neil Gaiman, Chelsea Cain, and Jeffery Deaver. I realize none of those are "in" the genre I write, but I read widely! And, like my protagonist, I'm a total SF nerd.
Maer:  Me, too, as you know. Ramsey can you share a bit about your current project?
Ramsey:  In one sentence: A Chinese-American adoptee returns home to put her late mother's affairs in order, but finds unexpected reconciliation with the difficult woman through an awkward romantic relationship with the local police chief and his teenage son.
Maer: Another intriguing premise! What do you do when you're not writing?
Ramsey:  Run around in a vain attempt to keep up with my hyperactive, scary-smart three year old. I also like to try new restaurants, but I just started a job reviewing them, so that might count as writing now!
Maer:  Well, I count it. So what influenced you to write in your genre? Do you write in others?
Ramsey:  I honestly never expected to write straight-up contemporary fiction. (With romantic elements! Gasp!) I always thought I'd end up writing SF. But although I like to read science stuff, fiction and non, I'm not a scientist – and what I really enjoy writing is character. I'm a natural student of human nature, and I am fascinated by why different people do what they do. One thing most people note about my writing is that the characters are all unique and feel very real, which is an element I work hard to achieve.
Maer:  It's your characters that have certainly made me add this to my reading list. What music, if any, do you like to listen to while writing?
Ramsey:  None, actually. Silence is best, although I'll occasionally do some wordless techno or classical while editing. What I do need to write, however, is a window.
Maer:  Ramsey, it was such a treat to get a peek inside Courting Greta. Thanks for joining me today. Do you have anything you'd like to add?
Ramsey:  Thanks for having me on your blog!
You can get Courting Greta
at Amazon and Barnes & Noble.
Keep up to date with Ramsey at the following links: