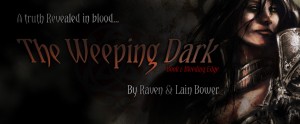 Today's guest is Raven Bower, one half of the writing team who recently debuted their new novel, Weeping Dark: Bleeding Edge, published by Crescent Moon Press.
Raven and Lain Bower are a wife and husband team obsessed with creating worlds, creatures, stories and chaos. They live in North West Michigan with their four rambunctious kids, three renegading Hell Hounds and alien doom cats. When not occupied with the aforementioned minions or writing, they enjoy gaming of all sorts from PC to console to tabletop, voracious reading, target shooting and gardening – gothic style.
Their books include the "Apparitions" supernatural suspense series, the "Vengeance" urban fantasy series and their new epic fantasy series – Weeping Dark: Bleeding Edge.
Raven is also the Lead Designer and Head of Hydra Games, a new game company specializing in Pathfinder Roleplaying Game compatible worlds, adventure modules and supplemental materials. They are also starting a video game arm.
For more fun with Raven and Weeping Dark: Bleeding Edge read on!
Weeping Dark: Bleeding Edge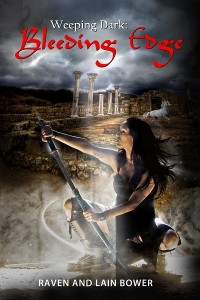 When a rash of brutal murders target the most defenseless of her people, spunky captain Shayla Dormyr is determined to bring the culprits to justice. Defying the command of the Prima Canticle, who claim jurisdiction over the ritually slain children, Shayla embarks on a rebellious mission that could cost her rank and freedom.
When she unwittingly exposes a Blood Rune to her prime suspect, the troublesome sell-sword Daibryn, it unleashes arcane consequences that renders them vulnerable to an ambitious and cruel blood mage.
Shayla and Daibryn embark on an adventure that will take them to worlds far larger than they ever imagined where love, hate and mystery put their souls to the test.
And now on to Raven's interview!
Maer:  You write with a partner, your husband, which I find fascinating. How do you divide the writing duties and decide who does what?
Raven:  I bring out the whips and chains and…errr…no one saw that right? 😀  We have a sort of symbiotic relationship when it comes to writing and play off each other's strengths. For example, Lain is stellar when it comes to fight scenes, ensuring the logic flows well and that there aren't any gaping plot holes. I'm the character writer, the one who does the plotting, rough draft, gets into the (sometimes filthy) minds of the characters and such.  We bounce the drafts back and forth, each working on it individually until the final copy – that's when we go through it together, scene by scene.
Maer:  How do you divide the non-writing work, such as events and interviews? Do you both attend signings and other personal appearances?
Raven:  I'm the one who usually handles all the events, interviews and social media – Facebook & Twitter – along with our blog. We attend signings and conventions as a couple though. Makes for a grand time! Meet lots of interesting folks.
Maer:  Your book sounds fascinating. Could you give us a one line synopsis?
Raven:  The dread one line synopsis! Eeep! I'm horrible at them, but here's a whirl – When children from her district are ritualistically slain and her city is attacked, spunky Captain Shayla Dormyr must fight for her people, her heart and her soul.
Maer:  Yes, that is an evil question isn't it? But you did great with your answer! Which character other than your MC is one of your favorites to write and why?
Raven: Excellent question. I'd have to choose Mephrystis (one of the antagonists) because he's so diabolical – a completely unscrupulous genius that makes for a nice change from Shayla's blunt honesty.
Maer:  Ah, I like that. Now, if you had to pick a color to describe your MC what would that be and why?
Raven: I've always associated Shayla with blue. It's a color of strength. It's also lofty, like her ideals, and honest like her heart…and sometimes excessively cutting honesty that rambles off her lips!
Maer:  Who are your favorite authors to read?
Raven: Oooh I have a ton of favorite authors *hugs them all*. Some of them are R.A. Salvatore, Douglas Niles, Margaret Weis and Tracy Hickman, James Rollins, Steve Alten, Tania Carver, Thomas Harris, Carla Neggers, Lisa Jackson, Elizabeth Lowell, Dean Koontz, Stephen King and Robert McCammon.
Maer: Oh, you have some of my own favorites in there. As a writer, it seems there's always one more book. Can you share a bit about your current project?
Raven: I'd love to! Right now I'm working through the rough draft of Smoke, which is the sequel to Primal – part of the "Vengeance" urban fantasy series. Really enjoying getting back into that gritty, saucy world. Werewolves, vampires and doom oh my!
Maer: That does sound like fun! Raven, what do you do when you're not writing?
Raven: Movies – I'm a hopeless movie addict. Did you know Netflix has a 500 limit on how many movies you can save in your queue? Evil I say, evil! I've also recently acquired the hobby of creating aquascapes with live plants, natural rocks and building fish communities. It's amazing, learning about aquatics and fish and how they can form entire mini-ecosystems in the tanks.
Maer: I didn't know that about Netflix, but I suspect I don't have your dedication. Your hobbies sound interesting and fun! Raven, what influenced you to write in your current genres? Do you write in others?
Raven: We write in what we call our tripod of doom – fantasy, urban fantasy and horror. I get many story ideas for projects outside of those realms but for me the fantasy, the grit, the supernatural – the…otherworldliness of ghosts, creatures, magic and monsters is what grips me, what enthralls me and causes that ever-vexing question of 'what if?' For me, that's what it's all about and my greatest hope is that the thrill of exploring these worlds, characters and stories transfers onto the page and lifts the reader off into those fantastic realms.
Maer:  What music, if any, do you like to listen to while writing?
Raven:  Music is the inspiration for many creative twists on plot, character and other aspects of our writing. Here is where Lain and I differ dramatically. He loves to listen to music while writing and writes best while doing so. I can listen to music before or after writing, but not while writing – it's too distracting. I get too caught up in the music and lyrics, which is a kudo for the musicians doing their job and transporting a listener into their world, I just can't be in their world and mine at the same time.
Maer:  Raven, thanks so much for a fun and interesting interview. Do you have anything you'd like to add?
Raven: Thank you for hosting us! It's a pleasure to be here and have the opportunity to share a bit of our world with you and yours.
Maer: The pleasure was all mine.
You can buy Weeping Dark: Bleeding Edge
 at Amazon.
To find out more about Raven and Lain you may visit their website at www.ravenbower.com or email raven@ravenbower.com.
Or stalk them on: