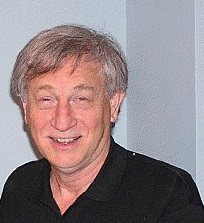 Today I welcome S.B. Redstone to the blog with his mystery novel, A Sinister Obsession. Described as "a page turner thriller" by a Top 500 Amazon Reviewer, this novel sounds intriguing, edgy and dark. Just my cup of tea!
About S.B. Redstone
After attaining master's degrees in Social Work and School Psychology, and then completing a post-graduate education in Psychoanalytic Therapy, he became a School and a Licensed Clinical Social Worker in his private therapy practice on Long Island. S.B. wrote a personal improvement book, Taming Your Inner & Outer Bullies: Confronting Life's Stressors And Winning. He's also written articles on the web concerning human nature and relationships, given lectures, and appeared on radio shows. Always having a vivid imagination and a desire to write, he became a successful writer of short stories. It was time to move on to larger works. His mystery novel, A Sinister Obsession, was published by Black Opal Books. As an expert in the field of human psychology, S.B. has been able to develop realistic characters from the dark side of human nature where his villains don't aspire for happiness through personal achievement, but rather from their demented narcissistic schemes. Many of his characters have roots from his clinical work. S.B, is a member of the International Thriller Writers Org.
Read on for more about SB and A Sinister Obsession…
About A Sinister Obsession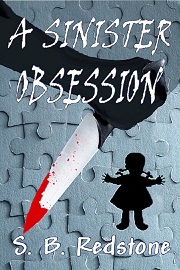 A psychopathic killer on a quest leaves behind a string of brutal murders, and to find the Who, the police must first discover the Why…
Detective Aubrey McKenzie has been assigned to investigate the murders. A lovely, fabulously wealthy, dark-haired Scot, whose iron will was forged in the inferno of human tragedy, Aubrey is stymied by the lack of solid clues. Now she must rely on her paranormal ability to apprehend the killer—an ability that has been invaluable in her police work but has made a disaster of her social life. Fate teams Aubrey with Detective Joshua Diamond, a handsome, talented, and compassionate man who is more than happy eating a greasy bacon-cheeseburger and wearing clothes that should have been thrown out with the trash. In a race against time, Aubrey and Joshua must overcome their vast differences—and their attraction for each other—and discover the identity of this elusive killer, and the quest this fiend is on, before more lives are destroyed.
Now let's shine the spotlight on SB!
Maer:  Thanks for joining us to tell us about A Sinister Obsession. What is the funniest or oddest thing that has happened to you as an author?
SB:  I've had odd things happen, but not funny so far. Years ago, when I was sending out my non-fiction psychology book, Taming Your Inner & Outer Bullies: Confronting Life's Stressors And Winning to publishers, I was joyfully accepted by New Horizon Press Books. Days later, after my heart calmed down, I went to enter the acceptance into my submissions folder on my computer. That's when I was stunned, realizing that I had previously sent it New Horizon Press Books and received a rejection! I don't know why I inadvertently sent it to them again. Fate? Otherwise, nothing in this business has been funny for me unless one has a sick sense of humor, as I do, and laughs at seeing the word "Unfortunately" on every rejection notice, from every literary agent and publisher I queried, as if they had all taken the same course on the polite way to reject you. The truth of writing, more often than not, it can be a depressing business, waiting months for acceptances only to be rejected. If you don't believe in yourself, it's really tough to continue to be creative. Between rejections you keep writing, thinking the next story you create will be the one that will get you a book contract. When that doesn't happen, hope can be further shattered when desperation has you linking up with charlatans who waste more of your time. But when success comes, as it did with this novel, the joy is exhilarating.
Maer:  Do you use beta readers and, if so, what qualities do you look for in a beta?
SB:  Yes I do. For this novel, I had two readers who were essential in improving its quality. They are two friends of mine, one a teacher, and the other a surgeon who cuts far deeper into my story than in the human body for finding grammatical errors and improving elements of the plot. I trust both of them and it paid off. My novel, A Sinister Obsession, was accepted and published by Black Opal Books. BOB's two talented editors further provided a textbook full of notes on what not to do, if you want a successful novel. What I've learned as a writer, I can be so caught up emotionally in the story that I can't pick up my own errors. The essential qualities of readers are not only their good judgment and critical eyes, but their bold honesty. If they hold back, fearing they'll upset me, then the improvements will not happen.
Maer:  Indeed, that's true. What is a one line synopsis for your book?
SB:  Some people's dreams and desires are other people's nightmares!
Maer:  Is this a stand-alone or part of a series?
SB:  When I conceived of this story, I wasn't thinking of promoting the main characters for a series. With that said, I will probably do a second novel of equal quality. Not only do I love detectives Aubrey McKenzie and Joshua Diamond and am eager to see them come alive again, but the reviewers and readers have suggested I do. I do have a story where they can team up again, but I am I'm writing a story that I'm also passionate about, and will see it to its conclusion.
Maer:  Which character, other than your main charatcer, is one of your favorites to write and why?
SB:  Assuming Detective Aubrey McKenzie is my main character, I have a great affinity with Detective Joshua Diamond. He is the closest part of me. He is the observer with a compassionate vision of life. He looks at the world's cruel insanity and only has sympathy and caring for its victims. He understands the complexity of the human heart and has the courage to face the truths about himself, good and bad. As a School Psychologist and Licensed Clinical Social Worker, it's been the foundation of my work with people.
Maer:  If you had to pick a color to describe Aubrey what would that be and why?
SB:  There is no question that it is the color "red". Red is the fire in Aubrey's soul. It is the rage that drives her obsession to seek justice for the victims of crimes. And it is the intense passion and desire in her heart to find love.
Maer:  Who are your favorite authors to read?
SB:  I don't have a favorite author. I pick up a book at the library and if the story interests me, I read it. The fame of the author holds no interest for me. Years ago, when I was focusing on the horror genre, I did have favorite authors like Stephen King, Peter Straub, and Dean Koontz's, but after their debut novels, I was not impressed. I felt they were writing for the money and not for the love of their stories. I enjoy authors like Ernest Hemmingway and Elroy Leonard whose novels centered on what he cared about and that passion came through in his writing.
Maer:  Can you share a bit about the project you're working on now?
SB:  I am writing a senior romance, my term, the group I am now a member of. It takes place in a fifty-five and over retirement community. However, La Bella Vita is like no other retirement community. It is a magical place where its residents have the opportunity to be young again, sort of. In this highly humorous, yet serious work about relationships, some residents will seek their most cherished wishes and others will only repeat their sad histories. Even in a magical place happiness is never guaranteed.
Maer:  Sounds like fun. What do you do when you're not writing?
SB:  I have a home in New York in close proximity to my children and grandchildren, and a home in a fifty-five and over retirement community in south Florida. My golf clubs are in both homes. As the readers soon come to realize golf is entwined in every story I write. I also keep active with tennis, bowling, and fishing. I love to cook, creating my own recipes, which my wife is the critic. I am an artist, but haven't put much time into that passion of mine. When my gifted son out shined me; he was only seven years old, I gave him my paint brushes. He became a professional artist and is now the assistant art director on the successful television show. At this time, writing and marketing my books is like a full time job, but thankfully I don't have to leave the couch.
Maer:  SB, what influenced you to write in your genre? Do you write in others?
SB:  I write stories that I love in my head. I'm not influenced by anyone, but I've learned a great deal from many fine writers who have improved my writing skills. I don't think genre anymore. I don't think what kind of story will become a bestseller. I think about social issues and characters. I think about human nature and relationships. All my stories have a mixture of genres, which can include a bit of horror, suspense, mystery, romance, and supernatural. Of course, they are all psychological as that's my training and nature. As Shakespeare designed in his plays, I prefer to begin my novels with a heartfelt crisis or a special sparkle and let the story develop and unfold. The first novel I attempted after having a successful run of short stories on the Internet and in print, I had titled, Succubus Resurrection, about the first woman burned at the stake in history accused of copulating with Satan. My story centers on what happened to this victimized woman after her agonizing death. I am not seeking to have it published at this moment. My third novel, Stardust Dreams, a romance, is awaiting an acceptance or rejection at two traditional publishers. It is a unique love story set in the near future, on an amazing planet twenty thousand light years away, and returns to Earth two hundred thousand years in the future.
Maer:  Wow, lots going on! So what music, if any, do you like to listen to while writing?
SB:  I write on my computer and listen to Opera, Celtic, American standards, Broadway shows tunes or serene orchestration. When I am writing a sad scene, I work in silence as I re-record the dialogue over and over in my head and am totally absorbed in the mood. When I am doing marketing and promotional work I need something more lively.
Maer:  SB, thanks os much for joining us today. Do you have anything you'd like to add?
SB:  From the tone of my responses, you can see that the writing business isn't all fun and excitement. Persistence is an essential quality to possess. Learning from others is essential for success. For me it's all about fulfilling a dream. Not giving up on one's dreams that lead to a happier life. Too many years ago, all my time was spent studying in college, attaining masters degrees, a post-graduate degree in psychoanalytic psychotherapy, and focusing on my two careers, family, and getting caught up in other projects that kept me from writing. Finally, I woke up and realized what was really important to me. I put aside the non-essentials and wrote. The main characters, Detectives Aubrey McKenzie and Joshua Diamond don't want their dreams to dwindle away either. Even characters have a chance for a happier life. When we cling to foolish pursuits, we let the really important ones get away from us. I've seen that with family, friends, and patients. It's one of the reasons I wrote my book on psychology and relationships, so people could understand why we give up on our dreams. Unfortunately, there are evil people in the world that want their dreams fulfilled as well, only they achieve theirs through the pain and suffering of others. That is what A Sinister Obsession is all about. For all readers looking for a great novel that entails mystery, suspense, dark fiction, a paranormal female detective, a combative 1940's style romantic relationship between detectives, a hot social topic viewed from a humanistic perspective, and an elusive suspect whose narcissistic obsession leads to heartless murders and a diabolical scheme to achieve personal happiness, then my novel A Sinister Obsession will surely entertain you.
Ready to add A Sinister Obsession
 to your bookshelves? You can find it at Amazon and Barnes & Noble.
You can find SB at these links: