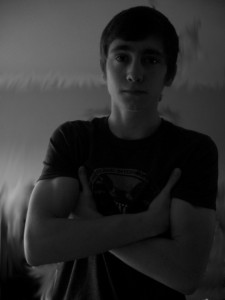 It's a treat to extend a special welcome to Sam Whitehouse, author of the brand new novel, The Keys of Time. This is the first book in the new series, The Prophecy of Three Quartet, and it sounds fascinating! Urban Fantasy blended with the Authurian legends? Right up my alley!  Let's find out more.
About Sam Whitehouse
Writer by day… and night. There is very little time in the day when he isn't writing, or at least thinking about writing. Sam is also a huge Marvel fan, movie buff and proud Potterhead. Give him a book by J K Rowling, Stephen King or anything with plenty of action, fantasy and adventure; or a movie directed by Steven Spielberg, Peter Jackson or JJ Abrams and he's happy. When Sam isn't writing you could probably find him reading, mountain biking or exploring the Yorkshire countryside where he live. The Prophecy of Three Quartet was born from an abiding fascination with myths and legends and the inspiring, epic countryside of England.
Read on for more about Sam and The Keys of Time!
About The Keys of Time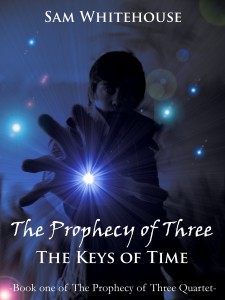 Everything changed for Simon Falke the first time he fell through the fire. 

Just beneath the surface of our world, a centuries old war between Light and Dark magic is waging. Wielded by Morgana, the Dark is growing in power. But a long foretold prophecy, The Prophecy of Three, could change everything. 

Not many teenagers can say they are the subject of an ancient prophecy. Fewer still can say they have inherited the powers of a wizard and a responsibility for the fate of the world. Simon, Evelyn and James are three who can. From the moment they learn of the Prophecy of Three, they are thrown into the war against Morgana, whom prophecy states they will destroy. 

Immersed in a dangerous new world of ancient magic, power hungry witches, insidious creatures and limitless power, Simon, Evelyn and James must hunt down the Keys of Time. For with the Keys Morgana would be unstoppable… 

Not exactly the life of your average teenager. 

Read the first in an epic new Urban fantasy series that blends modern day with Arthurian myth and legend.
Now let's shine the spotlight on Sam!
Maer:  Sam, thanks for joining us to tell us about your new book. What is the funniest or oddest thing that has happened to you as an author?
Sam:  Waking up in the middle of the night with an idea or a sudden urge to write. This happens often more and more frequently and I've started keeping a notebook close at hand so I don't have to start up my laptop.
Maer:  Good idea. Do you use beta readers and, if so, what qualities do you look for in a beta?
Sam:  I've only just learned about beta readers, through various Facebook pages and haven't used them myself yet. But I've heard a lot of good things and I know it's always useful to get someone else's opinion and advice on your writing, so in the future I will definitely be looking into beta readers. As for qualities in a beta reader, I think I would look for someone who is passionate about the genre I am writing in and who is an avid reader.
Maer:  What is a one line synopsis for your book?
Sam:  A war is waging, between Light and Dark magic, three teenagers and an ancient prophecy are all that stand against the destruction of two worlds.
Maer:  We already know this is part of a series. How many books do you have planned?
Sam:  It's the first in a series of four, a quartet, called The Prophecy of Three, which I have been planning and writing for four years now.
Maer:  Wow, that's quite an undertaking. Which character, other than Simon, is one of your favorites to write and why?
Sam:  I think my favorite character to write for, particularly their voice, is the villain, Morgana. It's cool to be able to write a character so evil. I always think villains are more interesting to write than heroes.
Maer:  The villains can certainly be fun. If you had to pick a color to describe Simon what would that be and why?
Sam:  Green possibly, because to begin with he is young and inexperienced, but gradually grows as the series progresses.
Maer:  Who are your favorite authors to read?
Sam:  J K Rowling, Stephen King, Philip Pullman and Rick Riordan. The Harry Potter series and Rowling's skill with world building is a big source of inspiration.
Maer:   You have some of my own personal faves in there. 🙂  Can you share a bit about the project you're working on now?
Sam:  Right now I'm hard at work editing book 2 of The Prophecy of Three Quartet whilst writing book 3 and planning book 4. I'm also working on a YA sci-fi set on an island in the middle of the ocean and the first in a trilogy that is about Harry Houdini and Demons.
Maer:   That's one busy schedule. What do you do when you're not writing?
Sam:  Read. A lot. I also like to watch TV shows like Lost, Fringe, CSI, Prison Break, The Mentalist, Person of Interest and a whole load more. I like to mountain bike too, helps to clear my head and give me a break from thinking about writing.
Maer:  What influenced you to write in your genre? Do you write in others?
Sam:  I have always been a fantasy fan and The Prophecy of Three Quartet was born from that. Myth and legends have always fascinated me, particularly British folklore and Arthurian legend (King Arthur, Merlin etc.) and so I wanted to create my own world that I could control and create. I do write in other genres. I've recently written a few short horror stories and I'm working on a sci-fi trilogy at the moment, which I am enjoying.
Maer:  So tell us, Sam, what music, if any, do you like to listen to while writing?
Sam:  I don't listen to music whilst I'm writing, but I sometimes listen to the Lord of The Rings soundtrack or any epic movie soundtracks to get me in the mood. Recently, the Hobbit trailers have been great for getting me in the mood… they are just so epic and cool.
Maer:  They are indeed. Sam thanks so much for dropping by to share your new book with us. Best of luck to you with your series.
You can find The Keys of Time (The Prophecy of Three)
 at Amazon and Amazon.co.uk.
You can find Sam at the following links: