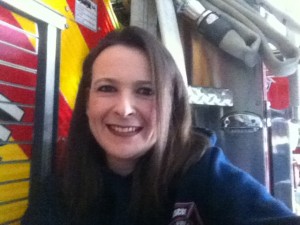 Shannon Eckrich is fun, helpful and an awesome writer! She's also another one of my friends from Crescent Moon Press. So, it was a real treat to get to interview her for our feature today. Be sure to check out her novel, Other Side of Forever!
About Shannon Eckrich
Born and raised in Delaware, Shannon Eckrich lives with her husband, two children, and chocolate lab, Chewy, along with her newest addition, Taylor, a spunky little kitty who loves to terrorize her while she's writing. Shannon's second love is the paranormal. Ghosts, angels, vampires, aliens, immortals, it doesn't matter, she's obsessed with it all, which is why she's compelled to write stories in the
paranormal genre.
Read on for more about Shannon and Other Side of Forever!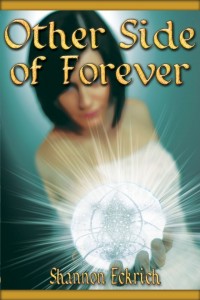 Other Side of Forever
What if your life finally seemed to make sense? But, what if in an instant everything is taken away? How far would you go to get your life back?
Seventeen year old Allie Anderson's telekinetic powers are anything but useful — she can't bring her father back, can't stop her mother's downward spiral into alcohol, and can't keep her from falling in love with Ethan Bradley. Loving Ethan is easy, but it comes with a hefty price: Ethan is prohibited by his people from interacting with mortals because he isn't mortal himself. When Allie and Ethan's love is discovered, there's someone who will do anything to keep them apart. If Allie can't learn to control her powers and fight to save Ethan, this dark entity will make every attempt to stop her beating heart. And if that happens, not even the energy of an immortal can bring her back.
Shimmering with strong paranormal elements, a touch of mystery, magic, and a forbidden love story worth dying for, Other Side of Forever will leave you craving more.
Now let's shine the spotlight on Shannon!
Maer:  Hi, Shannon and thanks for joining us to tell us about your new book. It sounds intriguing and I can't wait to read this one!
Shannon:  Hi, thanks so much for inviting me here today.
Maer: It's my pleasure! So tell us where the inspiration for your book came from?
Shannon:  Okay, so don't laugh, but Twilight officially inspired me to write Other Side of Forever. The funny thing is a friend recommended the book to me, but I kept putting it off because I wasn't really into vampires. I mean, I like Bram Stoker and Anne Rice, but I only watched their movies, not read their books (shh…don't tell anyone). But then Twilight came out on DVD, so I got kind of curious as to what all the hype was about. Let's just say I was hooked by the end of the movie.
I then purchased all the books, read them a hundred times over, and decided I wanted to write my own story. You know, create my own world, my own characters, and end a story the way I wanted it to end. But I wanted it to be different, not the stereotypical immortal stories you see every day, and I wanted readers to be able to relate to my characters even though they had special abilities. So even though my characters may have supernatural powers, they also have a lot of flaws.
Once Allie and Ethan popped into my head, they basically wrote the story themselves.
Maer:  You have to love when characters do that. Is this a stand-alone or can we expect to see more from Allie and Ethan?
Shannon:  I'm working on the sequel to Other Side of Forever now. I'm not entirely sure if the second book will be the last one or not. It all depends on if Allie and Ethan are finished telling their story.
Maer:  Which character other than Allie is one of your favorites to write and why?
Shannon:  That would have to be Ethan. Not only is he very powerful, but he has such an interesting past. And he's super hot!
Maer:  Super hot is good! 🙂 Now if you had to pick a color to describe Allie, what would that be and why?
Shannon:  Definitely red because it's associated with energy, strength, power, determination as well as passion, desire, and love. And, well, I just described Allie.
Maer:  When you're not writing and get time to read, who are your favorite authors?
Shannon:  Some of my favorite authors are Alyson Noel, Angie Sage, Gayle Forman, Lauren Oliver, Laurie Halse Anderson, Avery Olive, Michelle Clay, and Stephen King. As you can see, I don't have a specific genre.
Maer:  Great list! So what are your working on now. Can you share?
Shannon:  Right now I am in the very early stage of writing a sequel to Other Side of Forever. Very early stage. Allie is going to be going through a very difficult time in her life, trying to figure out who she really is. I think most of us go down this road, especially, teens. But, even as adults, we often ask the question: Who am I? Hopefully, I haven't revealed too much, because even though I tried to hint around in Other Side of Forever, I want this to be a huge surprise. So, stay tuned for more information!
Maer:  I will indeed stay tuned! Shannon, what do you do when you're not writing?
Shannon:  When I'm not writing, I'm usually social networking, volunteering with my husband at the local firehouse, taking care of things around the house, or working part time at a high school. I stay pretty busy!
Maer:  I always find it fascinating how writers pick their genres. What influenced you to write in the Paranormal genre? Do you write in others?
Shannon:  I love the paranormal. I've tried writing other genres, but something supernatural always seems to happen to my characters.
Maer:  What music, if any, do you like to listen to while writing?
Shannon:  I mostly listen to Pop music while I'm writing, but I switch to rock for my fight scenes.
Maer:  Shannon it was such a pleasure to have you here today. Do you have anything you'd like to add?
Shannon:  I sure do. 🙂  If you're into really hot guys, a new take on powers and abilities, emotionally-charged scenes, and a teen girl who isn't afraid to kick some serious immortal butt, then you MUST read Other Side of Forever.
Maer:  There you have it, readers! Please check out Shannon's Other Side of Forever
 at Amazon!
Want to know what Shannon's up to? You can follow her at the following links: