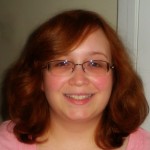 Today I welcome author Shannon McRoberts as she chats with me about her book, Verses of Athine. Let's find out a little more about Shannon.
About Shannon McRoberts
Shannon is an avid reader and gamer who loves comic books/fantasy/sci-fi. She work during the day at a full time job, but like most artists would love to make it with her art. She's also into fantasy art/poetry/photography.

About Verses of Athine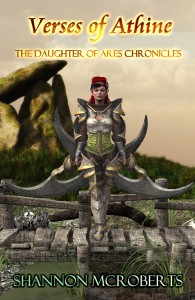 Take what you know about mythology and throw it out the window….
Do you have any idea what Zeus, Odin, Pandora's Box, Atlantis, Machu Picchu, Hera, Nike, Dragons, Vlad, Clones, and Vampires have in common? Athine does!
Athine is not your ordinary immortal born goddess. Learn of her mysterious origins, learn why Zeus hates her so much, find out where vampires come from, and learn what really happened to the dragons.
The Daughter of Ares Chronicles follows Athine as she uncovers the secrets of her destiny while interacting with key figures from many mythologies.
Read on for more about Shannon and her novels!
Now let's shine the spotlight on Shannon!
Maer:  Thanks for joining us today, Shannon. Where did the inspiration for your book come from?
Shannon: I was sitting at home one day on maternity leave and I had this idea of a girl that would be the daughter of Ares and she would "make the world quake at her feet".  It spiraled out of control from there to the book I have out currently.
Maer: Sound like an intriguing premise. Do you have  a one line synopsis for your book?
Shannon:  Xena falls into the Lord of the Rings–magic, epic adventures, life altering choices.
Maer:  Is this a stand-alone or part of a series?
Shannon:  Verses of Athine:  The Daughter of Ares Chronicles is both.  Originally all the books, 1 through 4, were standalone and loosely connected because I never intended for them to be a series.  However, recently I have added information and tightened up the connections.  I am working on book 5 in the series right now that will pick up from this book.
Maer:  Which character other than Athene is one of your favorites to write and why?
Shannon:  Nikeda, she is the Moriarty of the series and came out of left field one day.  I probably also enjoy Zarra too.  She is the first character I ever created!
Maer:  If you had to pick a color to describe Athene what would that be and why?
Shanon:  Blue because she is like me a lot, brooding, cold, and has a lot of responsibility that she keeps to herself.
Maer:  Who are your favorite authors to read?
Shannon:  Anne Rice, Quinn Loftis
Maer:  Can you share a bit about your current project?
Shannon:  Book 5 is Cursed Bloods and will follow right after the end of Verses of Athine.  I hope to have it out by 2014, but writer's block and real life have kind of cut down on my writing time!
Maer:  What do you do when you're not writing?
Shannon:  Sleep 🙂
Maer:  LOL Lucky you! What influenced you to write in your genre? Do you write in others?
Shannon:  I write what I like.  I gravitate towards sci-fi and fantasy…so yeah I guess things like Xena, D&D, the SyFy Channel…these influenced me the most.  I also write poetry.  Sad, dark, depressing poetry!
Maer:  What music, if any, do you like to listen to while writing?
Shannon:  A lot.  I have a wide taste.  I have ADHD so I have to have music on to concentrate.  I prefer rock like Tool, Disturbed, Staind, Marylin Manson, Stone Sour, Seether.  I do like country like The Band Perry and of course Adele.
Maer:  Thanks again for joining us today, Shannon. Do you have anything you'd like to add?
Shannon:  I have recently redone my book pricing and availability.  After publishing Verses of Athine in paper I discontinued the stand alone titles of The Narkurru, The Blood Sisters, and Worlds Collide–book 2, 3, and 4.  However, I have left Athine Verses:  The Beginning–the entire first book- as a stand alone freebie.  I also have two other short stories for free on Smashwords.  I also will be bringing The Secret of Genetic Corp X out in paper as well as "Erosion of the Heart" (poetry) sometime soon.  
You can buy Verses of Athine (The Daughter of Ares Chronicles (Collection)
 at Amazon.
Shannon McRoberts can be found at the following links:
Shannon's Website
Shannon on Twitter
Shannon on Facebook
The Daughters of Ares Website