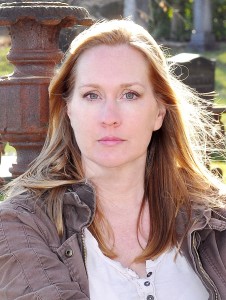 It's a great pleasure to host Shawna Romkey today. I thoroughly enjoyed her debut YA novel, Speak of the Devil, and love this chance to get to know the author a little better.
Shawna grew up around farms in the heart of Missouri but went to the University of Kansas, was raised in the US but now lives on the ocean in Nova Scotia with her husband, two sons, two rescue dogs and one overgrown puppy from hell. She's a non-conformist who follows her heart.
She has her BA in creative writing from the University of Kansas where one of her plays was chosen by her creative writing professor to be produced locally, and two of her short stories were published in a university creative arts handbook.  She earned her MA in English from Central Missouri State University where she wrote a novel as her thesis.
She's taught English at the university and secondary levels for close to twenty years and can't quite fathom how all of her students have grown up, yet she's managed to stay the same.  She's a huge geek and fan of Xena, Buffy and all kick ass women, and loves to write stories that have strong female characters.
About Speak of the Devil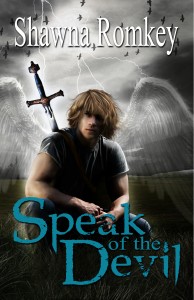 What happens when falling in love and falling from grace collide?
After dying in a car accident with her two best friends, Lily miraculously awakens to grief and guilt. She escapes to her dad's to come to terms with the event and meets some people at her new school who seem all too eager to help her heal. Sliding deeper into sorrow and trying to fight her feelings for two of them, she finds out who…what they really are and that they are falling too.
Can she find the strength to move on from the past, reconcile her feelings for Luc, find a way to stop a divine war with fallen angels, and still pass the eleventh grade?
Now let's shine the spotlight on Shawna!
Maer:  Shawna, Speak of the Devil was such a fun read. It's awesome to have you join us to share more about your book. Where did the inspiration for your book come from?
Shawna:  I was inspired to write it based on something that happened in my life. Three of my friends were killed in a car accident in high school. At a time in your life where nothing is definite and emotions are intense, something like that is unfathomable and I remember I wasn't equipped to cope with it.
Maer:  That would be tough to deal with at any age, but especially in high school. Lily's emotions are very strong in the book and I'm sure your own experiences explain how you captured her reactions so realistically. Could you please give us a one line synopsis for your book?
Shawna:  After losing her two best friends in a car accident, Lily runs away, falling into grief and meets up with a group of new people who are falling from grace.
Maer:  Your characters are so intriguing. Can we expect to see more of them in the future?
Shawna:  I'm planning on it to be a trilogy, so two more. The second book is in the polishing stages and should go off to my publisher next month.
Maer:  With such a diverse group of characters, which one, other than Lily, is one of your favorites to write and why?
Shawna:  I ended up liking Violet a lot. She's a typical mean girl, then turns friend, then frenemy, until in the end you just don't know where her loyalties lie.
Maer:  Yes, she was loads of fun to read, too! If you had to pick a color to describe Lily what would that be and why?
Shawna:  Blue, she's very sad at the start of the book.
Maer:  I'm assuming like most authors, you alSo enjoy reading. Who are your favorite authors to read?
Shawna:  George RR Martin & Marion Zimmer Bradley
Maer:  Those are two of my faves, as well. Can you share a bit about your current project?
Shawna:  I'm finishing up the second book in the series, The Devil Made Me Do It. It's the middle in the series, so it's The Demons Strike Back. Things don't go well for our main character and she meets some of the darkest, most evil villains in existence.
Maer:  What do you do when you're not writing?
Shawna:  I teach marketing at a community college and waste a lot of time on Facebook.
Maer:  I think a lot of us are guilty of that. What influenced you to write in your genre? Do you write in others?
Shawna:  I've written contemporary and fantasy before, as well as plays and screenplays. I just thought I'd try it and found I really liked it. I may stick with it for a while.
Maer:  What music, if any, do you like to listen to while writing?
Shawna:  Usually nothing in case it's a very emotional scene or a party scene. For this one I listened to a lot of modern rock, alternative music. Sivlersun Pickups, The Foo Fighters, The Trews.
Shawna, thanks so much for stopping by and sharing a little more about yourself and you awesome book.
Shawna's Giveaway!
Now, Shawna has hidden some Easter eggs in her blog tour. If you find them and decipher the pass code, you can win a signed copy of Speak of the Devil, a swag pack and a $25 Amazon gift card!
To enter, read through her post today. In it, you will find an Easter egg (a letter that stands out.) Find her other blog entries for the tour. (HINT: the list is posted on her website at www.shawnaromkey.com.) You will find Easter eggs in the starred blog posts, too. Once you've found the eggs in each post, put them together to find the secret code and tweet the code including @sromkey #speakofthedevil (ANOTHER HINT: the letters are in order.) (AND ANOTHER HINT! The secret code will look like this: — — – —- — — —–)
One winner will be chosen from the entries on Easter, March 31! Good luck!
Want your own copy of Speak of the Devil? You can find it
at Amazon and Barnes & Noble.
Want to stay up-to-date with this wonderful author? Here are her links: