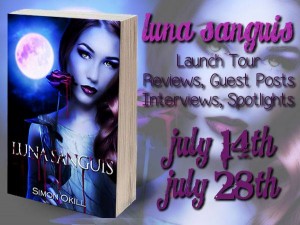 Not too long ago I featured a cover reveal for a new novel, Luna Sanguis, a blood-red-hot, 18+ trip to the darker side. Today, the man behind the book, the wonderful and generous Simon Okill, has joined me to share some things about himself and his new novel.
About Simon Okill in His Own Words
I live with my wife, Shirlee Anne and our cat, in a pretty coastal town in South Wales, UK. We both love Stephen King and had read many of his books and enjoyed their transition to the screen. Due to our love of books, my wife and I dabbled in writing for some years as a hobby. We were approached by a film company to write a paranormal TV series. We struggled most nights and all through weekends to come up with 22 episodes only for the company to go bust. Then after an accident at work, I was forced into early retirement due to disability. I used my newfound skills as a writer to help with my depression. We decided to use our TV series episodes as templates for film scripts and novels. My writing became more serious as certain A-list actors expressed interest in my scripts and my debut novel Nobody Loves a Bigfoot Like a Bigfoot Babe was accepted by Christopher Matthews Publishing after so many British publishers turned it down.
Read on for more about Simon and Luna Sanguis!
About Luna Sanguis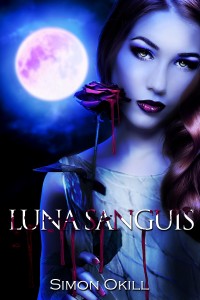 Paris 1925. A young woman is nearing her Eternal Vampire state as her birthday approaches. She is held captive by the hybrid vampire she created and slowly drained of her pure blood to keep his addiction in check. She outwits him and escapes to a chateau in the hope of reaching maturity. But he follows her unmistakable scent and massacres all that dare protect his supply of Eternal blood.
She awakens in a tiny room trapped and defenseless with amnesia, but something deep in her subconscious yearns to be set free by the next full moon – the date of her Eternal Birthday. Her true self, Eternal, emerges in brief flashes of awareness to protect her from the horrors of this terrifying prison. Desperate, she forges an alliance with her true love, a gorgeous young doctor treating her.
But her nemesis is out there somewhere, relishing the hunt for her blood – and nothing will stop him from becoming Eternal.
Now let's shine the spotlight on Simon!
Maer:  Thanks for joining us to tell us about your new book, Simon.
Simon:  You're welcome, Maer. Glad to be here to chat about Luna Sanguis.
Maer:  I always love hearing where authors get their ideas. Where did the inspiration for your book come from?
Simon:  My love of vampire films inspired me from the moment I read Salem's Lot. That book was so 70s entrenched with honest values and family convictions in small town America that, well, I fell in love with it. Dreams play a major role in persuading me to write, I often dash out of bed to scribble ideas down. My Bigfoot Babe is none to impressed with these escapades, when in 2 in the morning the ewaves zap my brain. Authors, eh, can't live with 'em, can't live without 'em.
Maer:  Wow, great answer, Simon. What is a one line synopsis for your book?
Simon:  A woman on the verge of God-like vampire supremacy is attacked by her evil cult followers and left amnesiac in an asylum as they hunt down her scent to steal all her blood.
Maer:  Is this a stand-alone or part of a series?
Simon:  Luna Sanguis is part one of a two, possibly a three part series, explaining mankind's …. Sorry that's a secret.
Maer: Fair enough. Simon, which character other than Delicate Rose is one of your favorites to write and why?
Simon:  Although the female vampire is the star, her dark nemesis Lucien the evil Count is so cool to write into existence. He's tall handsome brooding and utterly nasty. He will kill for the sheer pleasure and love for the sheer misery and yet on a whim will grovel at the feet of his idol who I cannot name.
Maer:  If you had to pick a color to describe Delicate Rose what would that be and why?
Simon:  White! It is a non-existent color that implies purity and Eternal is the purest being that ever escaped Oblivion.
Maer:  And here I expected you to say rose. Who are your favorite authors to read?
Simon:  Stephen King, Dean Koontz, Graham Masterton, but recently I have expanded to members of ASMSG and have been swept away by their collective brilliance, nudge, nudge, Maer.
Maer:  LOL, Simon. Great choices, by the way. We have similar tastes. (For those unaware ASMSG is a fabulous group of authors and where I met Simon.)  So, what's next for you? Can you share a bit about your current project?
Simon:  My new project is SS-Steppenwolf where Himmler uses his IOW – the guys everyone saw digging up the Egyptian desert in Raiders of the Lost Ark – to create the perfect fighting machine. Based on fact mixed with my usual dose of incredibility to create a scifi WWII werewolf hybrid action epic.
Maer:  Sounds like another fascinating premise. What do you do when you're not writing?
Simon:  Eat and sleep – kidding, try to get to our beach, search for fossils, soak up the atmosphere and dream.
Maer:  Ah, the beach. Love it. So what influenced you to write in your genre? Do you write in others?
Simon:  Stephen King. I love the supernatural as it allows the author to go beyond the norm – NORM! – sorry that's from Cheers – and create true horror, with no holds barred, although I do have a children's book on the horizon – Rainbow's End, a supernatural tale about leprechauns.
Maer:  I saw what you did there. 🙂 What music, if any, do you like to listen to while writing?
Simon:  The only thing I listen to is the blasted washing machine, but if I did listen to music it would be Roxy Music.
Maer: Ah yes, the sweet music of washing clothes. 🙂 Simon, thanks again for stopping by and sharing your behind-the-scenes look at Luna Sanguis.
Rafflecopter Giveaway
You can buy Luna Sanguis (Luna Series Part1)
 at at Amazon, Amazon UK and SmashWords.
You can find Simon at the following links:
http://facebook.com/simondokillwriter
http://twitter.com/simonokill/
http://tassyoneill.wix.com/the-phantom-bigfoot
http://goodreads.com/tassyoneill
https://www.amazon.com/author/simondokillwriter

Here is a complete list of the Luna Sanguis Blog Tour with reviews, interviews and more, so be sure to check out the other stops!
14th – Natasha Johnstone
15th – Carol Bond
16th – Electa Graham
17th – Kriss Morton
18th – Shannon McRoberts
19th – Maer Wilson <— YOU ARE HERE 🙂
20th – Danielle DeVor
21st – Rachel Hargrave
22nd – Lucy Pireel
23rd – Leanne Herrera
24th – Wendy Sexton
25th – Thomas Rydder
26th – Janna Yeshanova
27th – Debra L Hartmann
28th – Victoria Dougherty