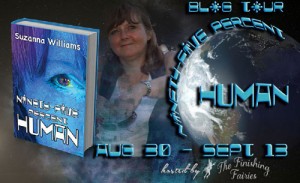 It's a pleasure to host Suzanna Williams for The Finishing Fairies Book Tour!
About Suzanna Williams
Suzanna is a perpetually eighteen year old YA author who lives in the wild, wet, Welsh borderlands surrounded by ruined medieval castles and Celtic mythology where she looks for UFO's amongst the stars and imagines all the people she meets have dark secrets.
When she is not inventing radical problems for her unsuspecting heroes and plotting their escape, Suzanna is a serial collector of random badly paying jobs and has never found a use for her BSc in Psychology whatsoever.
As a child, Suzanna filled notebook after notebook with stories and her first taste of writing success was a poem published in the local newspaper aged just nine years old. She has written and directed several plays and pantomimes before publishing her debut novel, ShockWaves, in 2012.
Suzanna loves sci-fi action adventures, playing the piano, believes Romeo and Juliet should have talked more and considers sarcasm to be the highest form of wit.
She has a daughter who is a drummer, another daughter who is a driving instructor, a son who is a dancer and a 'nearly' grandson she's dying to meet.
About Ninety-Five Percent Human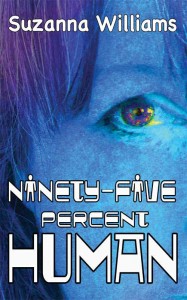 Teenager, Joe Kendrick, thinks he's got problems. The farm he's looked after since his father's suicide is falling and his brother wants to sell it, his girlfriend has dumped him and his normally down-to-earth Nan starts muttering about seeing UFO's. And all Joe wants is a 'normal' life.Then he saves suicidal stranger, Sarah, from drowning.
What Joe doesn't know is that Sarah is a human/alien hybrid, sent to test the viability of life on Earth, and, as she's survived hostile aliens are already planning their attack.
Now let's shine the spotlight on Suzanna!
Maer:  Thanks for joining us to tell us about Ninety-Five Percent Human. What is the funniest or oddest thing that has happened to you as an author?
Suzanna:  After I published my first book, my son, who is dyslexic, asked for a copy. He then told me he'd read it out loud to his girlfriend. That's the funniest, oddest and greatest thing that's happened to me since becoming an author.
Maer:  Awesome! Do you use beta readers and, if so, what qualities do you look for in a beta?
Suzanna:  My first beta reader is always my long-suffering husband. He picks my plots to bits and asks questions about my characters motives I've generally never even thought of (or if I have, I've tried to convince myself they weren't important). This usually necessitates a rewrite.
After he's done, I look for two kinds of beta readers. The first will be target audience age, to correct my use of modern teenage speak, and the second will be good at English, to correct my use of modern teenage speak. 🙂
Maer:  What is a one line synopsis for your book?
Suzanna:  Ninety-five percent Human is about a boy, living on a farm in a sleepy Welsh village, who saves a girl from committing suicide in the river only to discover she's a human/alien hybrid and her survival has triggered the invasion of Earth.
Maer:  Is this a stand-alone or part of a series?
Suzanna:  There will be two books telling the story of Joe and Sarah. Ninety-five percent Human is the first.
Maer:  Which character, other than Joe, is one of your favorites to write and why?
Suzanna:  Oh, that has to be Jake. An evolving computer life-form with a head for survival and a taste for bad jokes, Jake works for rebels on Sarah's home planet. He's on Earth collecting samples (you probably don't want to know of what) and also learning about Earth culture. He's not quite got being human right yet but he flies a stealth ship, fights like a demon and can hack an ATM machine. What's not to like?
Maer:  Sounds fascinating! If you had to pick a color to describe your MC what would that be and why?
Suzanna:  I guess Joe would be the color green … as in the mountains he loves rather than he's naïve lol. Green is a strong, calming color and Joe is going to need to be strong and calm to cope with the problems he has to deal with.
Maer:  Who are your favorite authors to read?
Suzanna:  I'm afraid I'm a rather fickle reader … a more, love-the-one-you're-with kind of girl … so I don't have an absolute favorite author. To illustrate this, I stacked up as many of my books as I could until they fell over. My Harlan Coben books tipped the balance so couldn't be included and I feared for my ereaders safety so that's missing too.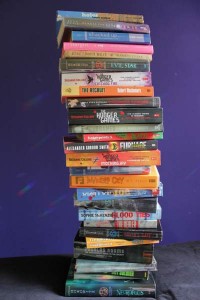 Maer:  I love your answer! I never had anyone use pictures before. 🙂 Suzanna, can you share a bit about your current project?
Suzanna:  Here are some facts about Ninety-five percent Human.
There really was an alleged crash of an alien spaceship in the Berwyn Mountains where my hero lives. It was dubbed the Welsh Roswell.
Porton Down is the UK centre for bio-hazards.
And there really is a village called Imber on Salisbury Plain whose residents were forced to leave during the war so the area could be used for military training and were never allowed to return.
So, do aliens walk among us? In Ninety-five percent Human, they do.
Maer:  Great info! What do you do when you're not writing?
Suzanna:  Apart from the boring stuff like going to work, I am a serial collector of hobbies. I play the piano, usually have some sort of knitting/needlework on the go, enjoy film-making, love hiking in the mountains, have taken up running and have a new grandson to play with. I seriously need 48 hour days.
Maer:  You are one busy lady! What influenced you to write in your genre? Do you write in others?
Suzanna:  I was introduced to the YA genre when my children hit their teenage years and there are some awesome books out at the moment. As I consider myself to be 'eighteen again' every year, reading and writing them suits me just fine.
Maer:  What music, if any, do you like to listen to while writing?
Suzanna:  Music is indispensable in setting the mood when I'm writing. Movie soundtracks are best as they have no distracting lyrics that get me singing along. I have a collection of albums from Steve Jablonsky and Hans Zimmer but I also listen to Cinemix, which plays back-to-back film music, on the internet and is great for writers.
Maer:  Some of my own faves are on your list. Thanks for a great interview!
You can find Ninety-five percent Human
 at Amazon.
Want to follow Suzanne? Here are her links!
Suzanna's Website
And be sure to check out Suzanna's films on YouTube!
Suzanna on YouTube