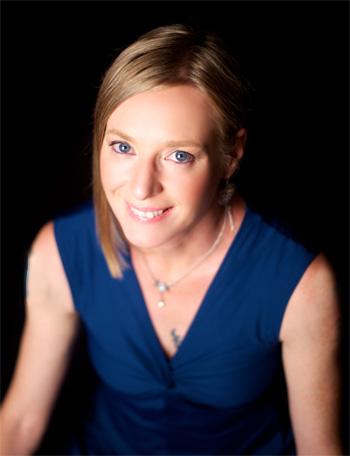 Tammy Salyer
is

Today we welcome Tammy Salyer to the blog along with her Sci Fi Thriller, Spectras Arise. The third book of this trilogy is the recently released Contract of War. Let's find out more about Tammy and her newest book.

Tammy writes a bit, reads a bit, and frequently races cars across intersections from the saddle of her bike. Consequently, you could probably crack walnuts shells on her thighs, but she hopes no one ever tries, because … awkward. Find her on her blog or Twitter, or sign up for her newsletter to be the first to know of contests, new releases, and special events you might enjoy. She's currently working on a prequel to the trilogy and another project that has something to do with space Vikings. She hopes you enjoy reading her works and welcomes your reviews.
Read on for more about Tammy and her novels…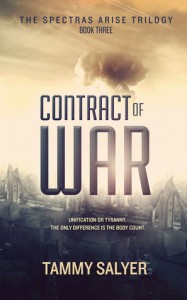 Contract of War begins in the aftermath of the system-wide war between the Admin and Corp Loyalists and the non-citizen population of the Algols, where everything once resembling order has been leveled. Scattered enclaves of survivors dot the worlds, living, however they can, in snarled lawlessness. Aly and her crew have carved out a niche of relative peace, doing their best to go on with their lives through salvaging, scavenging, and stealing. But with no force left to keep the lid on the pot, the pressures of chaos and discord soon cause conflicts to boil over. As enemies close in from all directions, even, sometimes, from within, the crew once again must fight—not just for survival, not just for their way of life, but this time for a future that can finally lay to rest the system's bloody and savage past.
About the Series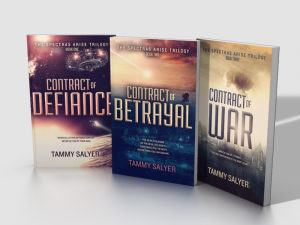 Contract of Defiance, Contract of Betrayal, and Contract of War follow heroine Aly Erikson and her crew of anti-Admin smugglers through an ever-escalating glut of life-and-death adventures and the trials of a living on the side of liberty and freedom—whether they agree with the law or not—in the far future of the Algol star system. As former Corps members, most are no strangers to fighting and dissent, but more than anything, they want to spend their lives flying under the radar without control or interference from the system's central government, The Political and Capital Administration of the Advanced Worlds. But the Admin's greed-drenched dualism of power and corruption has other plans, and throughout the series, Aly and her crew are reminded of one lesson time and again: when all other options run out, never let go of your gun.
Now let's shine the spotlight on Tammy!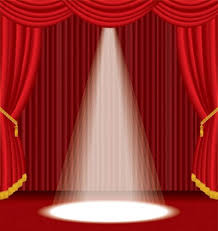 Maer:  Thanks for joining us to tell us about your new book, Tammy.
Tammy:  Hi Maer. Thanks so much for featuring me on your site and giving me a forum to do what authors love to do—talk about themselves! Er, I mean, talk about writing, of course.
Maer:  I'm very happy to have you here ,Tammy! Let's jump right in. What is the funniest or oddest thing that has happened to you as an author?
Tammy:  I'm not sure if this qualifies as funny or odd, but one of the most miraculous things that has happened to me as an author was meeting my biggest fan, and then marrying him. I know, there's probably some kind of rule in the International Author Guidelines and Standards manual about not doing this, but sometimes you just have to be a rule-breaker. A few months before I published my first full-length novel, Contract of Defiance, I met my muse and now husband through a music website. We became great friends and running partners and spoke on a near daily basis. He read my book as soon as it came out, then gushed and gushed about how much he enjoyed it. Flattery is apparently my kryptonite, and the rest, as they say, is history.
Maer:  That is a great story! Do you use beta readers, and, if so, what qualities do you look for in a beta?
Tammy:  Oh yes, I rely heavily on my beta readers to keep me in check. I have several friends who read for me, and they all fit into different categories. Some are general readers who simply enjoy science fiction, my primary genre; some are professional reviewers who bring a wider understanding of the genre and the market to their critique; and lastly, several are author friends who base their feedback more on the crafting and plotting of my books. The combination of all these different perspectives really gives me a wide range of feedback, which I can synthesize to produce stories that (I hope) are strong in all aspects.
Maer:  What is a one-line synopsis for your book? And is this a stand-alone or part of a series?
Tammy:  One-liner: In the aftermath of a system-wide civil war, Corps-deserter and ex-arms smuggler Aly Erikson and her crew face threats of chaos and disorder at every step as they attempt to rebuild a life in the midst of the devastation.
Contract of War is the final book in the Spectras Arise Trilogy. Contract of Defiance is the first book, and Contract of Betrayal is the second. The first is easily a stand-alone, but the trilogy is best read in order.
Maer:  Which character, other than Aly, is one of your favorites to write and why?
Tammy:  In all three novels, my favorites beside the protagonist, Aly, have been the villains. Writing bad guys is giving yourself permission, in a way, to be bad yourself. It's always given me a vicarious thrill.
Maer:  If you had to pick a color to describe Aly what would that be and why?
Tammy:  Red, definitely—she's very volatile.
Maer:  You gotta love a volatile heroine! So, who are your favorite authors to read?
Tammy:  This is such a wonderful question! But it always makes me pine for some free time to go pick up one of their books. The shortlist is: Stephen King, Neil Gaiman, Neal Stephenson, and lately, Ceri London. Her Rogue Genesis novel is absolutely captivating. A visionary work of science fiction.
Maer:  Some of my own faves there. And I have Ceri's novel on my TBR list. Can you share a bit about the project you're working on now?
Tammy:  After I finished writing my trilogy, I had every intention of shifting to a new series that can only be described with these words at the moment: Vikings and galactic shifts. But I guess my subconscious wasn't ready to let go of the Spectras universe just yet, and I'm currently writing a series prequel that will either be a novella or a collection of novellas featuring many of the different characters involved throughout the series.
Maer:  I love prequels! What do you do when you're not writing?
Tammy:  I am endlessly passionate about the written word and make a living as a freelance editor (here's my editing site). When I'm not writing or taking time off to pursue my hobbies of running and cycling, I'm eyeball deep in others' books. It's a rough life, but you know, someone's gotta do it 🙂
Maer:  LOL. What influenced you to write in your genre? Do you write in others?
Tammy:  There are so many things that inspired this series and in this genre, but I'll try to be brief-ish. First is that I grew up loving science fiction movies with strong female protagonists (Aliens being my all-time favorite movie), so there was never a question as to who my protagonist would be. Second is the fact that I am ex-army and wanted to create a world and story that explored to some degree the military mindset and effects of a military life—but in a more Heinleinien setting. Space marines, ooorah! Not to mention that I needed a world where it was not only acceptable to use a lot of foul language, but almost compulsory. In that respect, my characters' potty-mouths are an extension of my own, at times. 😉 And finally, I love a story where you can't help but root for the underdog, and the crew of the Sphynx, which is a transport ship that features heavily in the first two books of the series, is definitely that. I also dabble in other genres, but not to the same degree as SF.
Maer:  What music, if any, do you like to listen to while writing?
Tammy:  Oh yes! I love listening to epic movie soundtracks when I'm writing or editing, but often I'll put on SimplyNoise.com to the sound of rain, too.
Maer:  I'll have to look into that website. We don't get much rain in the desert and I like the sound too. Thanks again for joining us today, Tammy. Do you have anything you'd like to add?
Tammy:  I always welcome comments or feedback from readers and fans and would love to have more beta readers for my next novel. Anyone who subscribes to my newsletter will receive a free copy of Contract of Defiance, so I encourage everyone who loves explosions and action to sign up here. Thanks again, Maer!
Maer:  It was definitely my pleasure. Thanks for a great interview. I've added your books to my TBR list.
Grab all three novels in the trilogy while they're on sale for 99 cents each through mid-August at these retailers:
Amazon     |     Apple     |     Barnes & Noble     |     Kobo     |     Libiro     |     PayHip
You can find Tammy at these links: