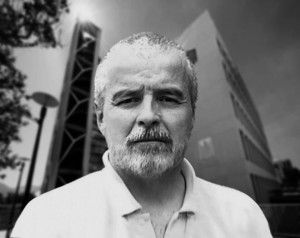 Today I'm joined by B Y Rogers and chatting about his project, The Iron Writer. No, this isn't a book or story. It's something entirely different for writers. I love out-of-the-box thinking and this project is no exception!
About B Y Rogers
B Y Rogers is the author of The Sin of Certainty and a growing list of short stories, as well as the creator of The Iron Writer Challenge. At the moment, he lives in Utah with his wife of thirty-eight years, their five children and ten grandchildren. His stories are listed with Amazon and Smashwords.
Read on for more about B Y and The Iron Writer Challenge!
Let's shine the spotlight on The Iron Writer Challenge!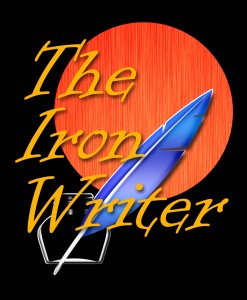 Maer:  Where did you get the inspiration for The Iron Writer?
BYR:  Victoria Doughtery, a writer from Virginia asked me to do participate on a blog tour. I was expecting the usual author interview, but she wanted something different. She asked me to write a flash fiction piece, five hundred words with four specific elements. Victoria invited five other authors, besides myself and gave us about six weeks to write the story.  At the time, I had no idea what 'flash fiction' was. I committed to her, more out of friendship than good sense. After writing the story, I pondered the experience for a few days. From that, the Iron Writer was born.
Maer:  Could you please tell us what The Iron Writer Challenge is about?
BYR:  Surprisingly arduous for all its simplicity. I invite four different authors to a weekly challenge. The winner is the writer who can write a five hundred word flash piece, again with four elements and make the best use of the elements, not simply mention them in passing. However, I give only four days to complete the story. It is interesting to see how the elements, which change with every challenge, are used. Besides having a little fun, it gets the creativity flowing. Readers are invited to vote for the story of their choice. The winners are then invited to participate in a series of challenges, eventually crowning an annual winner.
Maer:  What sorts of elements do you use for your challenges?
BYR:  The elements for Challenge One, which was held in last February, were an empty ATM, a talking tree, toilet bowl cleaner and a meteor. I try to make the elements diverse but not to difficult. If I can think of a story in a matter of minutes, then I worry it is too easy. Sometimes I toss an element out and select another one. However, for the tournaments or the grudge matches, I make them as difficult as I can.
Maer:  Where do your elements come from?
BYR:  Anywhere, everywhere. Sometimes I will be watching television and a commercial comes on and that gives me an idea. I read or hear of some obscure object and that leads to another. Recently I was visiting with a friend in Hawaii. We were talking about him growing up on Nuie Island in the South Pacific. They have a land crab that can easily crush an unhusked coconut in its claws. There was another. They are like stories. I stumble over them every day.
Maer:  What is the Tournament about?
BYR:  Right from the beginning, when the website was not yet a month old, I formed a Facebook group for those who had taken a challenge. My objective was to get feedback, to make the site better. I started getting requests for a tournament, where some weekly winners could compete. The problem was I do not have a budget for this project so I had nothing to offer the winner, other than bragging rights. I sat on the idea for about four months. Then one day I was discussing it with my cover artist, who offered to give a free eBook cover to the winner. So the next day I opened up the tournament. I run one every thirteen weeks, comprising of the winners for the previous thirteen challenges, plus
three runners up. The sixteen winners compete in a two round tournament, with one becoming the champion. That person is then invited to the annual tournament, to be held during April of each year.
Maer:  Sounds very cool. How are the winners chosen?
BYR:  Right now, and this will change next March when the next set of tournaments begin, is all on a popularity vote. Each week, when the stories are posted, a poll is added. The idea is for those who read the stories to vote. The difficulty is the voting, for the most part, comes from whichever writer can bring the most of their readers to the site. While I want the traffic, I would prefer the voting be on merit, on who used the elements the best. So next year, when the next tournament begins, I will be adding judges to the contest. Think of those reality shows that have popularity voting as well as a set of judges.
Maer:  Now that sounds like fun! What are your favorite books to read?
BYR:  Personally, the old classics. They haven't always been my favorite, but as I age, I understand  more of what they are really saying. Books like The Jungle, Brave New World, Les Miserables, Babbitt. Those are great, truly great.
Maer:  The classics, ideed! B Y, can you share a bit about your current project?
BYR:  One of the authors that took a challenge works with several youth writing groups in Maryland. He suggested a separate challenge, for writers between 14 and 18 years of age. I have started that program up and I hope it takes off as well and the original concept. It is called The Iron Writer Apprentice. The goal with that group is to get grants, sponsorships or scholarship money to offer to the yearly winner.
Maer:  What do you do when you're not writing?
BYR:  Family, always family. They get more attention than my writing, sad to admit.
Maer:  What music, if any, do you like to listen to while writing?
BYR:  I have a rather eclectic musical taste, but I do not listen to music when I write. I can tune out television for some reason, but not music.
Maer:  Thanks so very much for giving us some insight into The Iron Writer. It sounds fascinating and I look forward to seeing what your challengers come up with.
You can follow the Iron Writer at the following links: