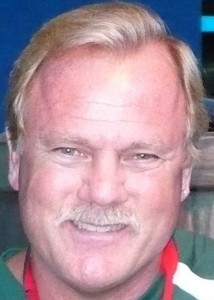 It's always fun when friends stop by to visit and today is no exception. Thomas Rydder is the author of the paranormal novel, The Clearing, and his story collection, Restless Souls: 3 dark fables. He's fun, generous with his time and has a wicked sense of humor. Thomas is always quick with a word of support and encouragement to his fellow writers. He's one of the good guys.
About Thomas Rydder
Thomas was born in 1957 in a small town in Western Pennsylvania that had — and still has — one traffic light. There wasn't a whole lot to do there, so he learned to play quite a bit of make-believe – soldiers, cowboys and Indians, that kind of thing. At the same time, he loved to read and watch old movies.
Since childhood, he loved to create. Thomas played trumpet, sang, even dabbled in genealogy. Nothing quite did it for him. One day his wife suggested that he try writing. He wrote a short story, and everyone liked it. So, he wrote another one. Except it kept growing, and he kept getting more ideas, and it lengthened to 20 thousand words, then 30, then 40. By the time he sat back, he had the rough draft of his first novel, except back then it was called "Werewolves and Flapjacks". Somewhere along the way he decided to submit his work to publishers. The result was The Clearing.
Read on for more about Thomas and The Clearing.
 About The Clearing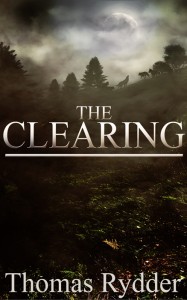 A small town in western Pennsylvania – quaint, simple, peaceful. That is, until The Elder takes up residence. He has an agenda – one that is 1,000 years old, and cannot be denied. One that will change the lives of many – and end the lives of any who interfere.
Now let's shine the spotlight on Thomas!
Maer:  Thanks for joining us today, Thomas. I appreciate you taking the time to chat with me.
Thomas:  It's my pleasure, Maer, and thanks so much for having me on.
Maer:  Let's get right to it, shall we? What is the funniest or oddest thing that has happened to you as an author?
Thomas:  I don't know if I could call it either funny or odd – ironic, maybe. A few weeks ago, I received a message on Facebook. It was from a friend from the past, back in Pennsylvania who had been browsing Amazon – and bought my book. He had no idea it was me who had written it, but discovered so when he happened to go to my author page, and then searched for me on Facebook. We had quite the little talk, and he's now reading "Restless Souls" and waiting for me to come out with something new. It was all very surreal.
Maer:  Definitely ironic. 🙂 Those types of things are fun. Thomas, do you use beta readers and, if so, what qualities do you look for in a beta?
Thomas:  I do, because I feel several sets of eyes will aid significantly in making my book better. My opinion on it is biased, and I can't see it for what it truly is, because it's my baby. So betas are vital. I think the most desirable quality in any beta reader is honesty. I'd prefer they tell me some part of my book sucks green scummy pond water now, rather than a reviewer post it to 43,769 readers later. The other thing I want is a beta who can basically review the book. What could have moved them more? What confused them? What character seems wooden and contrived? Was the dialogue compelling? I'm not looking for praise. That will hopefully come later. I want to know what's wrong.
Maer:  I agree. Could you give us a one line synopsis for your book?
Thomas:  I like a line that one of my characters uses to convey his point of view on what the townsfolk are facing:
"Some things just can't be explained."
Maer:  LOL Fair enough. Is this a stand-alone or part of a series?
Thomas:  The Clearing is the first book I've written, so I was so swept up in the concept of actually writing a book that I never thought about it. Now that it's enjoying some success and I've received some very positive reviews, I decided to write a sequel, and likely a third installment as well. I love the story line, and will run it as long as I think it's viable.
Maer:  Which character, other than Frank Cutlip, is one of your favorites to write and why?
Thomas:  Farmer Dan Wigand jumps out at me. He's a big fellow, and hard-bitten from the life he's led, but he'd do anything for you, if he likes you. If not, well, you have a problem, and he's not about telling you what it is. He's also fearless, and doesn't shy away from any kind of fight. He's going to figure big in the sequel.
Maer:  If you had to pick a color to describe Frank what would that be and why?
Thomas:  That's easy. Green. Sheriff Frank Cutlip is a retired Marine Corps Major, and he leans on his military training and lifestyle to bring him anything he faces in his everyday life. Unfortunately, none of the experiences he had during his military career can prepare him for the baddies he runs across in my book.
Maer:  Hmmm…that sounds intriguing. Who are your favorite authors to read?
Thomas:  Who has time to read?
Maer:  I hear that!
Thomas:  But when I do, I love Graham Masterton, John Saul, Sydney Sheldon, and Eric Van Lustbader. The really cool thing is that I'm now friends with literally  dozens of indie authors. Many have never heard of them, but I've read some fantastic books, and I wouldn't trade the experience for anything. There are truly some brilliant indie authors coming to the fore, and it's an exciting time in the industry.
Maer:  It is indeed! Thomas, can you share a bit about the project you're working on now?
Thomas:  Whew. See, here's the thing. While I was writing and editing The Clearing, and then doing the same with my second baby, Restless Souls: 3 dark fables, I came up with ideas for five more books, and I'm anxious to start on all of them. But, I'll likely do the sequel to The Clearing first. I think. Anyway, the setting for the first one is a quaint little town in western Pennsylvania, and most all the characters are residents there.. The sequel will require the main characters to travel away from familiar surroundings and confront a rather nasty foe in some very unwelcoming mountains – with winter not too far off, and with the locals of the area less than thrilled with their arrival. It's a ride I can't wait to hop on…
Maer:  Sounds like a lot of fun stuff to write…and read! What do you do when you're not writing?
Thomas:  I don't have a lot of time nowadays, but fishing is one of my passions. A warm afternoon with the lake still as glass, a good cigar and a cold beer can make the tension sift away pretty quickly. Oh, and catching a fish now and then is fine, too. Other than that, my wife and I enjoy trips to the beach and little country stores out in the sticks, and I swinging by an ice cream shop on the way home. We've also started to dabble a little in some ghost hunting. We've watched many shows on the subject, and have now purchased a some equipment. Who knows – might be some material for a book out there.
Maer:  What influenced you to write in your genre? Do you write in others?
Thomas:  I've always had a fascination with the paranormal, particularly creatures. There's just something about a being that lives outside the boundaries we humans have that fascinates me. I mean, lookit, we all would like to go outside the lines, from time to time. Why else would we have a love/hate with folks like Dillinger, Al Capone, and Billy the Kid? To live as we want, without regard to rules is impossible, because it would invite chaos. But, because it's taboo, it's desired, yearned for. So, instead of stepping out of bounds personally, I create things that can do it for me.
And too, getting the stuffing scared out of me thrills me. Feeling your heart race, the sweat break out on your forehead, and your fingers tingle – that's a heady brew, and I enjoy using paranormal writing to bring (I hope) the same sensations out in my readers. Whoever they are. Well, I hope I have some readers, anyway…
Maer:  That is an awesome answer! What music, if any, do you like to listen to while writing?
Thomas:  I have rather eclectic tastes in music, and what I listen to depends on my mood. I could be listening to jazz greats like Dizzie Gillespie, classical from Tchaikovsky, or – my personal favorite – rock from AC/DC or ZZ Top.
Maer:  Sounds like a fun playlist. Thomas, thank you again for stopping by and giving us a peek behind the scenes. Do you have anything you'd like to add?
Thomas:  Please, please, please, pretty please, buy either one of my books!
Maer:  OK, OK, I will!  LOL
Thomas:  No, seriously…it's so much fun coming on with fellow writers and friends and passing the time. So often, we are swept up in the whirlpool that is writing, editing, and marketing, and we forget all the blessings we have in the form of kinship with our colleagues. It's nice to be able to sit back and just jaw about the joy of writing for awhile, and I'm grateful for you for having me stop by, Maer. When your new one comes out, you let me know, and we'll have a chat over at my place. 🙂
Maer:  That sounds good to me, Thomas. Thanks! I'll be over soon.
You can buy The Clearing
and Restless Souls: 3 dark fables
 at Amazon.
You can follow Thomas at these links: