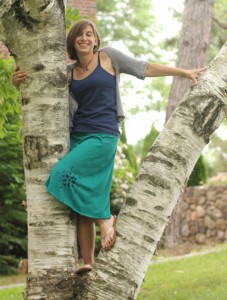 Today it's my great pleasure to spotlight Tracey Martin and her new novel, Wicked Misery. I've known Tracey for several years and she's not only a terrific writer, she's a wonderful friend – generous, supportive and very clever. Always willing to lend a hand with feedback and a wicked sense of humor, Tracey is someone I'm lucky to know.
About Tracey Martin
Tracey Martin grew up outside of Philadelphia, the lucky recipient of a drama-free childhood, which is why she spent so much time reading about other people's lives. It was while she was working on her doctorate in psychology that she had an epiphany — imaginary people are way more fun than real ones. And so she began writing. Never able to choose just one of anything, she currently writes both urban fantasy for adults and contemporary stories for teens.
She likes her coffee simple, her music epic, and her movies to contain explosions. A city girl at heart, she doesn't understand how she and her husband ended up living in New Hampshire, but writing keeps her off the mean, small town streets.
Read on for more about Tracey and Wicked Misery!
About Wicked Misery
Jessica Moore thrives on misery. Literally. Thanks to a goblin's curse, she gets a magical high from humanity's suffering. A shameful talent like that could bury a girl in guilt, so to atone, she uses her dark power to hunt murderers, rapists and other scumbags—until one of them frames her for his crimes.

In desperation, Jessica seeks refuge with the one person she trusts to not turn her in—a satyr named Lucen. Like every member of his race, Lucen uses his lusty magic to control Boston's human population, and Jessica isn't immune to his power. But the murder victims belonged to a rival race, and when they discover Lucen is harboring Jessica, dodging the cops becomes the least of her problems.

With only five days to find the real killer, Jessica faces a danger far more serious than the brewing magical war. The danger of succumbing to Lucen's molten seduction.
Now let's shine the spotlight on Tracey!
Maer:  Tracey, thanks so much for joining us today. It's a real treat! What is the funniest or oddest thing that has happened to you as an author?
Tracey:  You know, I'm not sure anything funny or odd has happened to me with as a result of writing. But I've certainly done some odd things though in the name of research, like riding the subway around Boston so I could see what color the floor tiles are at various station bathrooms.
Maer:  That counts. 🙂 Do you use beta readers and, if so, what qualities do you look for in a beta?
Tracey:  Definitely. I think I've gotten good over the years at recognizing the weaknesses in my stories, but I could never see my work the same way someone else can. For me, a good beta should have a familiarity with the genre so they understand expectations, and above all, they need to be honest. Brutally so if necessary.
Maer:  What is a one line synopsis for your book?
Tracey:  Framed for murder, a woman who's been cursed to get a magical high off human suffering must find a way to use that shameful ability to uncover the real killer.
Maer:  Your book sounds so fascinating. Is this a stand-alone or part of a series?
Tracey:  It's the first in a series.
Maer:  That's great to hear! Which character, other than Jessica, is one of your favorites to write and why?
Tracey:  This is such a hard question! I'll have to go with my villain. He's creepy and violent, and he has so many issues, which naturally made him a blast to write.
Maer:  The villains are definitely fun. If you had to pick a color to describe Jessica what would that be and why?
Tracey:  Black, no question. Jess is dark, angst-filled, and hilariously bitter (well, I hope it's hilarious anyway), and she enjoys being miserable because of her curse.
Maer:  Tracey, who are your favorite authors to read?
Tracey:  I'm a bit weird in that I don't get attached to authors so much as certain works. I might love one book by an author but have no interest in picking up their next book. That said, some of my favorite urban fantasy authors are Karen Marie Moning, Jaye Wells, and Ilona Andrews.
Maer:  Cool list. Can you share a bit about the project you're working on now?
Tracey:  I'm actually working on something totally different. It's a contemporary YA novel that was inspired by the film It Happened One Night.
Maer:  That's a fun film and a good source of inspiration. So, what do you do when you're not writing?
Tracey:  You mean besides read?
Maer:  Yep, besides read. 🙂
Tracey:  I love to go hiking, and my husband and I have a huge garden so we spend a lot of time there and in baking, canning, or making wine with what we grow.
Maer:  What influenced you to write in your genre? Do you write in others?
Tracey:  The pure escapism of it. Plus, I've always loved the paranormal. As I already mentioned, I also write YA. I've written in all genres of it, although my upcoming YA debut is a contemporary (no paranormal stuff) so I'm sticking to that for a while.
Maer:  A good thing for your readers, too! What music, if any, do you like to listen to while writing?
Tracey:  I can't listen to music while I write, but I love using music to get me in the mood for a book. Certain songs just seem to become a book's soundtrack for me, and I'll listen to them constantly during the writing/editing process.
Maer:  Tracey, thanks so much for visiting with us today. Do you have anything you'd like to add?
Tracey:  Thanks for having me on here, Maer!
Maer:  It was my treat! Thanks for an awesome interview!
Can't wait to read Tracey's new novel? You can find Wicked Misery (Miss Misery)
 at Amazon, Barnes & Noble and Samhain Publishing.
You can follow Tracey at these links: