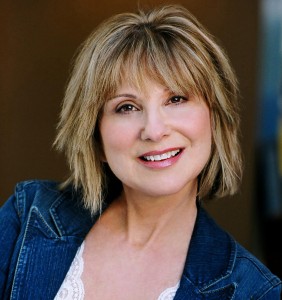 Today's special Friday the 13th guest is the fabulous Vanessa A. Ryan. A triple threat as an author, actor and artist, I had the pleasure of meeting Vanessa in July. I didn't get to spend nearly as much time as I would have liked getting to know someone with such a similar background to my own. One thing I do know is that she is talented, supportive and kind, and that's something to treasure. She even writes in one of my own favorite genres!
About Vanessa A. Ryan
Vanessa A. Ryan is an actress in Southern California. She was born in California and graduated from UCLA. When not writing or acting, she enjoys painting and nature walks. Her paintings and sculptures are collected worldwide. At one point she performed stand up comedy, so her writing often reflects her love of humor, even for serious subjects. She lives with her cat Frannie, and among feral cats she has rescued.
Please read on for more about Vanessa and her first novel, A Blue Moon.
About A Blue Moon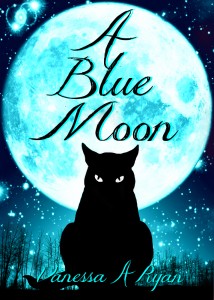 Lorrie Duncan, an abstract painter working as a substitute teacher, dreams of making it big in the art world when she's not busy looking for Mr. Right. She seems on the verge of getting what she wants, at least with respect to her career, because her current boyfriend Marty is a rising star in the L.A. art scene. But when a fortuneteller gives her a medallion with malevolent powers, her life and plans fall apart. Now to survive, she finds herself in a race to discover its secret, before it destroys everything she holds dear.
A Blue Moon is Vanessa A. Ryan's first novel, a genre-bending literary urban fantasy.
Now let's shine the spotlight on Vanessa!
Maer:  Vanessa, thanks so much for joining us to tell us about your book. Where did the inspiration for A Blue Moon come from?
Vanessa:  Sometimes I would say things, such as, what if this would happen–and then it did. Or I hope that doesn't happen, and then it would. So I thought I'd write a story about someone who thinks about things and then they happen, and make it a funny, satirical horror story.
Maer:  What is a one line synopsis for your book?
Vanessa:  Be careful what you wish for because you might get it.
Maer:  Hmmm…intriguing. Is this a stand-alone or part of a series?
Vanessa:  I might write a sequel.
Maer:  Which character other than Lorrie is one of your favorites to write and why?
Vanessa:  I like Davy Rodale. He's annoying but he doesn't realize it until too late.
Maer:  If you had to pick a color to describe Lorrie what would that be and why?
Vanessa:  Lorrie is bright orange. She sticks out no matter how hard she tried to fit in.
Maer:  Who are your favorite authors to read?
Vanessa:  I like Doug Adams, Jane Austen, Patricia Highsmith, the classic mystery and noir writers of the twentieth century, Ray Bradbury, Jerzy Kozinski, Carlos Casteneda, Barbara Michaels, Elizabeth Peters, Anne Perry, Darwin Teilhet and forgotten authors I find in used bookstores. Teilhet was one of those.
Maer:  Awesome list! Can you share a bit about your current project?
Vanessa:  I'm writing the second book of a mystery series. The first book is under consideration by a publisher.
Maer:  I'll make a pint to look for that. Vanessa, what do you do when you're not writing?
Vanessa:  I paint and act. I also work part-time as a recruiter, placing people in jobs.
Maer:  What influenced you to write in your genre?
Vanessa:  When I was a kid I watched Dracula and Frankenstein movies on TV. Some were scary and some were funny, or at least I thought they were.
Maer:  Ah, the beloved horror genre. 🙂 Do you write in others?
Vanessa:  I love mysteries, so that's why I decided to write a series.
Maer:  What music, if any, do you like to listen to while writing?
Vanessa:  I don't usually like listening to music while I write. It's too distracting.
Maer:  Vanessa, thanks for an awesome interview. Do you have anything you'd like to add?
Vanessa:  I love animals, which is why Lorrie's favorite friend is her cat Sam.
Maer:  Excellent!
Readers, you can buy A Blue Moon
 at Amazon and Barnes & Noble.
You can find Vanessa at the following links: