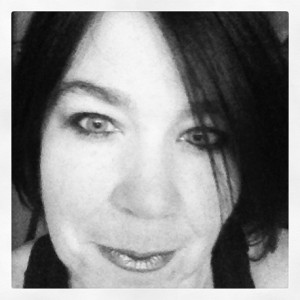 It's always a pleasure to meet a new writer and find out about the processes they use in creating their worlds. Today I'm joined by W.L. Sexton, featuring her steamy new novel, Raven's Quest. This red hot novel (18+) is the first of a series that revolves around three women.
About W.L. Sexton
Wendy grew up in Norwalk, California adopted at the age of two days.  At the age of 44 Wendy found her Birth Mother. They are making up for time lost. When Wendy is not drag racing, with her husband of twenty two years, she is running the racing team, working as a Trade Show Coordinator, or shopping at the Coach Store. You can find her running the highways between Phoenix, Las Vegas and  California. You can always find her with some-kind of coffee product in her hand. She loves fast cars, music and tattoos.
Read on for more about WL and Raven's Quest.
About Raven's Quest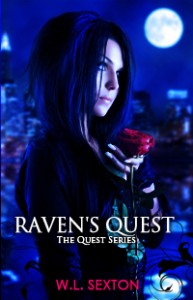 The Quest Series revolves around three women who are worlds apart, but are connected in more ways than one.
The first book is Raven's Quest. Raven works as a Marketing Director at Stage Records, but gets caught in a love triangle with the new CEO. She starts to fall in love with him as his old flame returns to the picture. With a broken heart, Raven runs to Napa Valley to heal her wounds and see her family.
Fate has other plans. She falls into the arms of an old crush that broke her heart as a teen, the race car driver that she met so many years ago, Tony Fox. How could she forget how he broke her heart with her best friend?
Now he is mature he sees her in a different light. She is a gorgeous, successful woman that he can't be without. He will stop at nothing to have her.
Now let's shine the spotlight on W.L. Sexton!
Maer:  Wendy, thanks for joining us to tell us about your new book. Where did the inspiration for your book come from?
WL:  Raven is a story that I have been living with. She came to me by the way of a life experience. So in a large way she is me.
Maer:  What is a one line synopsis for your book?
WL:  Trying to find the love of your life and they have been there all along.
Maer:  So, is this a stand-alone book or part of a series?
WL:  This is a three part book. The Quest Series.
Maer:  Awesome! Now turning to your characters, which one other than Raven is one of your favorites to write and why?
WL:  I would say Kitty Cord. She is a real person and I love her dearly so out spoken and funny.
Maer:  Now, if you had to pick a color to describe Raven what would that be and why?
WL:  Blue, but a bright beautiful blue. She is very proud and blue is a strong color for me.
Maer:  So, WL, who are your favorite authors to read?
WL:  Anne Rice and Janet Evanovich.
Maer:  Can you share a bit about your current project?
WL:  The next in the series is Skyclad. She is just getting out of law school. She has a great friend, Geoff, that introduces her to a rock star, Michael St. James. The love starts and the twist and turns of poor Skyclad. She was fun to live in.
Maer:  What do you do when you're not writing?
WL:  I own a drag racing team. I love the loud noise and the adrenaline rush is so much fun. I see a lot of rock stars, so there's a double bonus.
Maer:  What influenced you to write in your genre?
WL:  My husband always tells me that I need to put my ideas to paper, so I did one day and boom there was Raven.
Maer:  Do you write in other genres?
WL:  I would love to write a Paranormal, or Murder Mystery.
Maer:  May authors need silence and others need music. What music, if any, do you like to listen to while writing?
WL:  Oh ROCK, Device, Halestorm, Three Days Grace, Heart, Doors. Love them all.
Maer:  WL, thank you so much for stopping by. Do you have anything you'd like to add?
WL:  I just want to thank you for the opportunity to share my crazy people in my head and give them a voice. You're so wonderful and I can't thank you enough. 
Maer:  It was my pleasure and best of luck with your new novel!
You can find Raven's Quest (The Quest Series)
 at Amazon and Barnes & Noble.
To stay up to date with W.L. Sexton, you can find her at the following links: