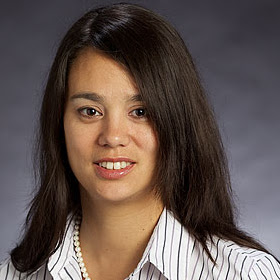 It gives me great pleasure to have Wendy S. Russo stop by as the first guest on my newly-created column "In the Spotlight".
Wendy has been writing since sixth grade and currently lives in Baton Rouge, LA. She's a  wife, a mom, a Tiger, a Who Dat, and she falls asleep on her couch at 8:30 on weeknights.
Wendy's debut novel, January Black, has been released by Crescent Moon Press and I had a chance to chat with Wendy recently.
Oh, and we have an Easter Egg hidden somewhere in this post. All you have to do is:
1. Find the hidden link and click it
2. Use the password "matty"
3. Comment on that page.
A random winner will be drawn from those who comment and receive a free signed copy of JANUARY BLACK!
Read on for more…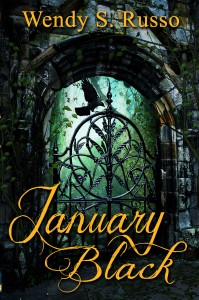 As the son of The Hill's commandant, sixteen-year-old Matty Ducayn is expected to conform to a strict, unspoken code of conduct. Small acts of defiance over years—such as walking on the grass—have earned him a reputation for being unruly. When sarcastic test answers finally get Matty expelled from school, King Hadrian offers him a diploma if he can answer a deceptively simple question.
What was January Black?
The challenge takes Matty, and his girlfriend Iris, beyond The Hill's walls and tightly controlled media into a gritty world kept in check by riot police. There, the young couple follows a path through old books and clandestine news pages that becomes a collision course with a deadly royal degree.
As he realizes he's been set up to fail, Matty must make a choice: walk away from the challenge with Iris and his life. Or call the king's bluff.
Now on to Wendy's interview!
Maer:  Where did the inspiration for your book come from?
Wendy:  That's actually a bit of a long story. I wrote this epic fantasy in 1999. 300k+ words in 10 months, almost entirely by the seat of my pants. A few months later, I took a Short Novel class and saw all sorts of stuff wrong with the epic. Themes, structure, dialog, general sloppiness, missed opportunities…. So, I decided I was going to fix it. I spent the better part of nine years writing a completely different story for the characters of my epic. Then, in 2009, I decided to participate in NaNoWriMo. I picked one still frame image out of the rewrite–a boy in an overgrown garden–and built a story around it. I drew on my frustration about the banking collapse and the steady erosion of rights in America. I listened to Dream Theater's "Black Clouds and Silver Linings," which has a song with the lines "Turn the key/walk through the gate…a rite of passage."
And a few months later, I had January Black.
Maer:   Wow! That a great story, Wendy. Could you please give us a one line synopsis for your book?
Wendy:  When a riddle turns up long-buried state secrets, a young genius must choose between satisfying his curiosity and running for his life.
Maer:  You mentioned your epic. Is this novel a stand-alone or part of a series?
Wendy:  It's stand-alone.
Maer:  Thinking about your characters, now – which one, other than your MC, is one of your favorites to write and why?
Wendy:  Hadrian. IF I were to write a sequel, it would be a Hadrian story. 
Maer:  If you had to pick a color to describe your MC what would that be and why?
Wendy:  Matty is silver. He has a quiet brilliance, but sometimes he shines, and at others he sparkles.
Maer:  Most writers are also readers. Who are your favorite authors to read?
Wendy:  Neal Stephenson and Umberto Eco. Hildie McQueen and Kate Evangelista.
Maer:  Can you share a bit about your current project?
Wendy:  I have three WIPs right now, all in very early stages.
Virgo is the first book of a New Adult altered timeline, science fiction series. The leads are a teenage DJ with Asperger's who has stolen nanotechnology in her brain, and the boy who's been her best friend since they were three.
Gossamer is urban fantasy novel set in the same world as Virgo. The leads are a Chinese fire god and a spoiled technology heir she accidentally gave half of her power to.
The Choir Boys is New Adult Paranormal series where angels hunt down fallen angels and bring them back to heaven for "redemption". The lead is an angel named Walter, whose US Army-instilled sense of duty gets him into trouble with his boss, (archangel) Gavriel.
Maer:  You are one busy lady! What do you do when you're not writing?
Wendy:  Working, commuting to or from work, trying to keep up with my 4yo, watching TV with my husband, or sleeping.
Maer:  What influenced you to write in your genre? And do you write in others?
Wendy:  I'm a geek. I grew up with science fiction/fantasy-loving parents. And my favorite books have always been in those genres. I like having the latitude to make my own rules, to defy physics, to write characters who can do things I wish I can do.
I have also written Contemporary fiction, but that was really a matter of necessity. I don't enjoy it as much.
Maer:  Wendy, do you have anything you'd like to add?
Wendy:  Thank you for having me. I hope your readers will check out January Black.
Wendy. thanks so very much for stopping by and giving us some insight into your new novel. It sounds fascinating and I'm looking forward to reading it!
Folks, you can buy January Black
 at Amazon or through retailers at Goodreads. And you can find Wendy at the following links:
Wendy S. Russo
Wendy on Facebook
Wendy on Twitter
Wendy on Google+